Inspiration and creativity surround us it is in our every day.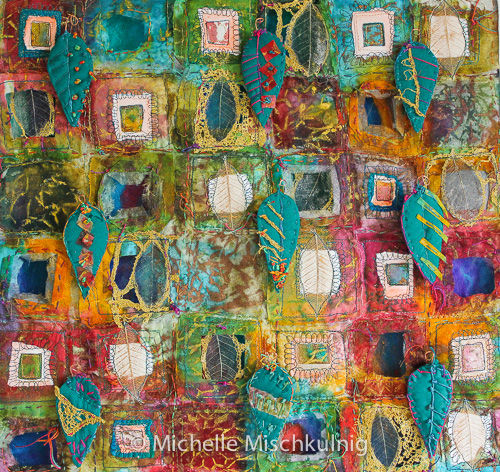 "Creativity is all around us, and some of the funniest, most beautiful, and touching moments happen when you least expect it."
Bryce Dallas Howard
I am not sure how you find your inspiration but I know we are surrounded by inspiration in our every day. We just need to be open to the thought, open with our creative minds and ready capture inspiration and hold it close. We don't always concioulsy recognise our sources of inspiration, it can be a simple word, dashes of colour, our environment, blurs splashed through rain, music, a gesture or movement, dance, joy in the garden, reading a book and so much more. This week I started a piece of textile art work where the inspiration came from a conversation with my mother, she was sharing a sewing technique with me.
I did not use that technique in this textile art work but it did give me the inspiration to try some new ideas and re-visit some old ones. In this art work I have used a variety of techniques and materials. My hands have been messy, covered in dye and paint, glue and needle holes even worse is my studio.I am not sure if you all have the same as me, I can't help it when I start a new  piece of work my creative drive dictates that no cleaning up can possibly happen not until I am finished .I have had lots of fun and given myself a possibility to build on.
This piece of art work has three defined layers but many others hidden within each layer. I am sharing with you the visual steps taken some have  failed, and were reworked, some surprised and baffled me but most were succsessful .I am very pleased with the finished art work it will be framed behind glass the  approx. size is 43 cmx 46 cm.
ps some exciting news i am  just finalising teaching in America next year woo hoo it is at a fantastic event more to come soon.
Now I am off to frame two large commissioned pieces on a rainy afternoon.Life is always full and wonderful.