Using some of that "stuff "in the sewing room 2
"Imagination is everything. It is the preview of life's coming attractions."
― Albert Einstein
Creating a window into a festive garden from your pre stretched small canvas.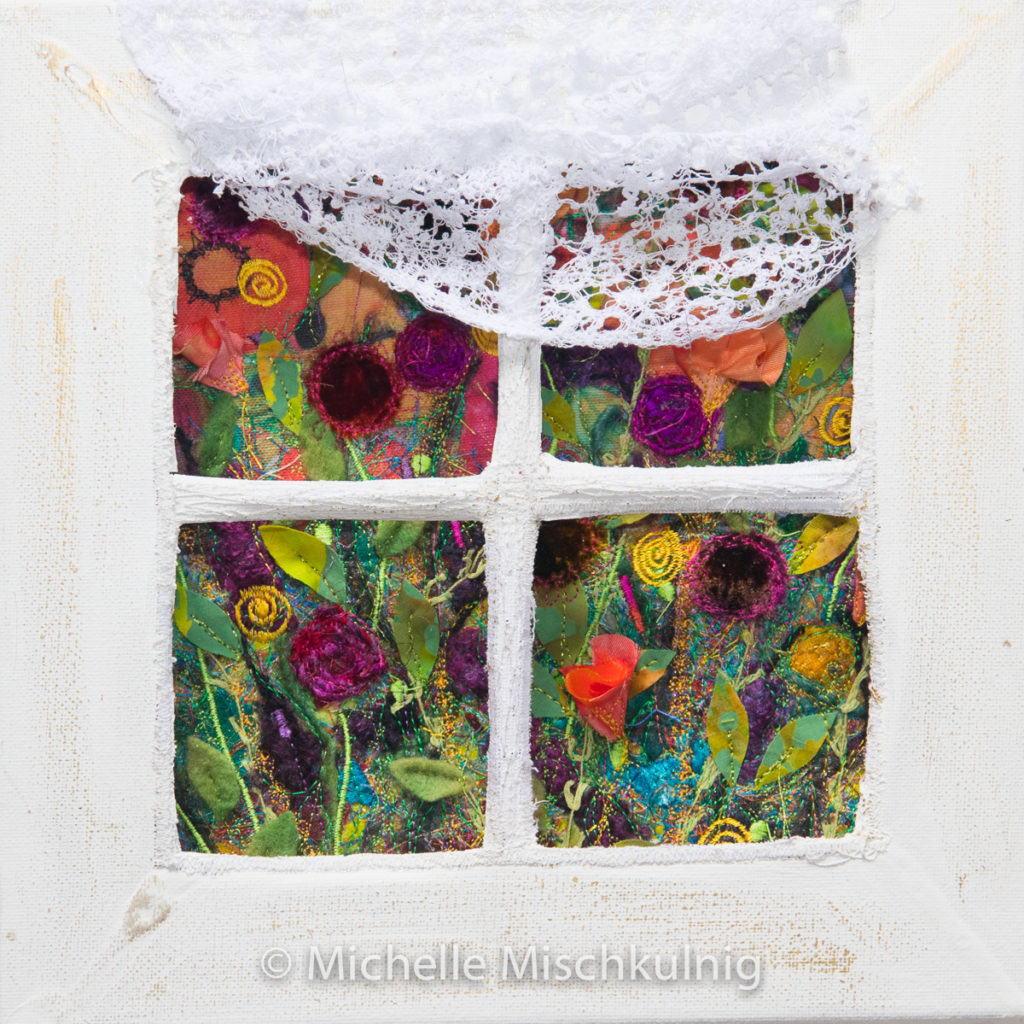 Materials
Small stretched canvas the size of mine was 25 cm sq.
Fusible web.
Gesso paint or similar.
Floral fabric.
Green foliage fabric.
Threads and texture fibres.
Silk or such for flowers heads.
Yarns for flower heads.
Water soluble fabric.
Glue.
Iron
Baking paper .
Small amounts of different textured fabrics for leaves and flower heads.
Free motion foot and setting on your machine.
---
Mark the back of your stretched canvas with window cross bars to form 4 small panes using a pencil.
Stitch these marked lines using free motion.
To stitch turn the canvas upside down and carefully slip under the needle.I don't use a foot to stitch the window frame as I am stitching close to the canvas stretcher frame. This allows me more control over the stitches and where they are going, I use the frame of the canvas as I would a embroidery hoop.
When you have stitched the panes ( you can see the amount of stitching I have used in the image 2 down) cut the panes out).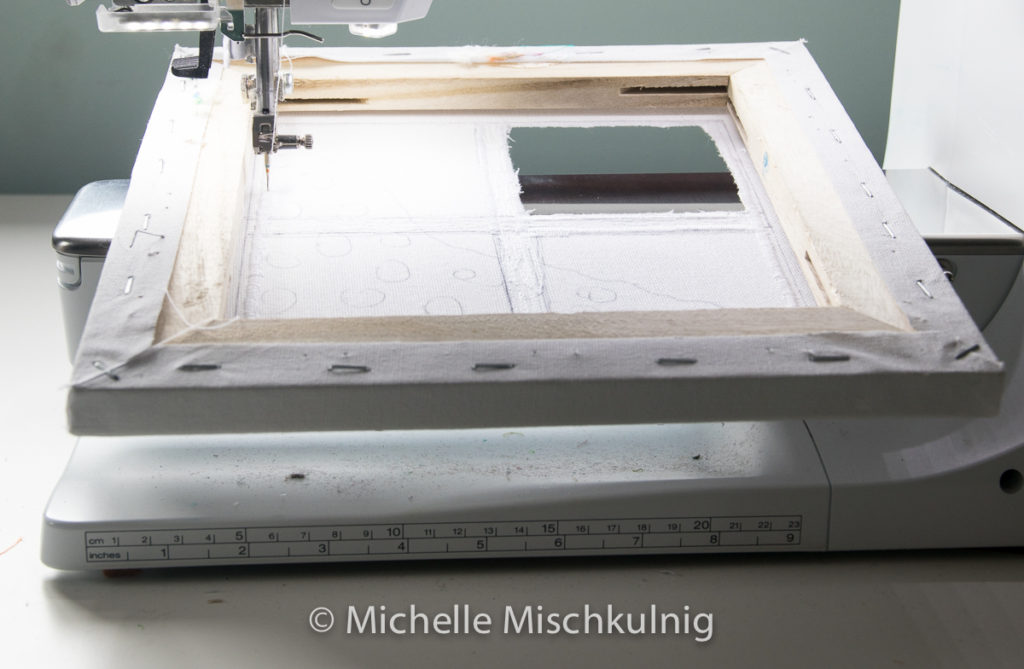 After the panes have been cut out of the stretched canvas I paint it all with some gesso to give the canvas i strength definition and texture.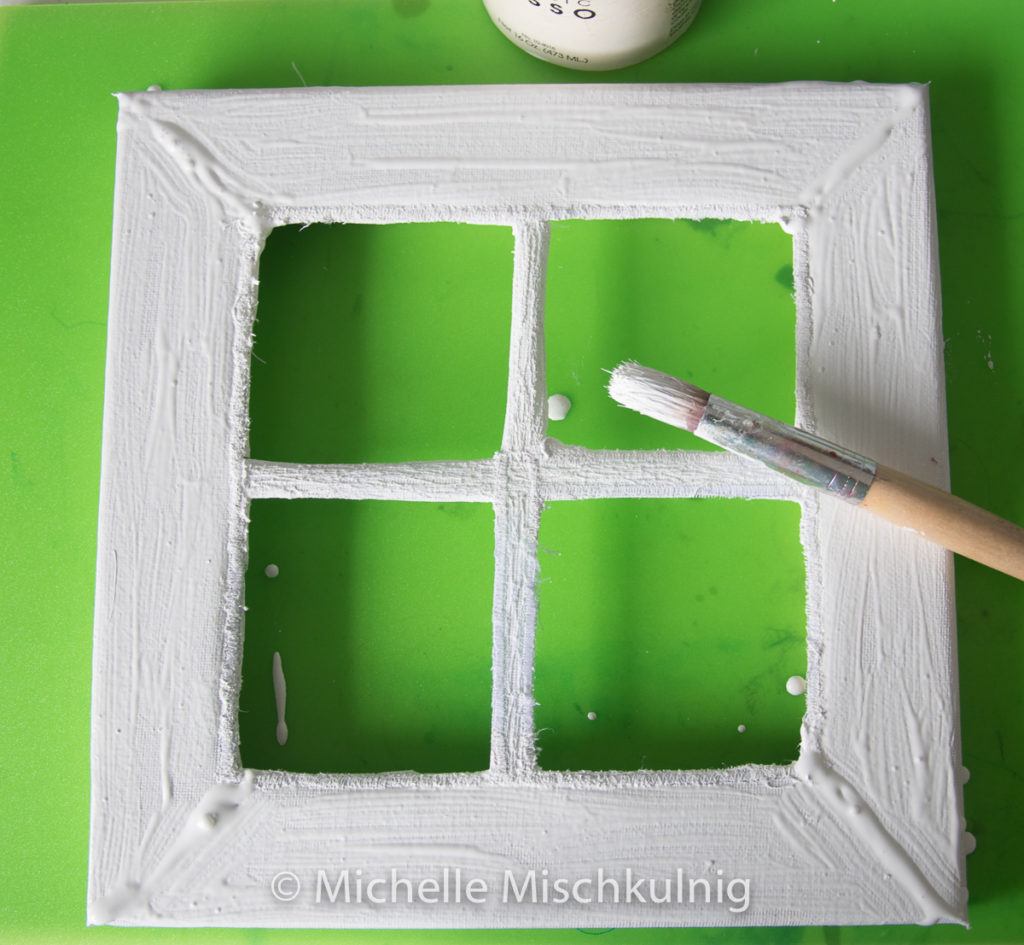 ---
The garden vista.
Fuse your floral design fabric and green fabric on a piece of calico. To do this first cut the calico fabric a little larger than the the back of the window but to fit with in there outside edge of the canvas frame. Fuse your floral and foliage fabric to the calico covering the top of the fabrics with baking paper to protect your iron and fabric. To fuse cut a piece of fusible web that is sized to the calico peel of the backing of the fusible web and lay on top of the calico, position your floral and foliage fabric on the calico and then fuse with a dry hot iron. Cut a backing of wadding to fit the size of your garden calico.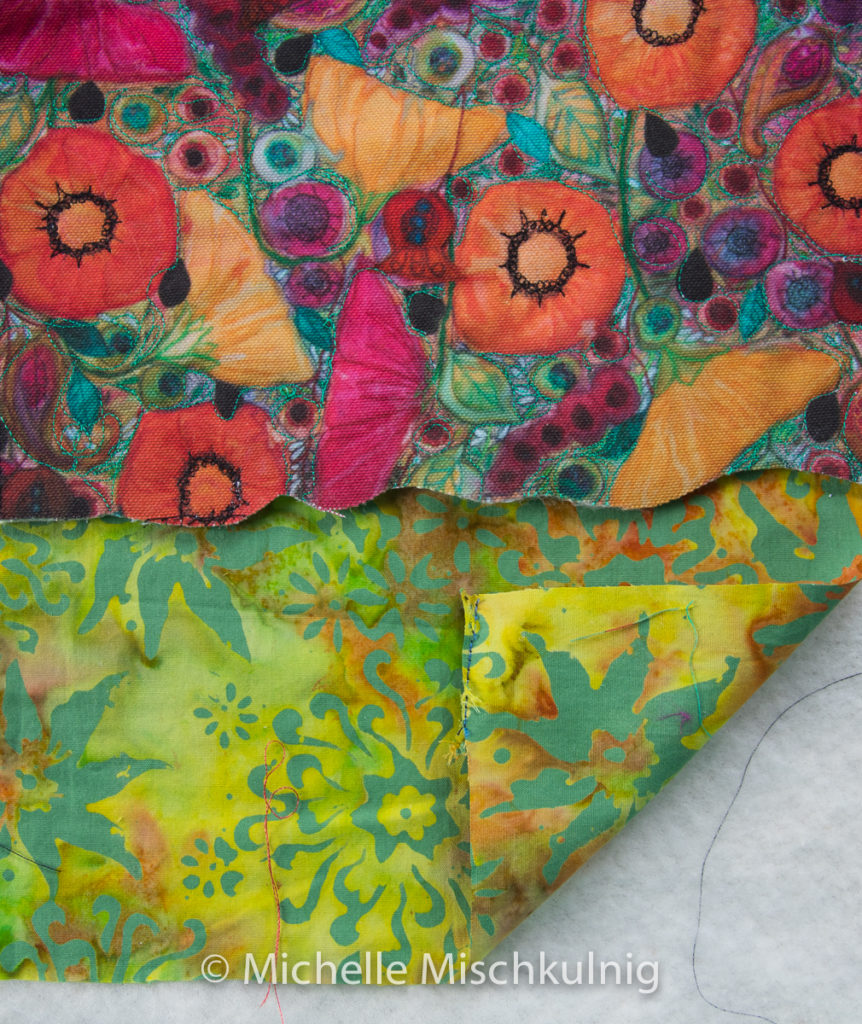 ---
To create a texture on your green foliage fabric I have used scraps and snips of fabric and thread finely cut .I snip these finely on top of a layer of peeled fusible web that covers the foliage fabric melt the fusible with a dry hot iron and baking paper covering the fine threads. This texture creates the energy and textures of a busy garden.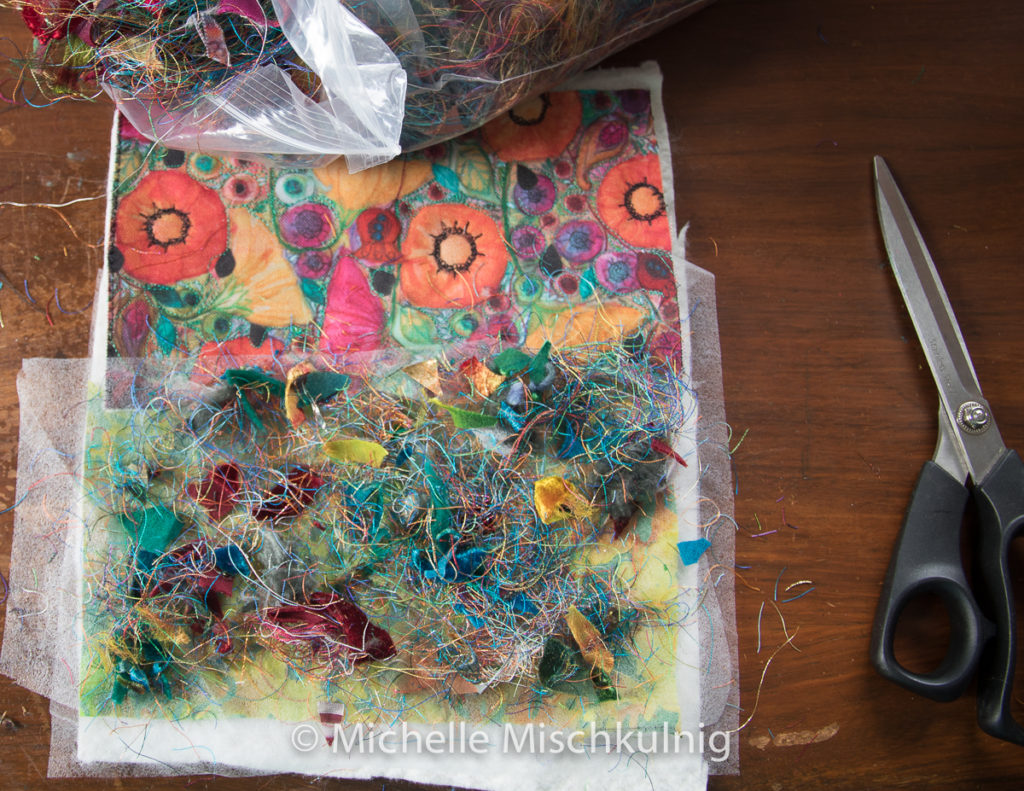 ---
Adding a final layer of texture to represent the stems of the plants.Use yarn, ribbon, chord etc by laying these ingredients on top of a layer of fusible web which is covering the finely snipped texture.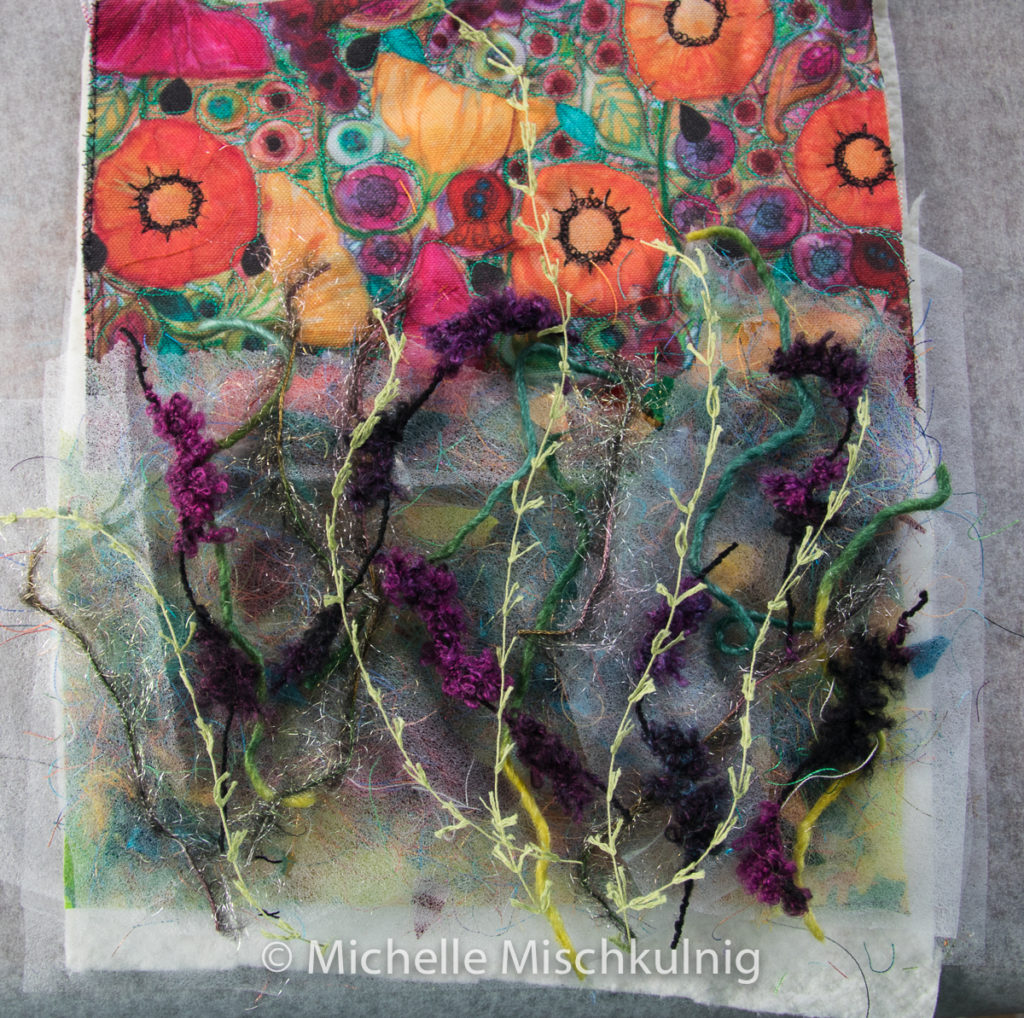 ---
Set your machine up for free motion stitching and use a closed toe free motion foot.Free motion stitch over the foliage texture using straight and patterned stitches.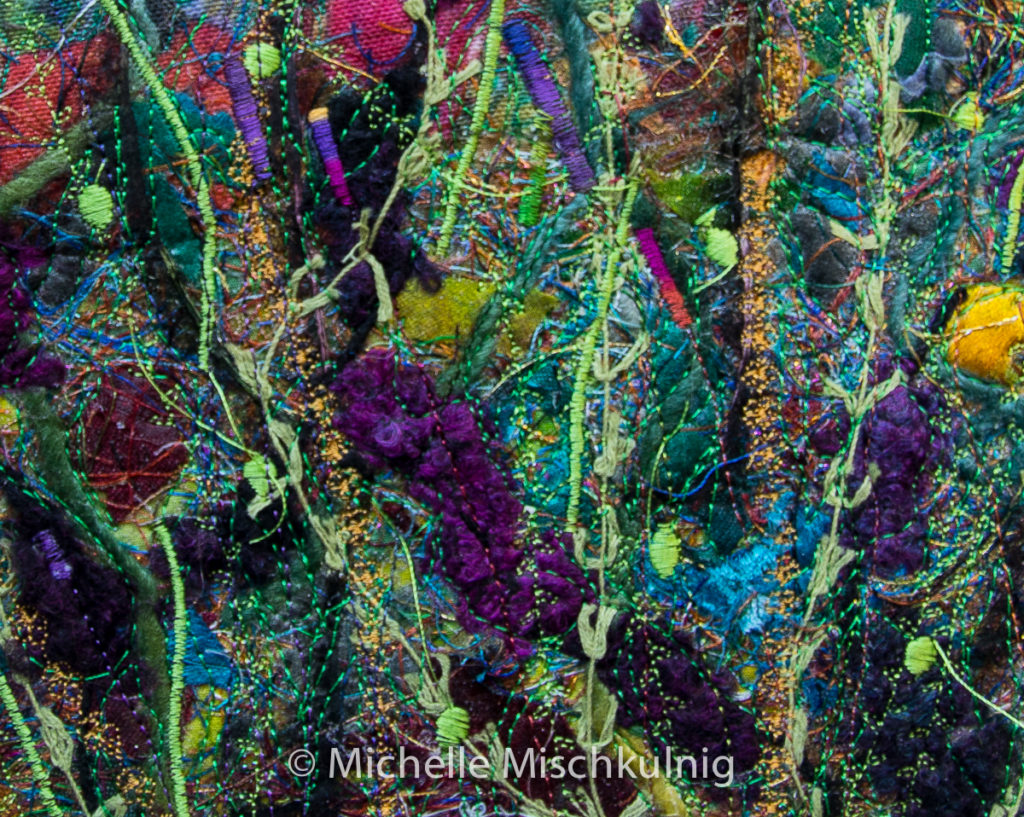 ---
Cutting and adding leaves out of different textured fabrics.Stitch your leaves through the foliage and flower heads area.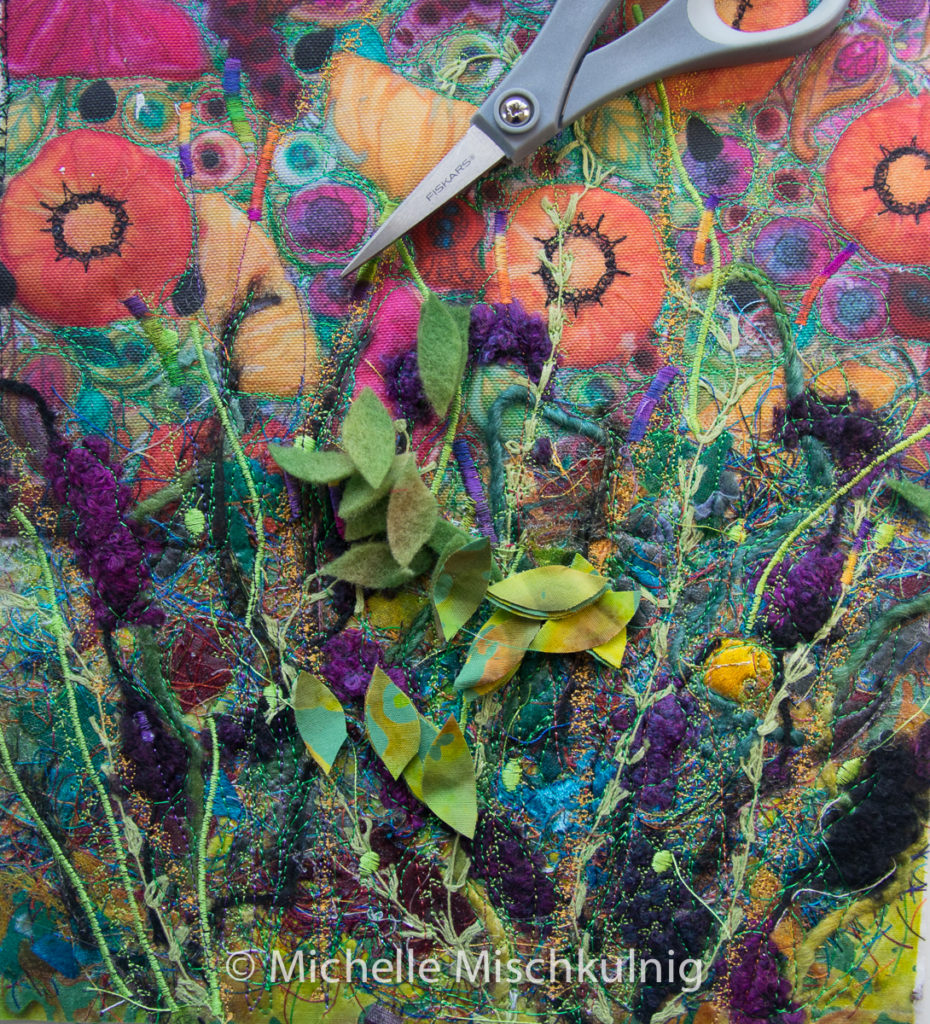 ---
Circles for the flower heads, these can be stitched as circles or folded to make interesting 3d flowers.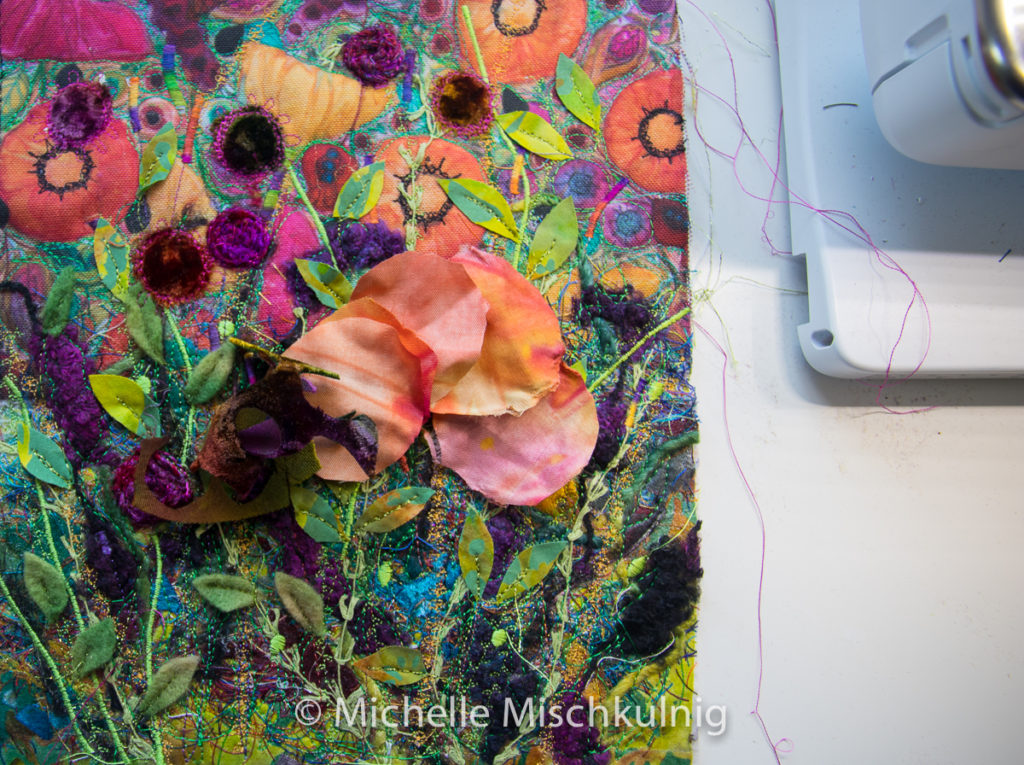 ---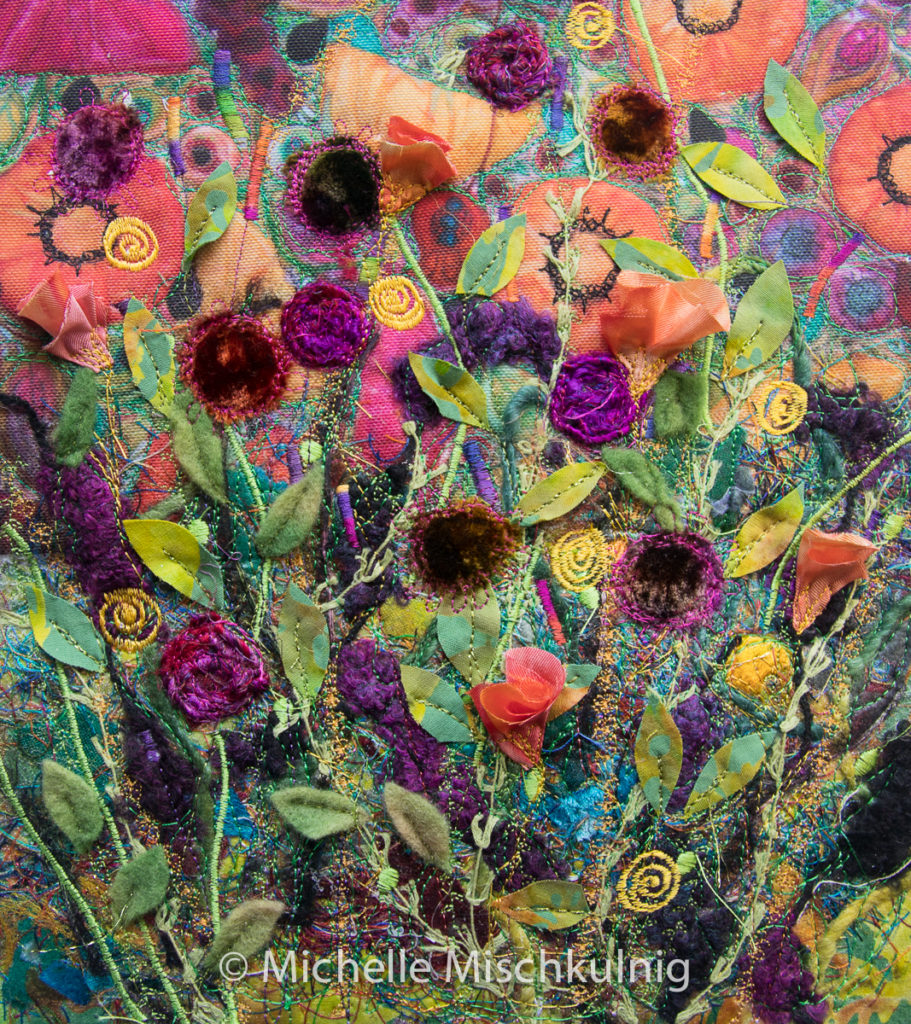 ---
Lace curtain
Measure your water soluble fabric a little larger than the window frame so as you can cut and gather it to your favored position on the window.
The water soluble fabric should be doubled to stitch. I have used a computerised patterned stitch in a grid and then small circles around the grid to make sure all stitches are connected .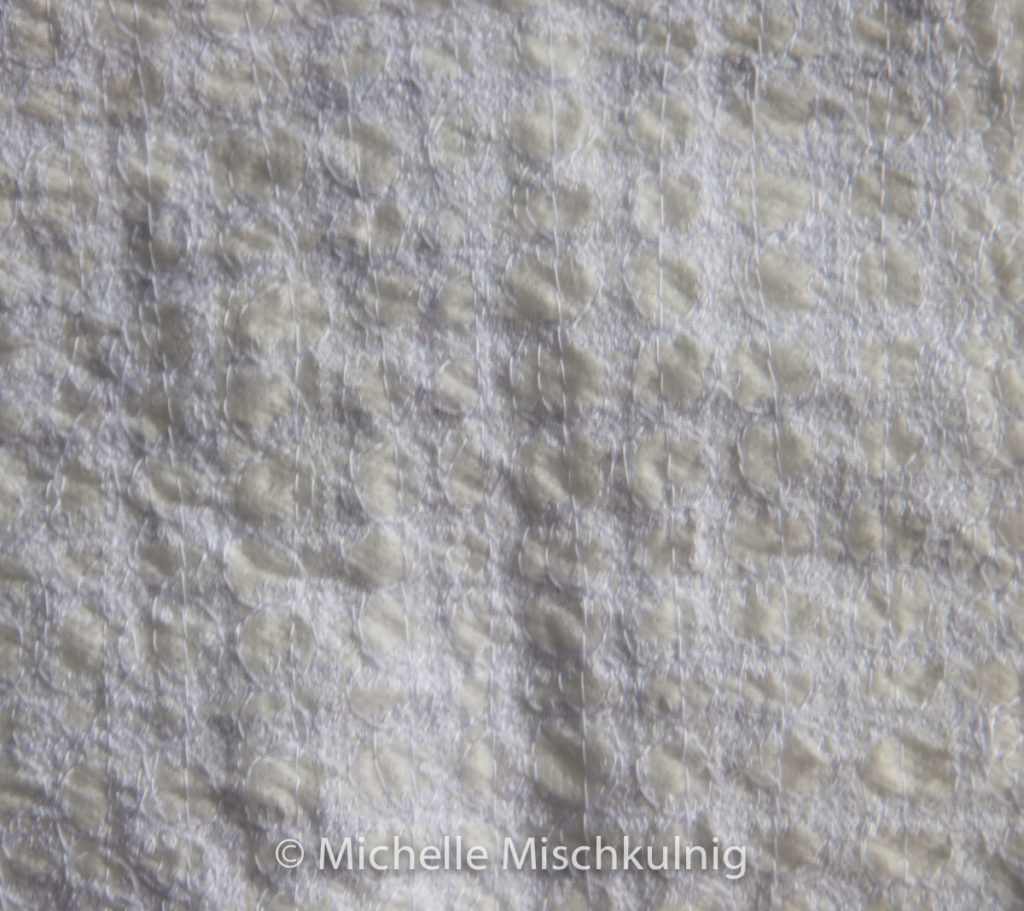 Wash out your water soluble fabric to reveal the lace curtain.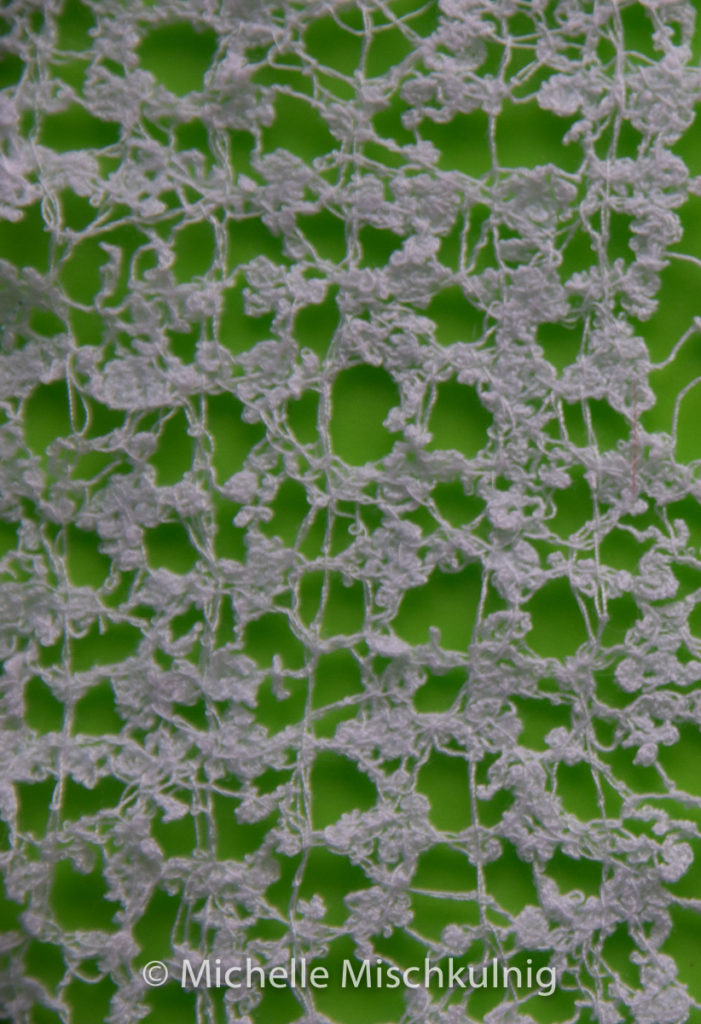 ---
Putting it all together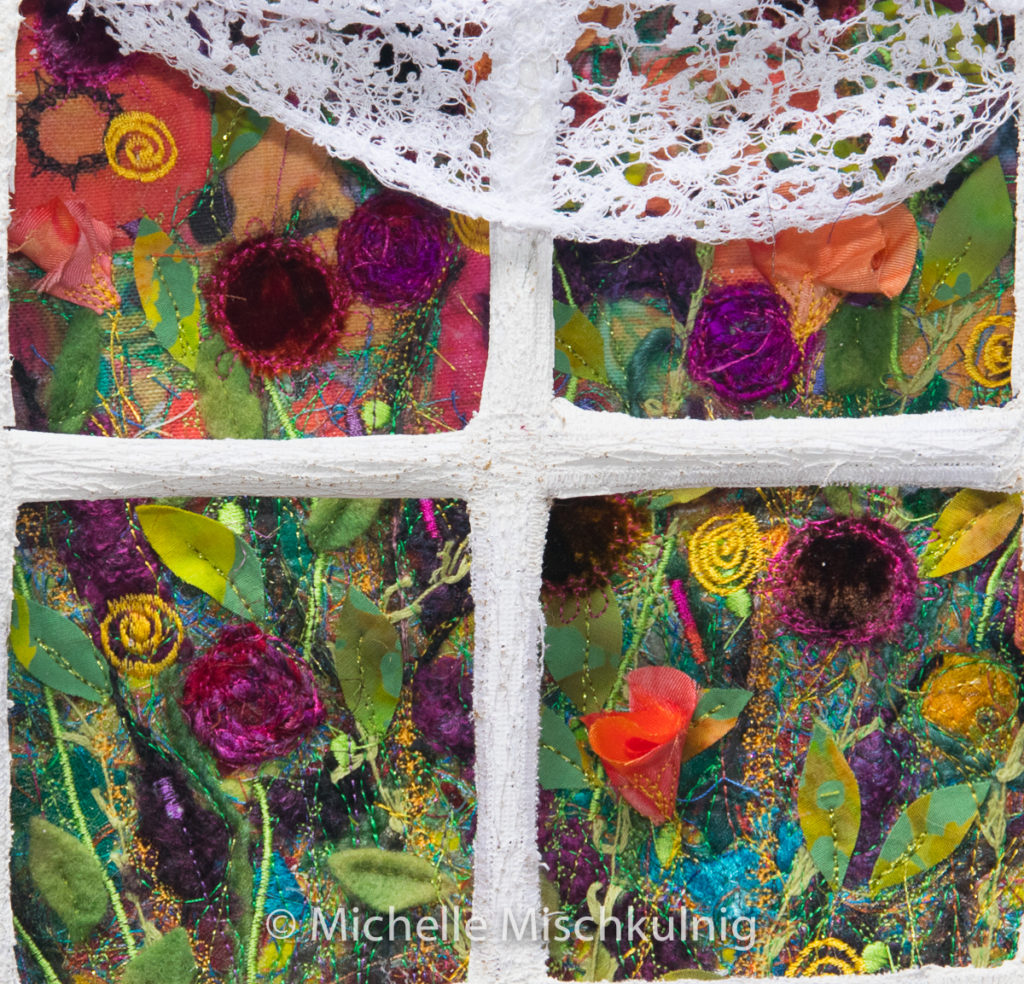 Ta Da
You are finished and remember this is just a possibility you can take it in any direction you like .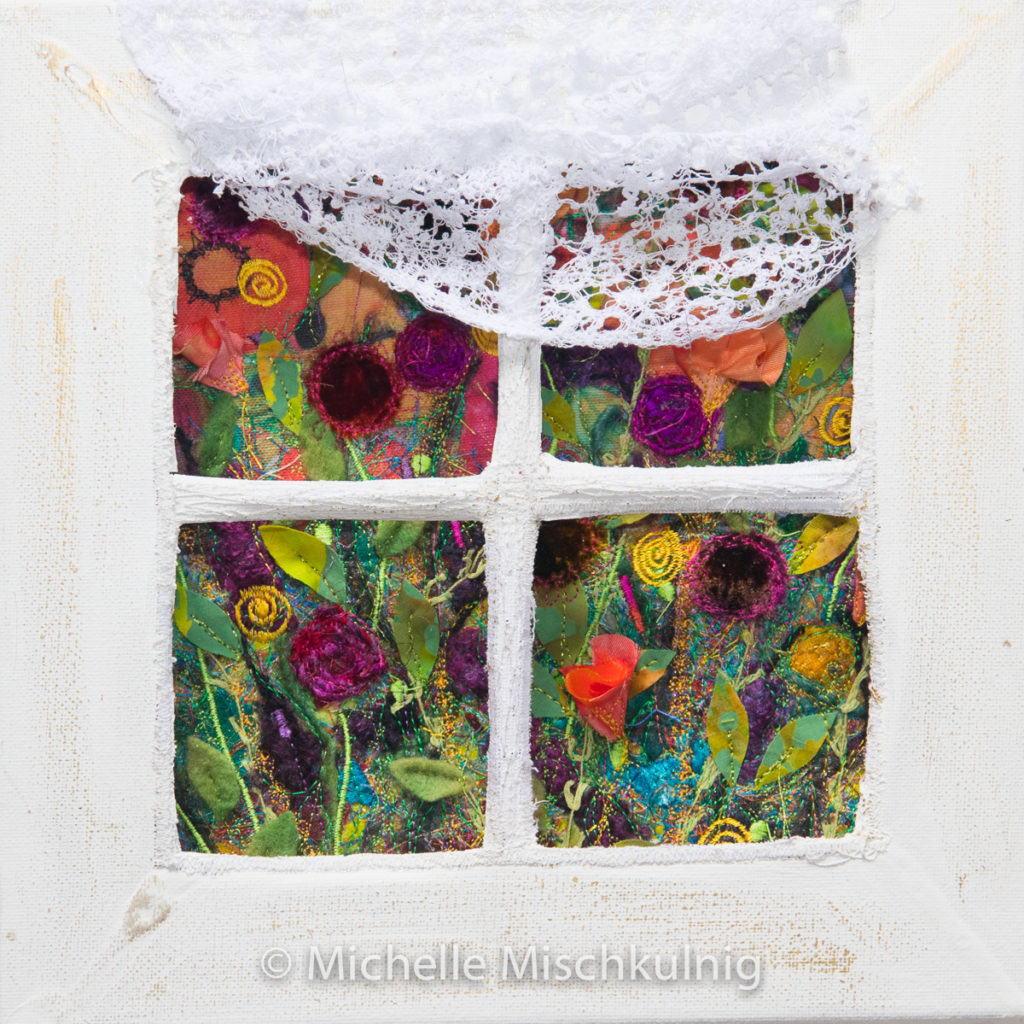 ---
Dont forget to register your expression of interest for Uluru 2018 .This will be such a exciting and inspirational event surrounded by beauty and creativity with great tutors. Plan ahead a wonderful journey to share with friends.
I will be teaching a cocoon jacket which is full reversible and in theme colours of the area.
https://chelletextiles.com.au/events/
http://www.textileartworkshopsonline.com/uluru-2018/