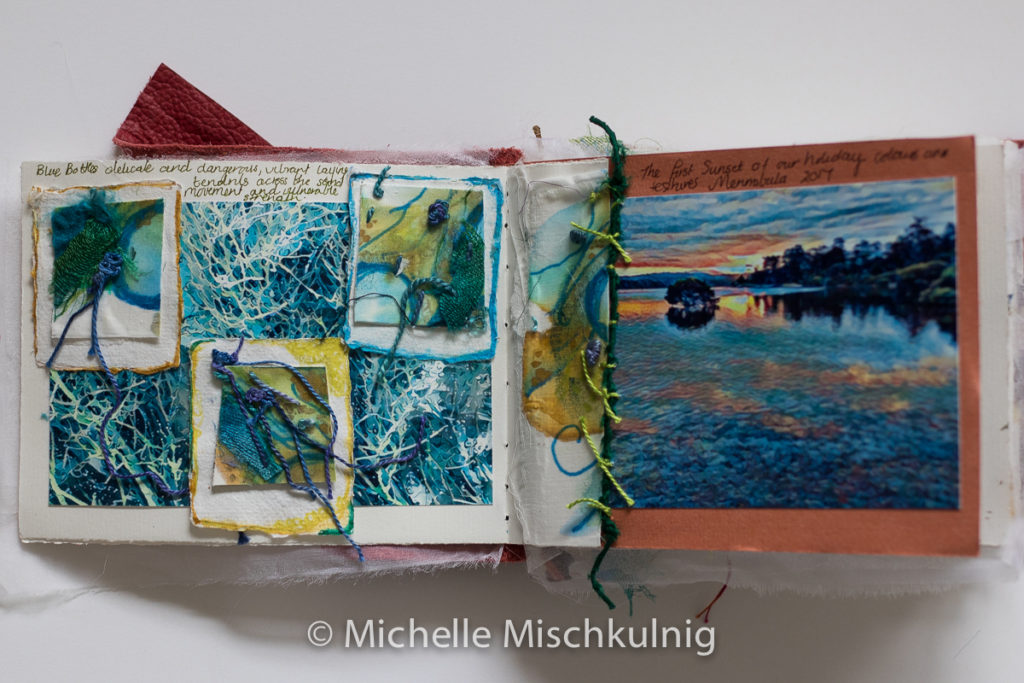 My holiday artist journal
The secret to a creative life is to let your intuition, curiosity, and soul capture the sparkling magic that surrounds us in our not so ordinary.
When I am on holidays at our" place of the heart" I see colours shapes, textures, layers, fabrics, ribbons, stitches, yarns and so on.
I don't try to create a botanical drawing or an accurate depiction, I create a feeling, an emotion, an interpretation. It is an expression of what I have observed, listened to, sensed and carried in my heart and head, it is a possibility". Michelle Mischkulnig
I have been holidaying at the same stunning coastal area for 25 years and each year I breathe in its beauty and enjoy the play time. Both last year and this year I have challenged myself to keep a small journal, by using the photos from my phone, paper , water colour pencils, a free art app, my canon selphy printer, hand stitch threads and found objects. I am sharing this with you and hope it inspires. If you would like to see more images from my journal please let me know and I will share them in a seperate blog.
Materials
Water colour pencils such as derwent inktense.
Mobile phone to photograph with.
Prisma art app http://prisma-ai.com
Canon selphy printer and paper ( this is a small mobile printer) https://www.canon.com.au/printers/selphy-cp1200 please shop around for best price.
Water colour journal .
Hand stitch threads and needles.
Glue stick or such.
Surprising bibs and bobs.
Found objects such a vegetation, sea weed, drift wood, shells, silver foil, magazines and newspaper, lolly wrappers etc.
A sense of adventure.
---
Early morning walks are all ways the best time to take photos.We had quite a few days with "blue bottle " stingers. I found them washed up with their long tentacle wrapped up in the seaweed, the seaweed also had attracted blue shells and other blue jelly fish it was like a tangle of jewels.
You can see using the Prisma app opens so many design ideas.I have used found objects, paint layers of paper little shell etc.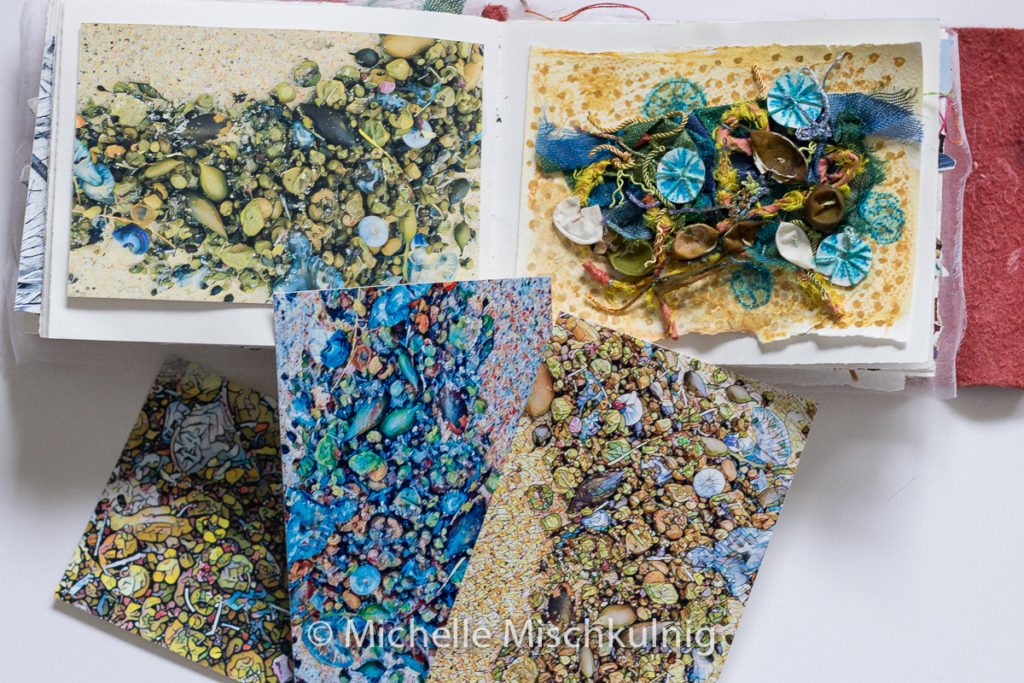 This is a video of me working on the above journal entry.
---
A love bare branches and was delighted to see how this original image of a fallen weathered tree could be made into differing art works using Prisma app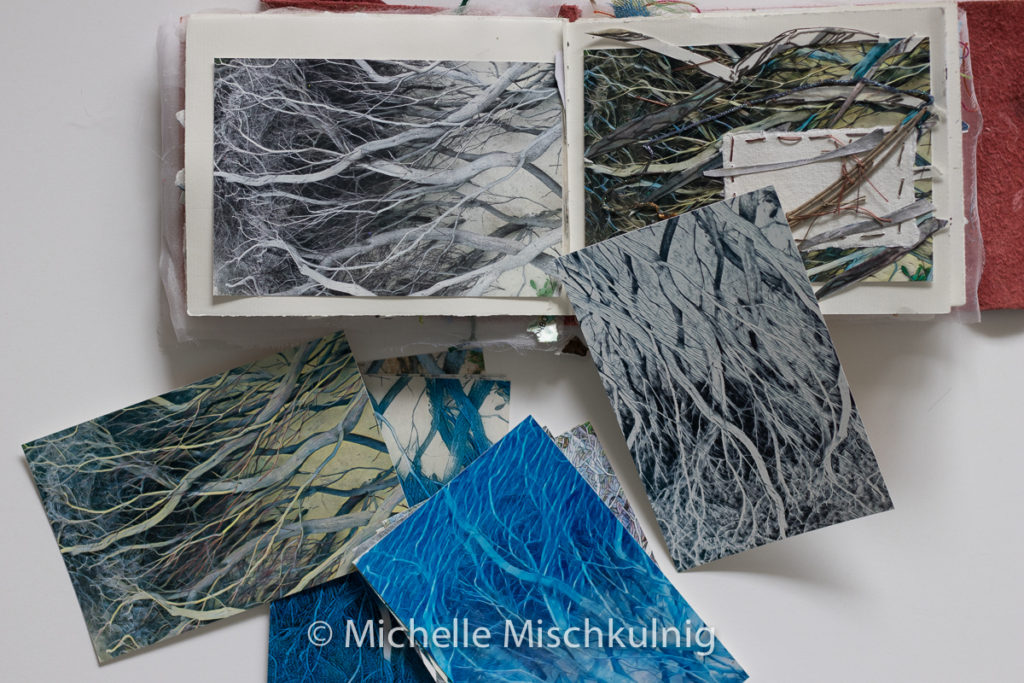 This is one of my favourite images and I love the different interpretations and emotions each art work resonate.
---
The beach at sunrise this is my view every day on holidays.
---
Always looking, listening, sensing, eyes open, alert to inspiration.Love walking and finding the magic.It is always there in the ordinary.
---
A short video where I am creating a journal page using torn magazines and news paper.
---
Rocks aren't they wonderful holds of footsteps of journeys. Look at the way the grass falls over them.This made a beautiful page in my journal.
---
So much texture and possibilities gorgeous colours and textures.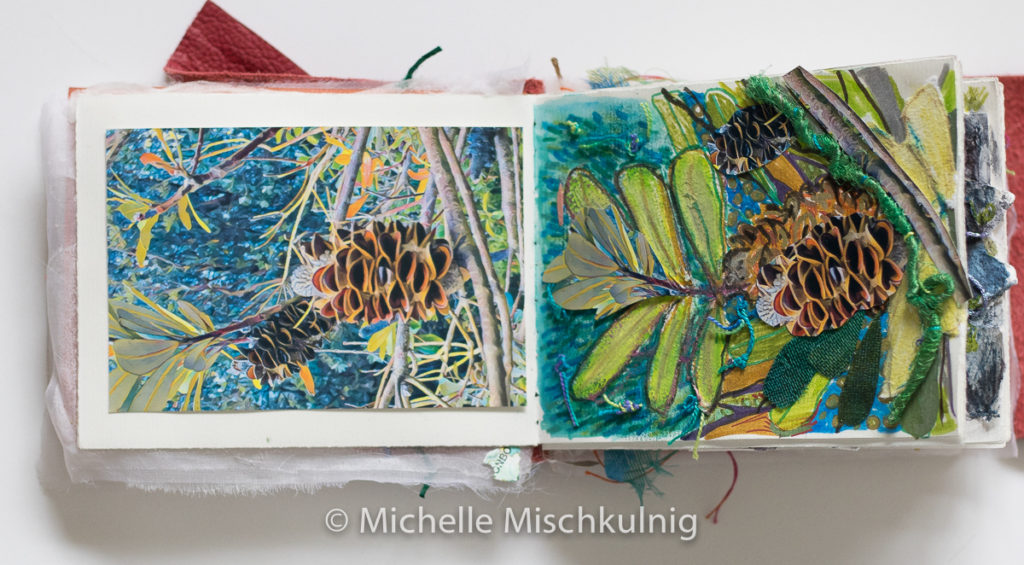 ---
I am sharing with you a wonderful short video by Lou Gardiner a wonderful textile artist enjoy.
https://www.facebook.com/pg/Louisegardinerembroidery/videos/?ref=page_internal