Dancing with Dragonflies very special birthday book
"There is a vitality, a life force, an energy, a quickening that is translated through you into action, and because there is only one of you in all time, this expression is unique. And if you block it, it will never exist through any other medium and will be lost."
― Martha Graham
Hi everyone welcome back to my blog and welcome newcomers , as you all know I have been sharing projects on my blog for some time now. I do this because I enjoy the process and hope to inspire people of all skill levels and disciplines to create beautiful artworks. Each project takes much of my time and I have decided to only publish one project a month.The project I am posting today will keep you busy, it was an idea that had been eating me up for some time bubbling way in the back of my mind, until it was bursting to come out and now it has I have realised what a special keepsake it would be to keep or to give.Please set aside time to finish the Dragonfly birthday book.
ps it has been suggested I put together kits for this project if you are interested please let me know in the comments and I will see if I get enough people to make up the kits :-)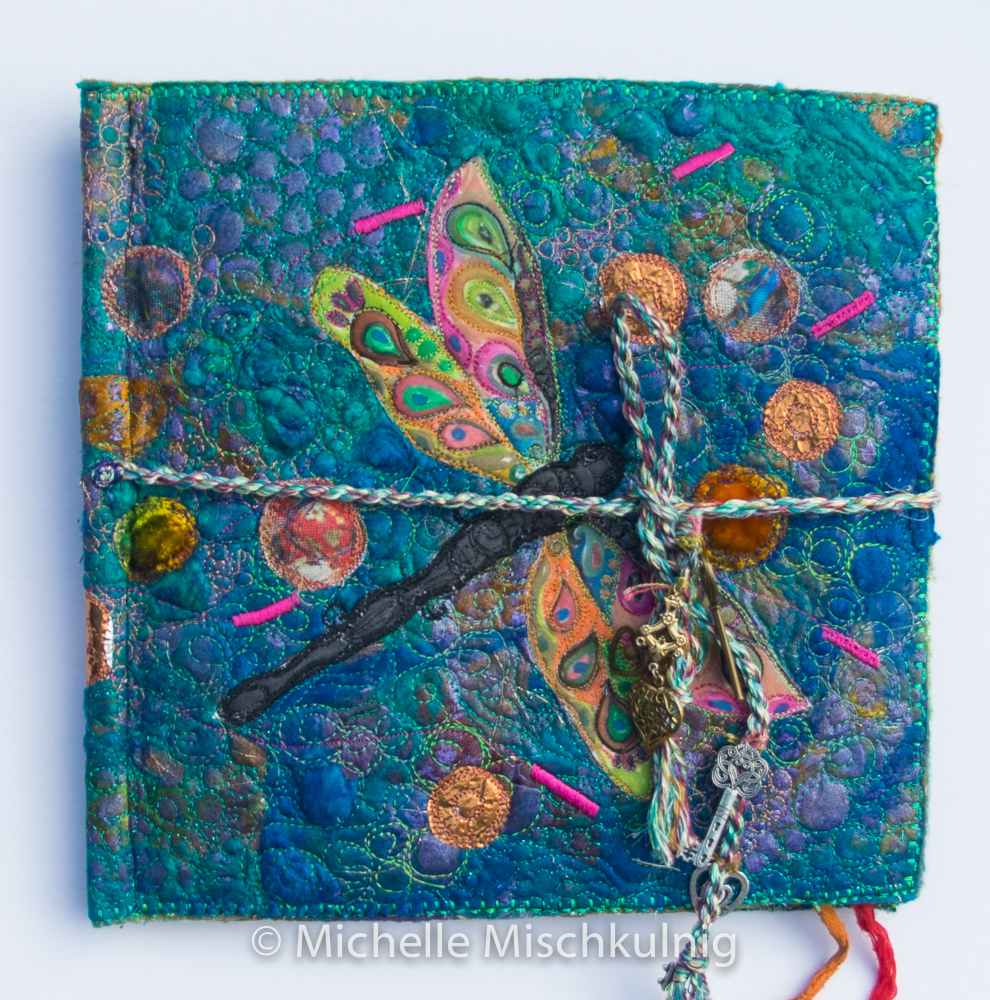 Materials
---
Khadi book – It is a bound, 20cm x 20cm, 30 pages book. Available at many places this is where I buy them. http://www.thethreadstudio.com/catalogue/exp/khadi/booktext.htm
Silk fibres – I used degummed soft silk cocoons you can use similar fibres, I like to use this fibre because its full of interesting lumps, bumps, texture and colours
http://www.thethreadstudio.com/catalogue/fibre/fibre1.htm
Cotton fabric to fit 2 dragonflies on and to back each page as seen in instructions.
Derwent inktense pencils or ant fabric markers
Felt flimsie, prefelt or alternative http://www.thethreadstudio.com/catalogue/fab/fab2.htm
Small amount metallic threads and velvets or such
Small amount of extra fabric contrast with the backing I used hand dyed velvet you could use a printed cotton or many other types of fabrics.
Rayon machine embroidery threads .
Black thread black for body.
Fusible web.
Ribbons, chords, bling, interesting fabrics for each month name.
Stencil and paint.http://www.thethreadstudio.com/catalogue/exp/stencils.htm
Fine black permanent pen marker.
---
To begin at the very beginning
The pages of the birthday book
To start tear out of your Khadi book 12 pages and rule up the months, 1 month per page.My grid was 6 across and 6 down. Number each month with the dates dont forget February can have 29 days .I have made each dated square 3cm with an outer edge boarder of approximately 1 1/2 cm.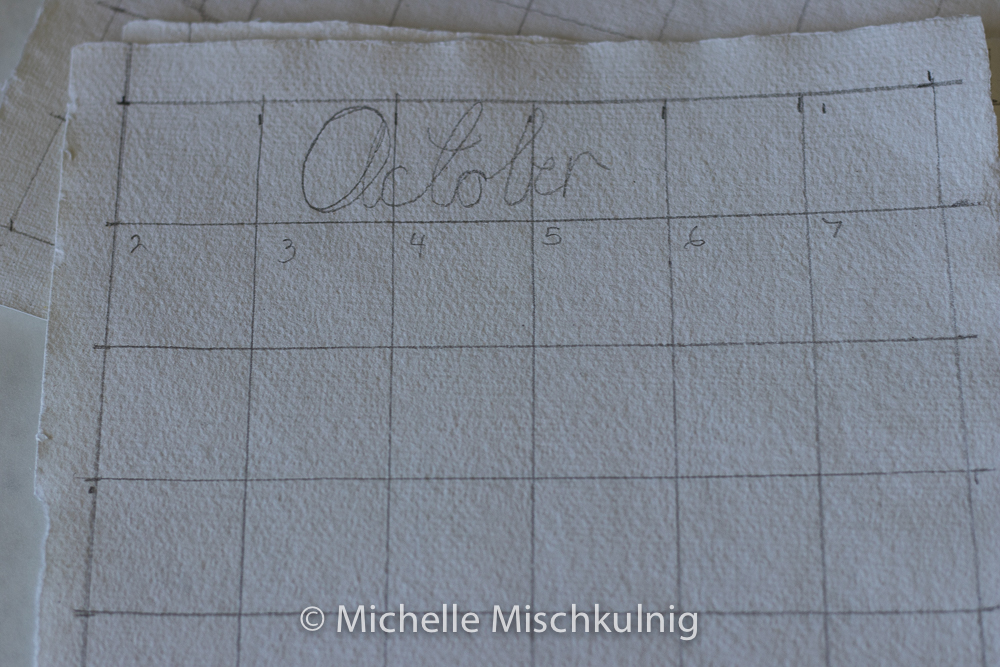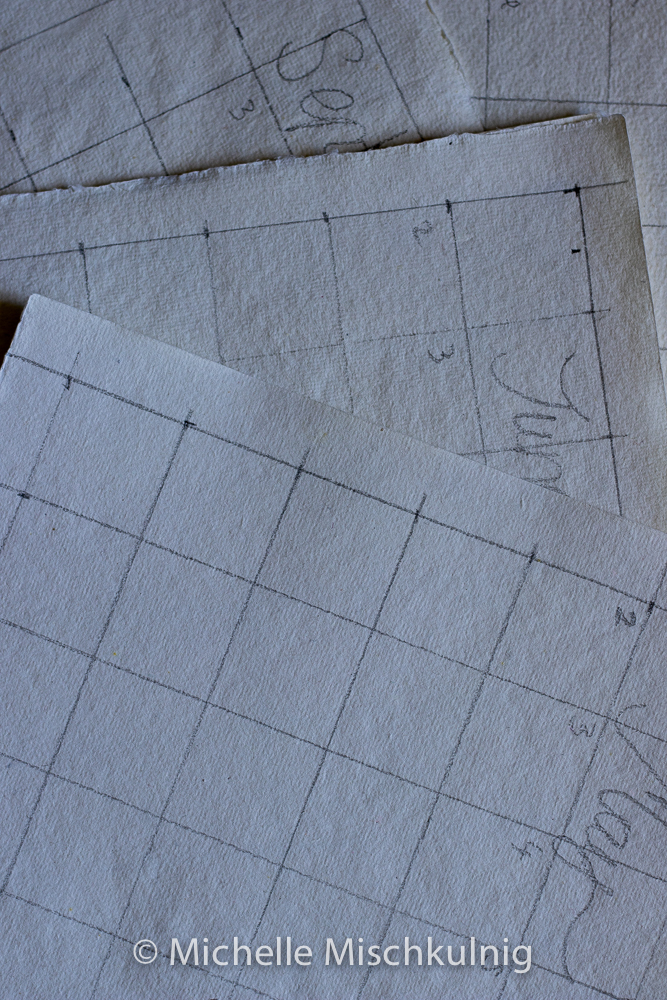 ---
After your pages are ruled up use fusible web attach a piece of fine cotton or calico to the back of each page. To do this cut the fusible web to the size of the ruled khadi page and cut the backing fabric just a little larger than the page for 2 reasons to be able to trim back and allowing the left hand side of every page to be able to be stitched together through the fabric to form the spine of the book.
When you have cut the fusible web to size lay it on the back of your page and fuse with a hot dry iron using baking paper to protect your iron and cloth. Make sure you leave a fabric edge on the left hand side of the page being viewed form the front of approx 2 1/2 cm, this is to secure all the pages together by stitch.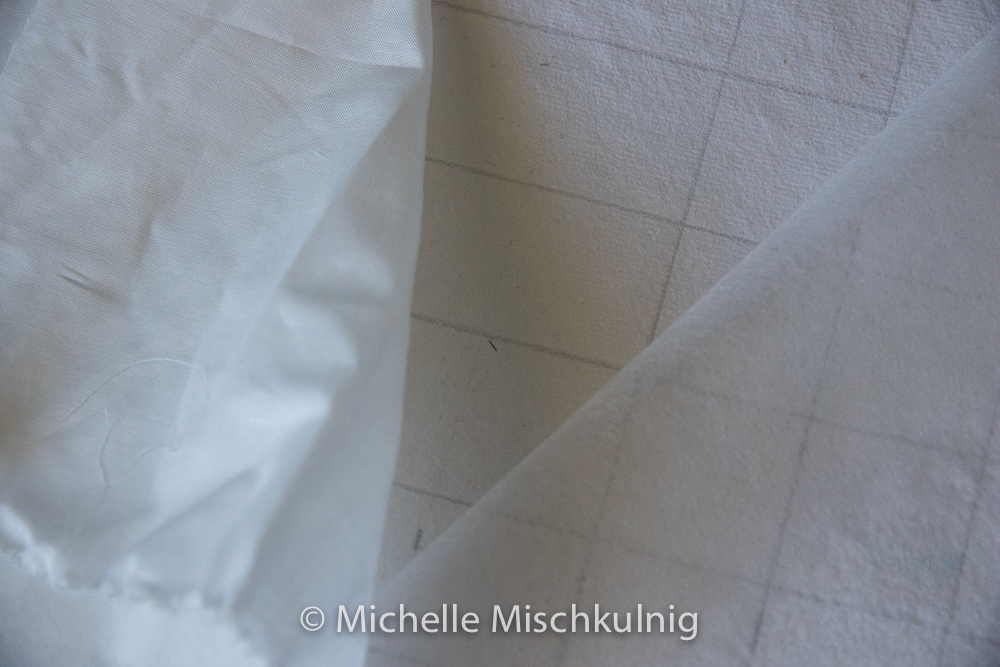 ---
Backing your khadi paper with fabric strengthens the paper for stitch.Stitch your grid lines with any stitches your heart desires each page in my Birthday book is different.Then add the dates using your sewing machines fee motion embroidery settings this is quite time consuming so be patient its a fiddly part of the beautiful book. If you are not confident to stitch the numbers free motion you can write them in with a nice pen or marker.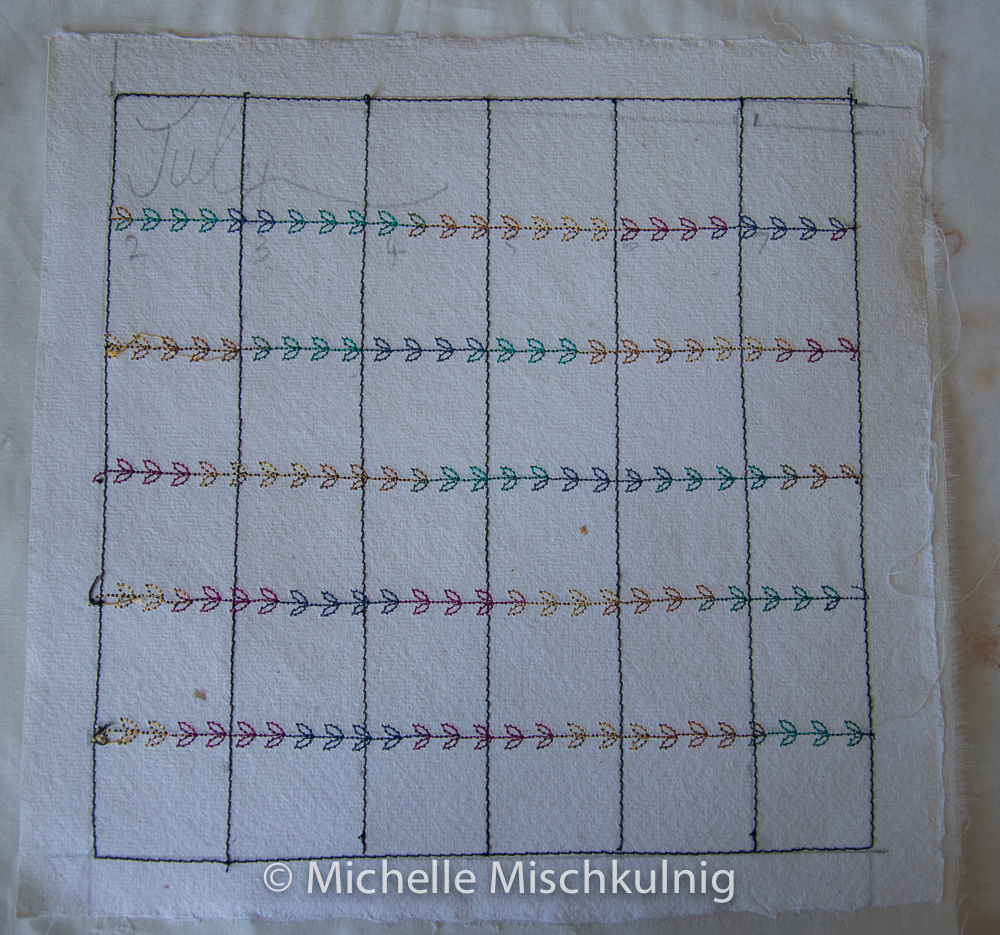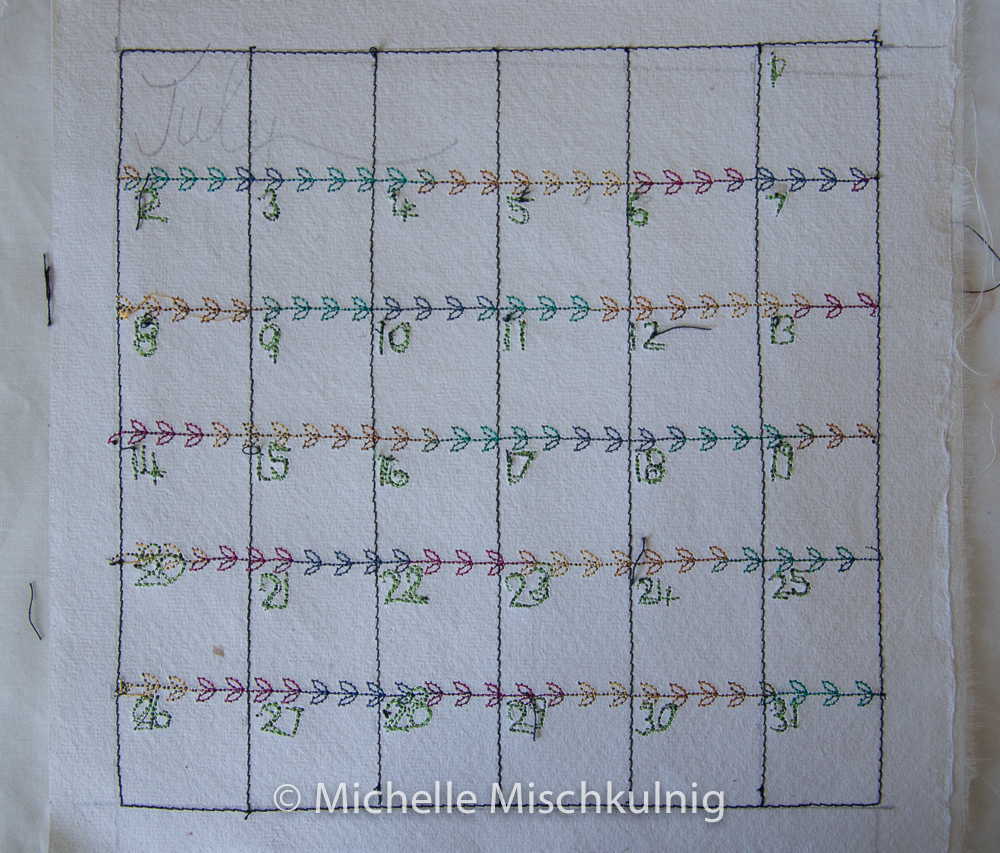 ---
Next its time to add the month at the top of the page. Again this is a organic process choosing lovely textures and colours of left over fabrics, I have used velvets, hand painted silks, embroidered fabrics, foil papers etc . Use a small zig zag stitch free motion to write the name of the month for machine needle and free motion settings allow you to stitch like the needle is a pen.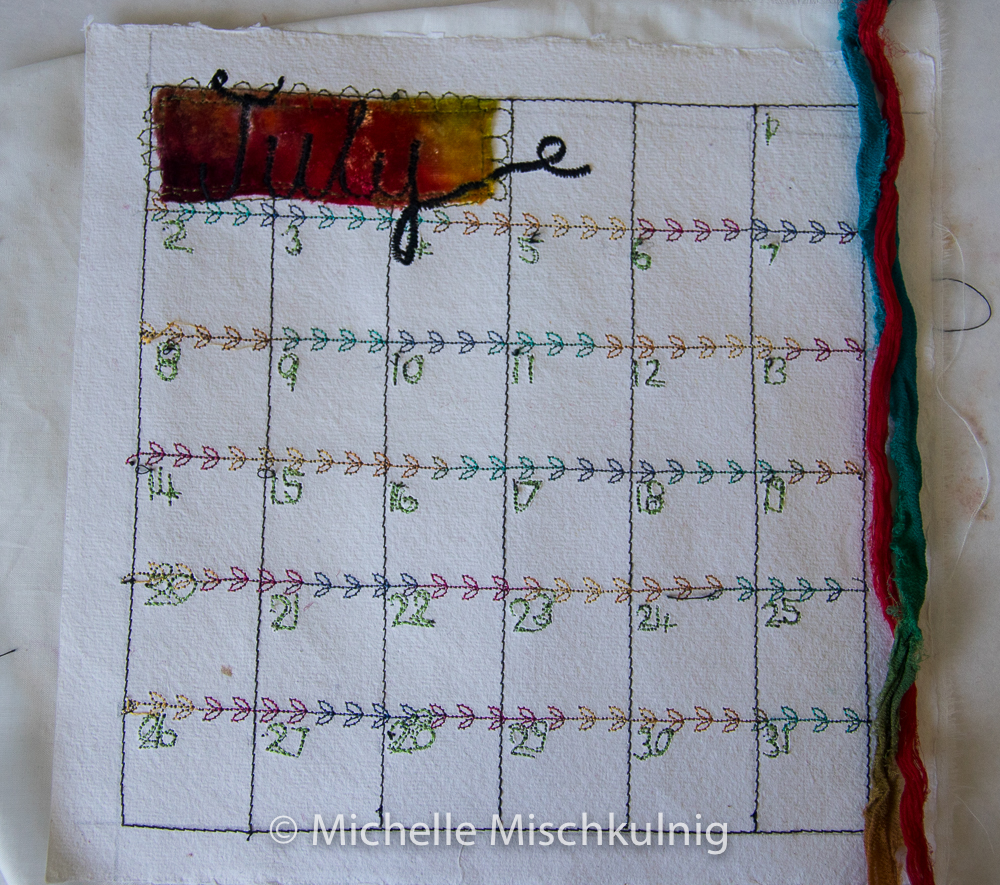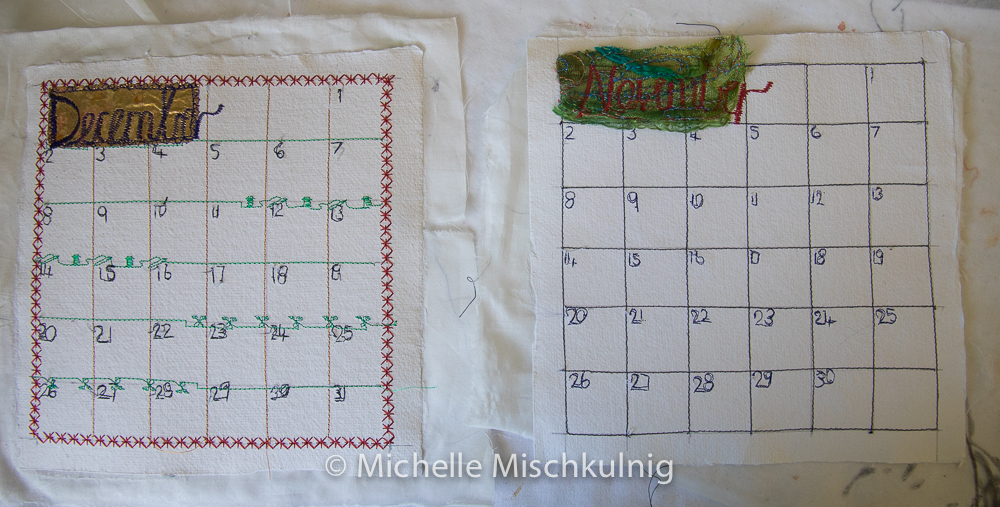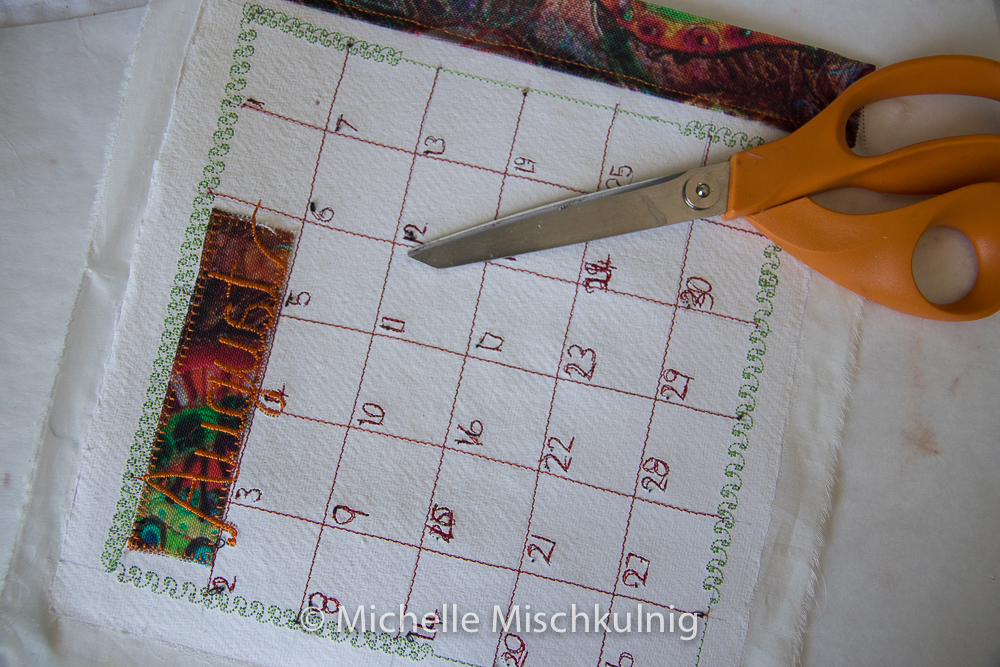 Gather together all your pages and using double sided tape in the centre of each page attach January to February with the grids on the out side, etc until there are a total of six pages ( i.e. 12 pages back to back make 6 pages) Hold these pages toghetr with some decorative stitch around the outside edge of each 6 pages.
---
This step is optional , I have painted in some of the grid and edges of my pages.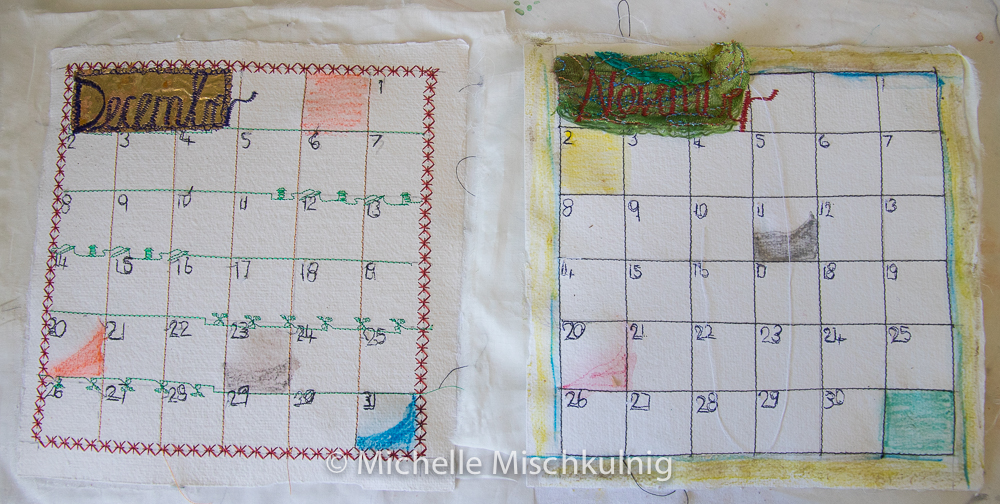 Gather together all your pages and using double sided tape in the centre of each page attach January to February back to back continue on through the months, etc until there are a total of six pages ( i.e. 12 pages back to back make 6 pages) Hold these pages toghether with some decorative stitch around the outside edge of each 6 pages.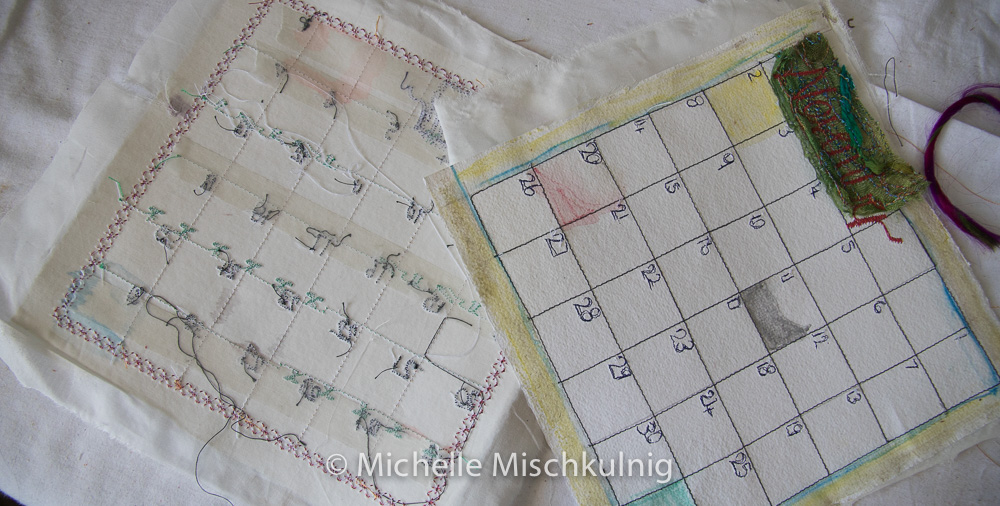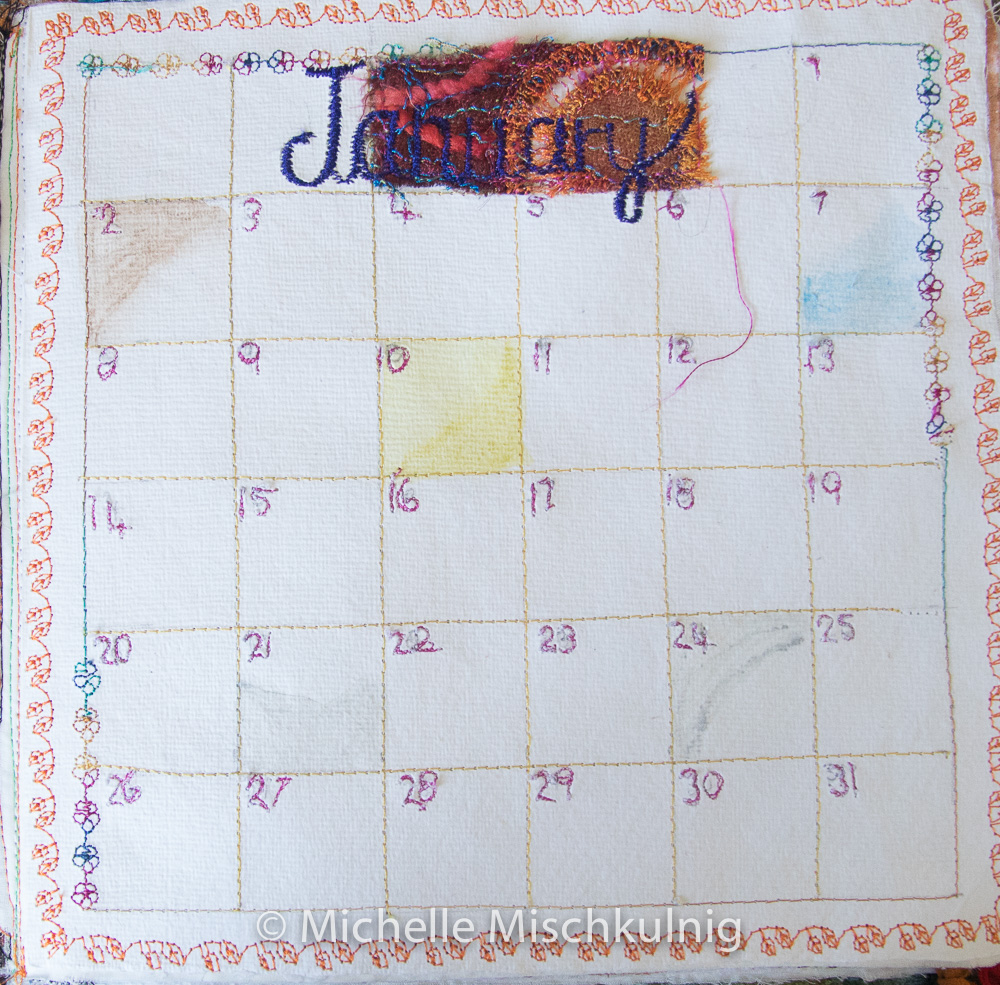 ---
The cover
Measure the cover making it a little larger than the cover of the khadi book, I have used a hand dyed wool flimsie, because it gives a lovely contrast to the silk fibres and enhances the textures.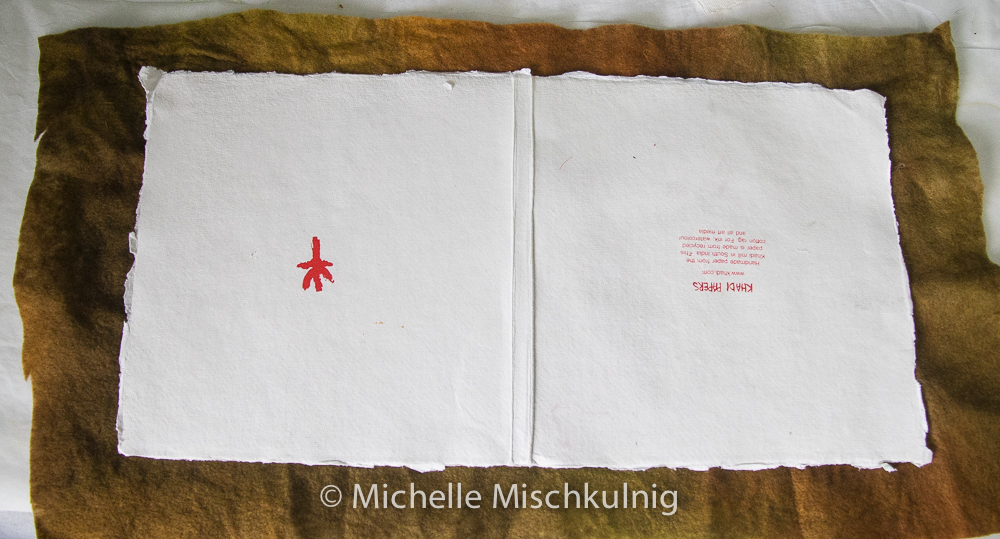 Cover the flimsie with a piece of peeled fusible web cut to size.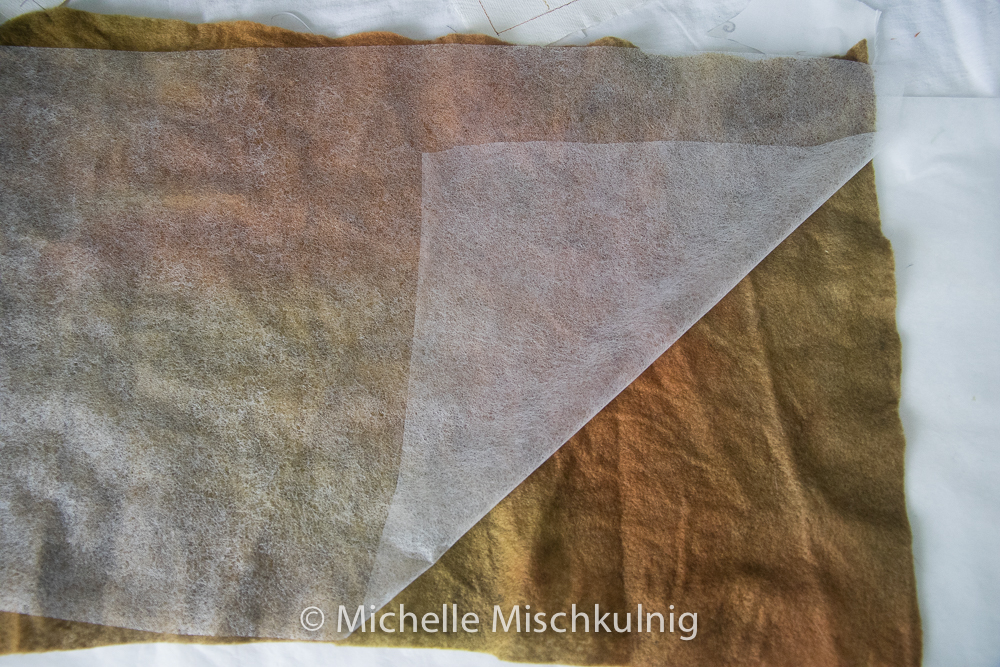 Grab the silk fibre you are going to use I am using degummed soft silk cocoons because I like the texture.Pull your silk fibre apart to make a thin layer and place on top of fusible web.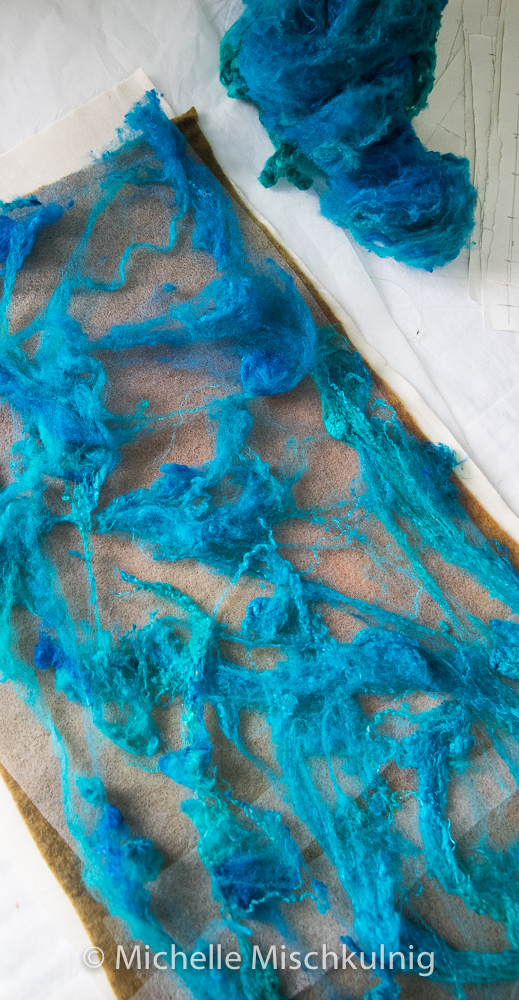 Then add some metallic thread or yarns across the surface of the silk fibre.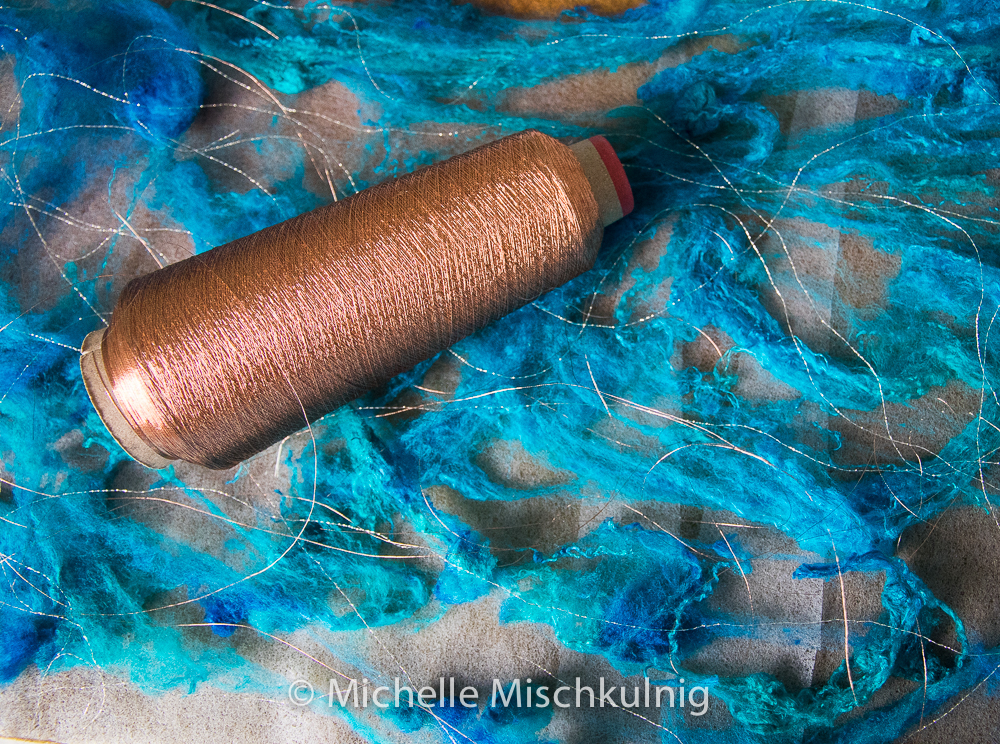 Choose a lovely fabric to enhance your textures and colours here I have used hand dyed silk velvet and cut small pieces which I have laid across the surface.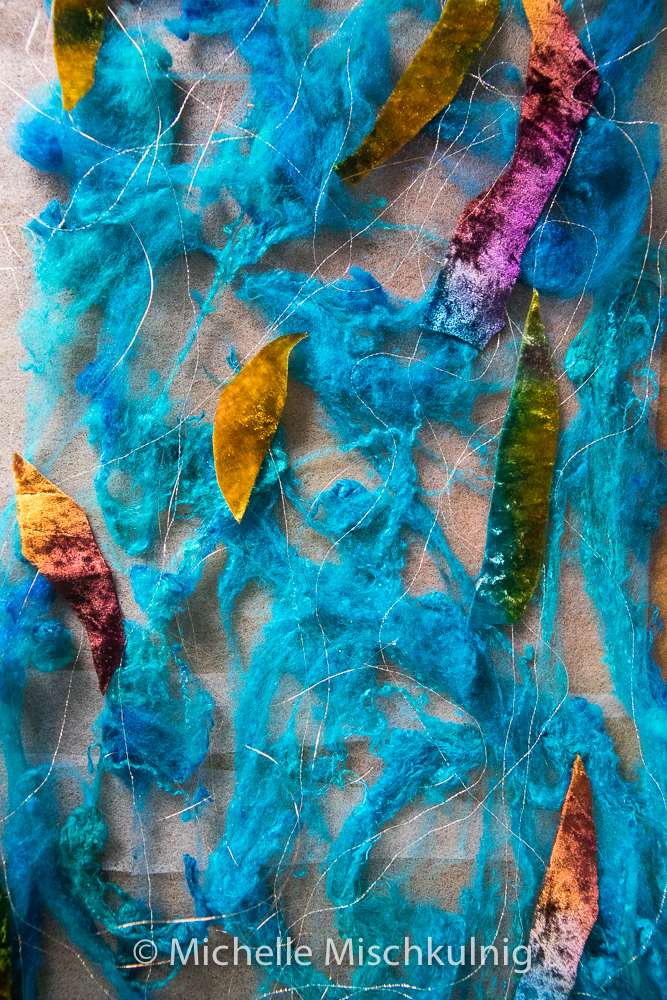 Place another layer of fusible web on the top of the silk fibres, fabric and threads. The final layer is made by stretching and pulling silk fibre to make a fine layer, I have used the same hand dyed degummed soft cocoon silk.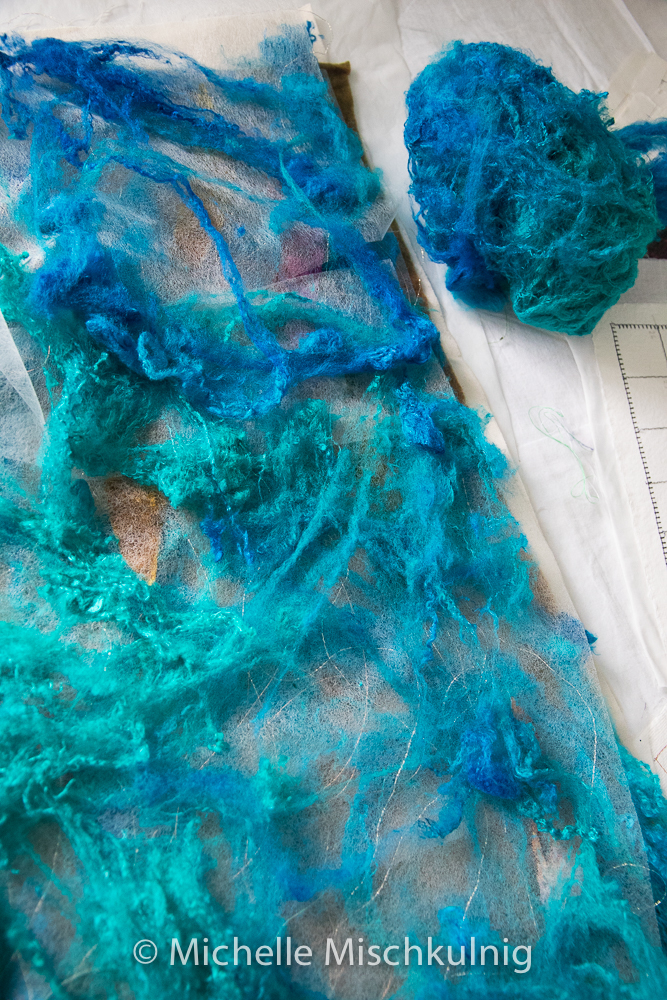 Now place a piece of baking paper over the entire surface and press with a hot dry iron to fuse.A you are fusing through several layers this may take some time make sure the web is completely melted, see the image below .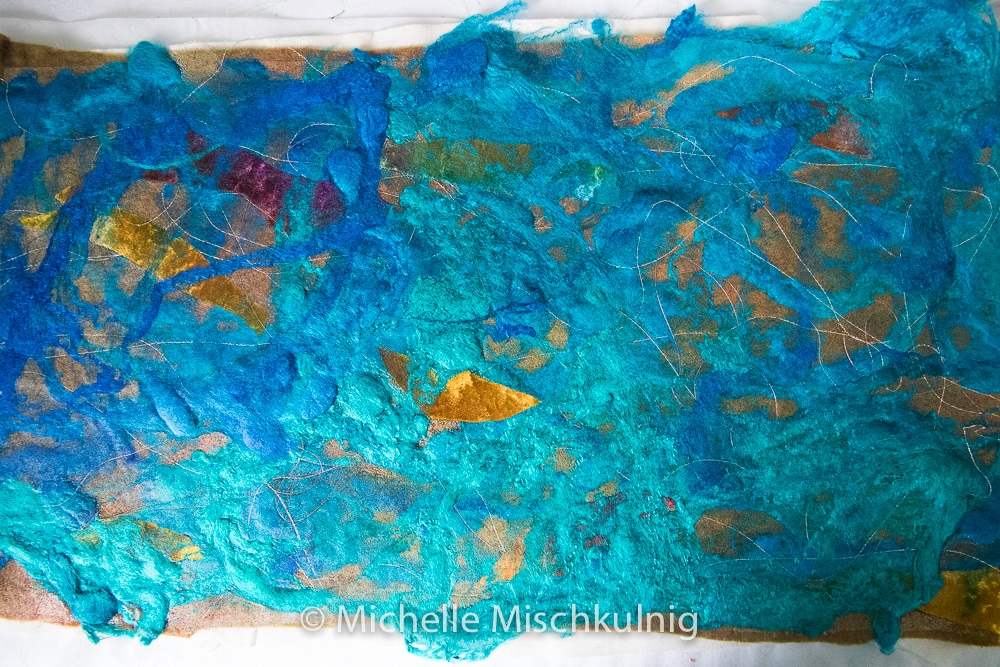 ---
Optional step I had just received a new stencil and wanted to use it to add another dimension to the cover of the birthday book .I used a metallic rub over my stencil but you could use paint etc.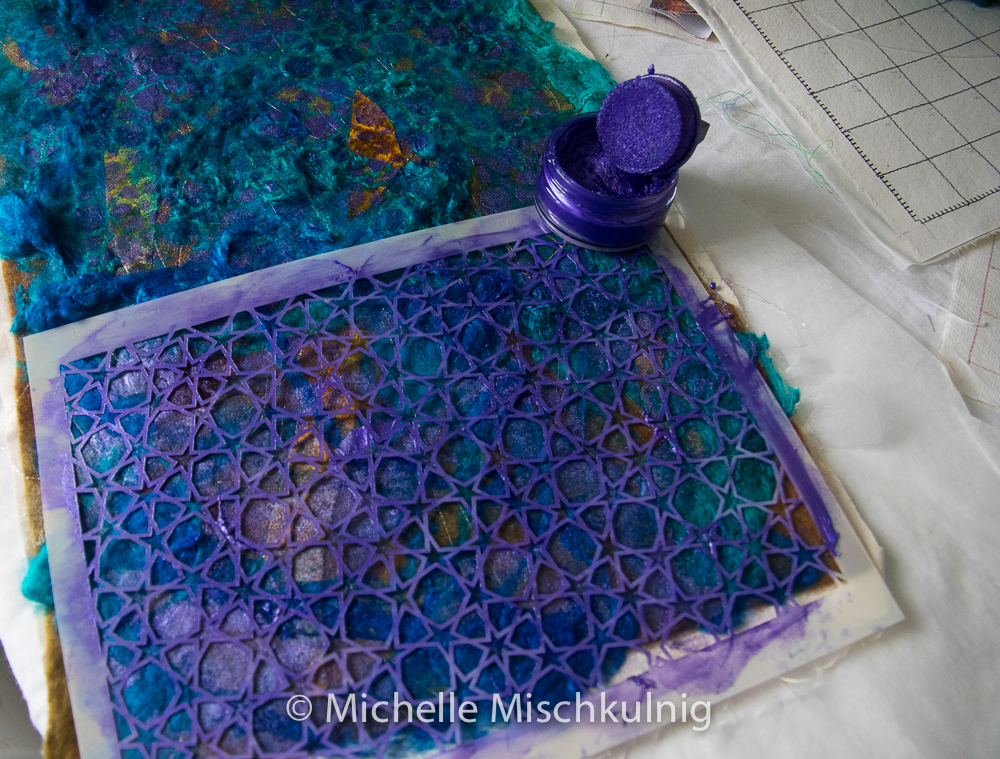 ---
Dragon flies
Trace your dragonfly design with a black permanent marker on to the cotton.When you have traced your dragonfly iron it to the fabric side of the fusible web, leaving the backing on while fusing.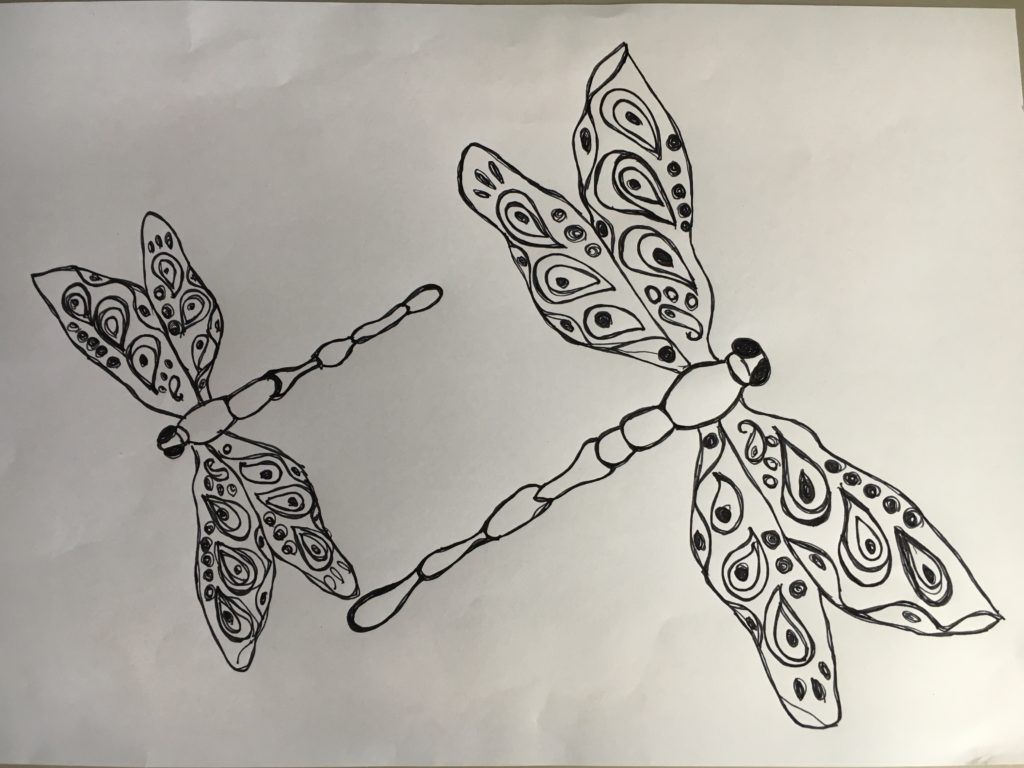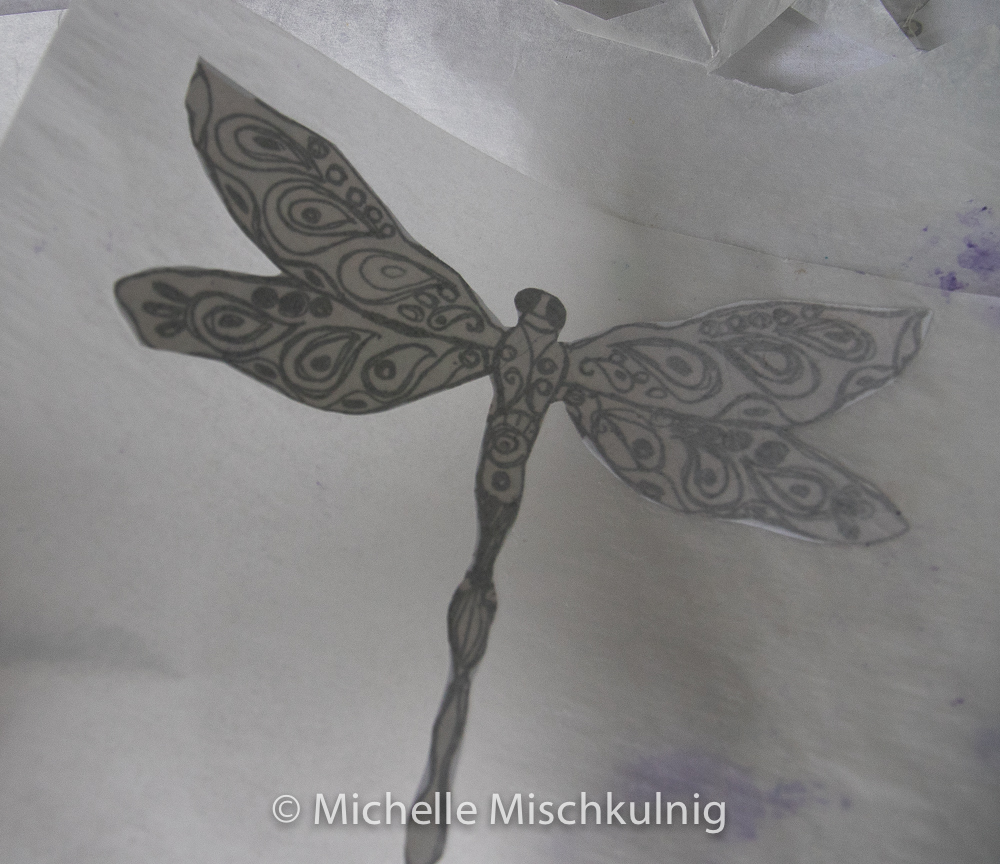 ---
Cut out the dragonfly shape and then peel of backing paper and fuse onto the surface of your book cover using baking paper to protect your iron and fabric.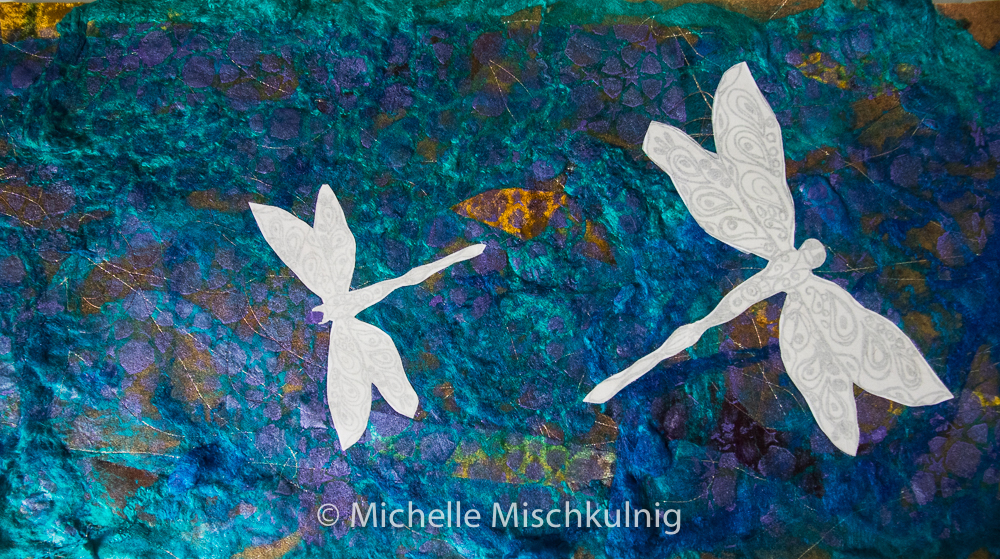 Colour in the wings with pencils and markers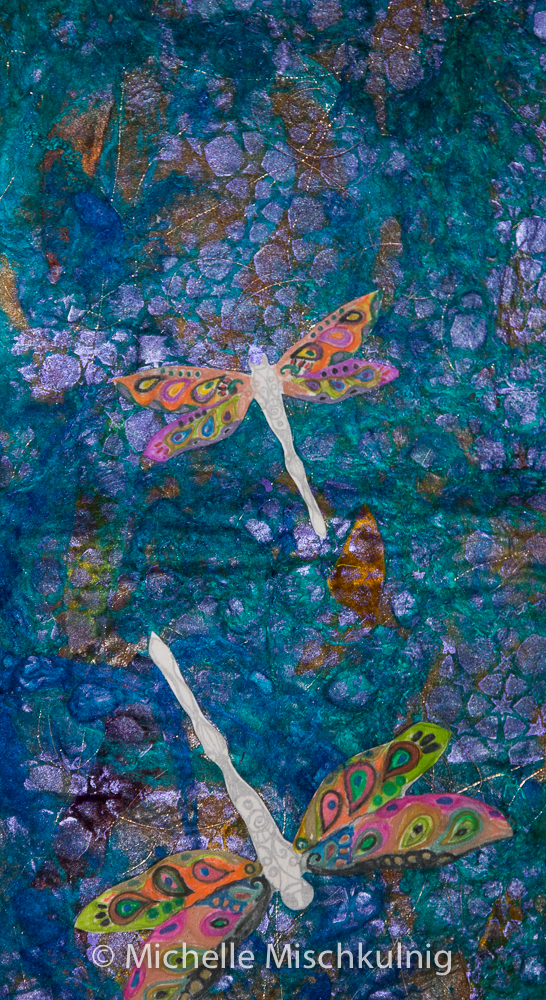 ---
Set up your machine for free motion embroidery and using some lovely rayon machine embroidery thread stitch organically in circles or such covering the whole back ground, remember to enjoy the texture enhance it with your stitching.I have also stitched decoratively into the body of the dragonfly.After stitching the bodies I have used a black permanent marker to colour in the body.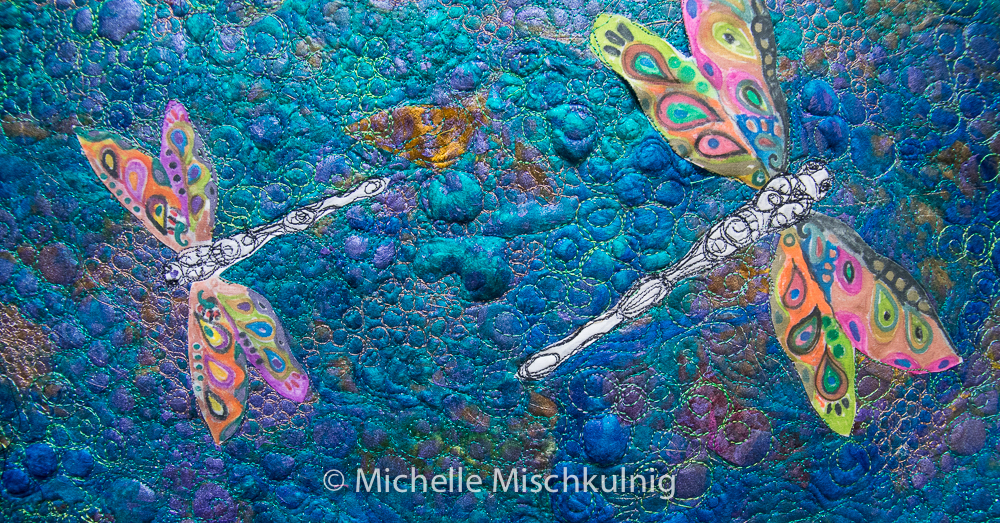 Then stitch the wings decoratively featuring the shapes and movement.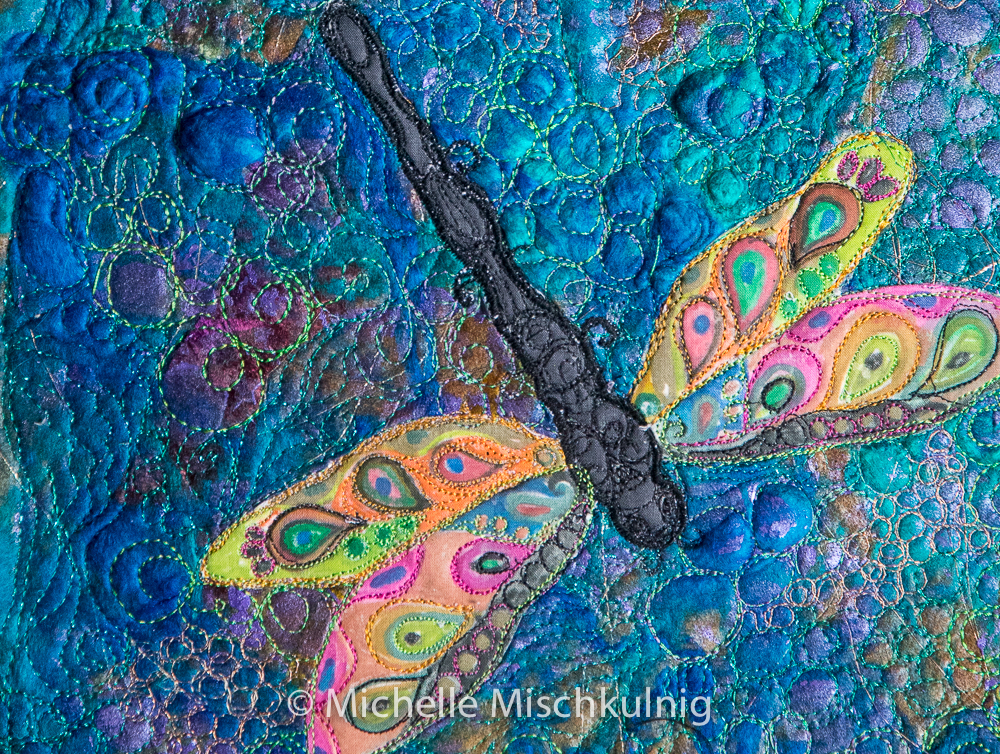 ---
You can further embellish the surface of the dragonfly cover with circles of textural fabrics I have used metallic paper foil, hand dyed silk velvet and some hand printed cotton.Stitching around the raw edges with a straight stitch which attaches it to the cover fabric.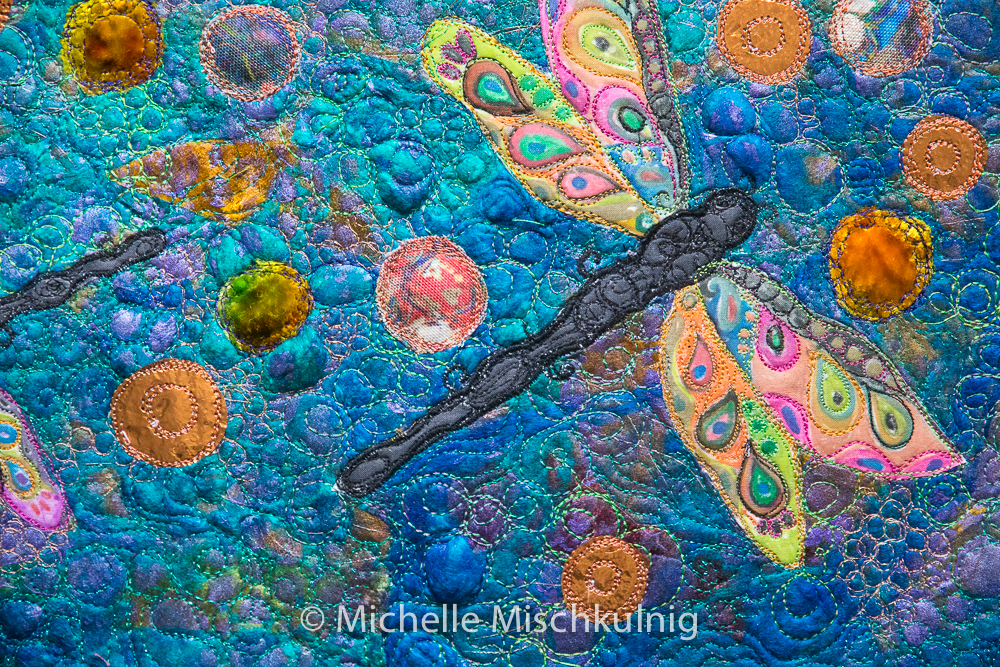 ---
Gather toghether your 6 pages and trim them do not trim the left hand side fabric looking at the front of the page, as khadi paper is hand made there will be differing sizes and thicknesses which makes the book very bespoke.
Hold together all the edges and very carefully stitch through all the layers using a straight stitch and normal settings on your machine. If it is to hard to stitch all at once stitch 2 pages together and then another 2 pages until all 6 are stitched and then stitch the whole 6 together and are secure, or if you and your machine are not at one about the thickness you can hand stitch the pages.

---
Add the tie up chords and backing.
Stitch two chords each of approx 50 cm in length to the centre back about 1cm apart.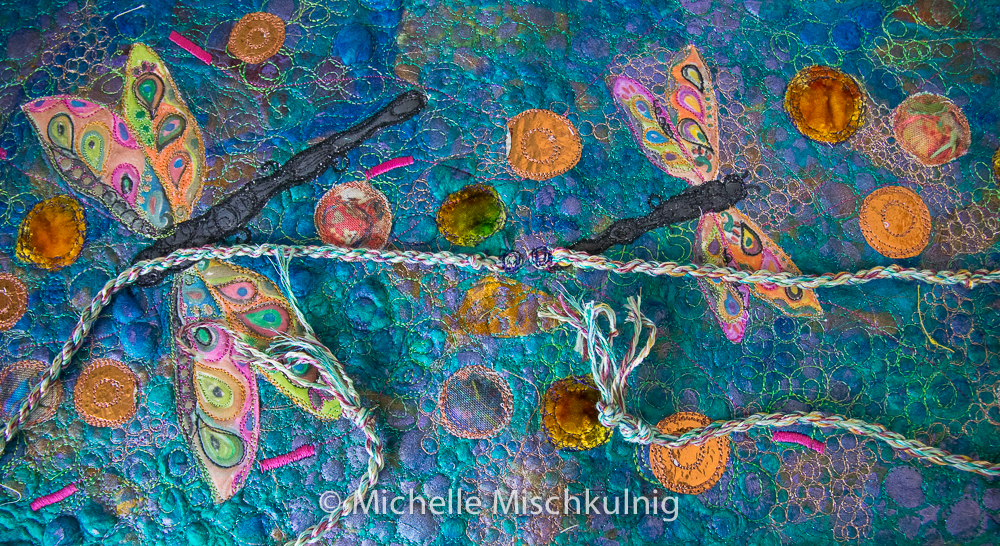 To line the cover use a lovely fabric patterned or plain the enhances the cover you have made to do this cut the chosen fabric and a piece of fusible web to the same size as the cover, lay the fusible web on the back side of the cover fabric and place the chosen fabric on the top the web and fuse with a dry hot iron and baking paper to protect iron and fabric.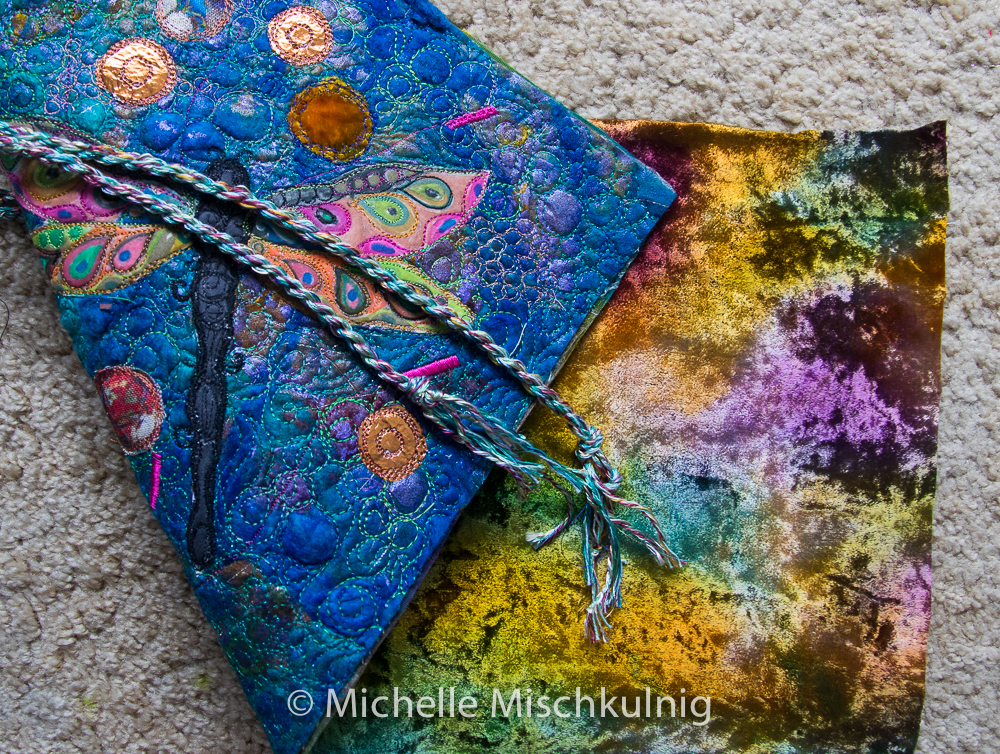 When the chosen fabric is fused machine stitch the edge with a decorative stitch.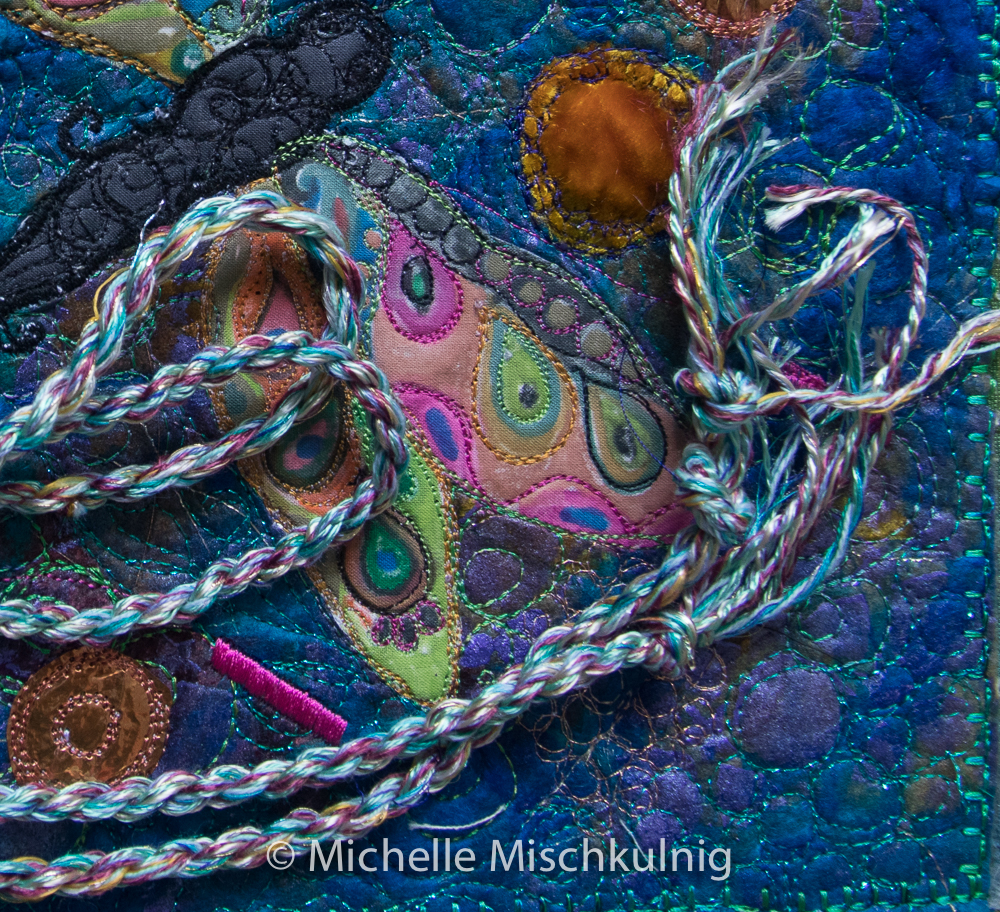 ---
Attaching the pages into the cover.
To attach your calendar pages into the cover, open up the cover and lay it flat place the stitched together pages centrally inside the cover and carefully and slowly straight stitch them to the back of the cover. As you can see below you stitch with the cover open and flat. Most sewing machines can mange this slowly and steadily but if not hand stitch the pages into the cover.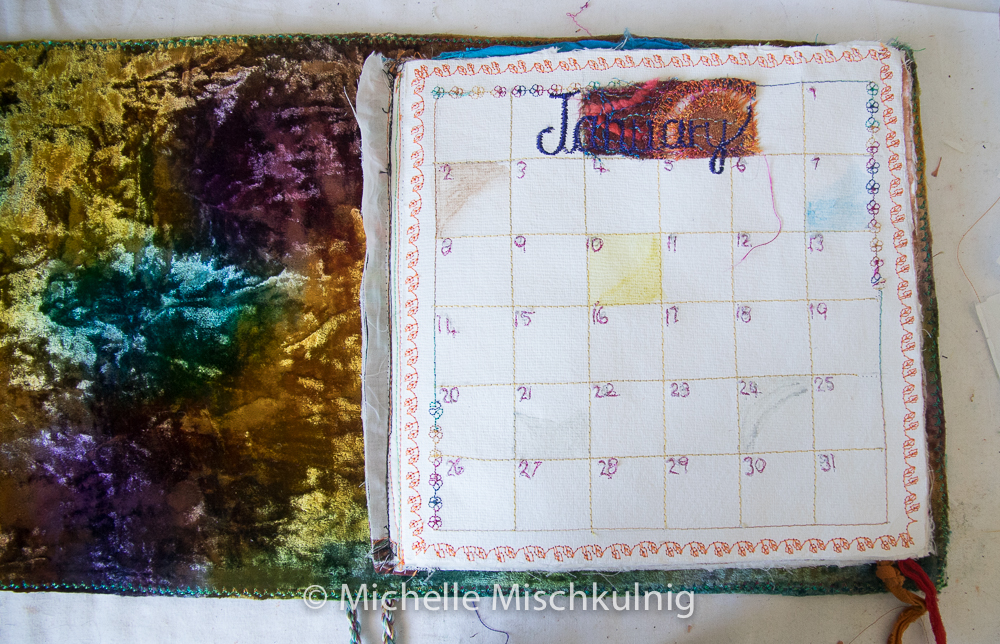 Fold the front cover over and hold in place turn the cover to work for the back under the sewing machine and stitch along the same stitch line which attaches the pages to the back cover.Again if your machine doesn't like this thickness hand stitch will work. Now your stitch line will be through all layers of pages and both front and back cover .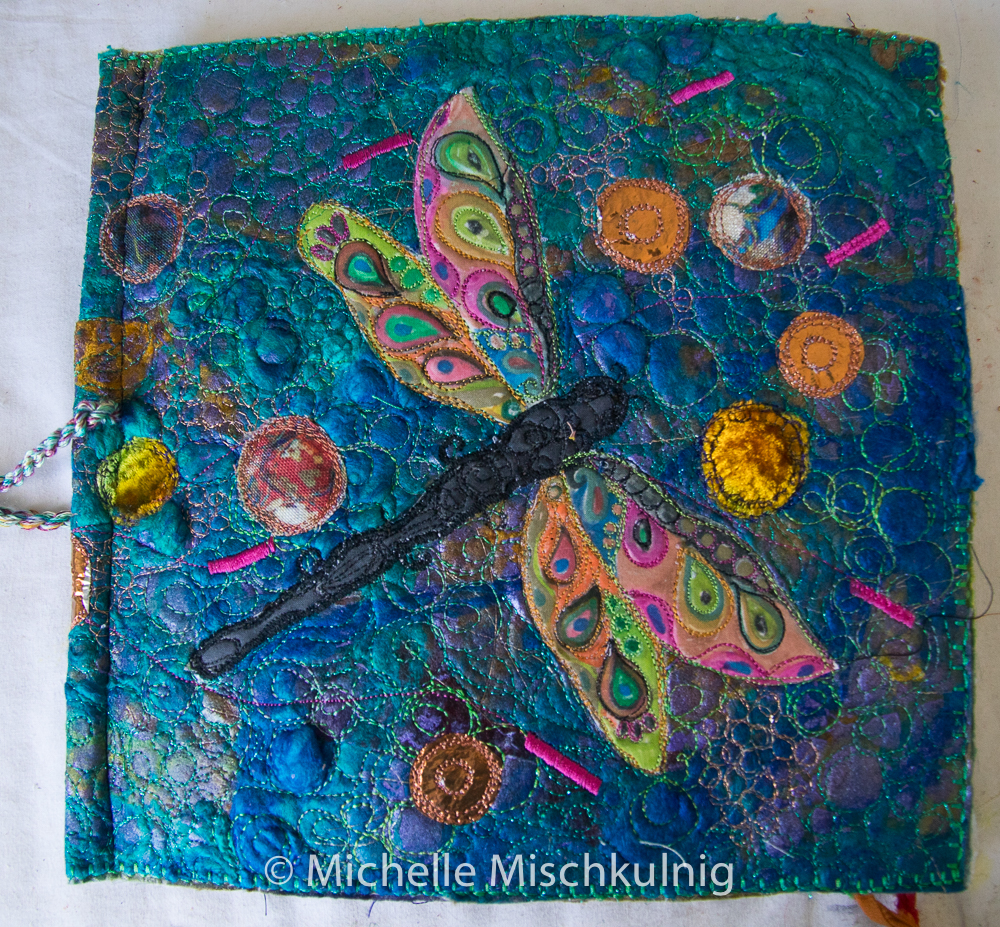 ---
All my pages.
---
Whoopee all done you will see I added some blog to me chords. This is a wonderful gift or keepsake that will always be used so special and unique.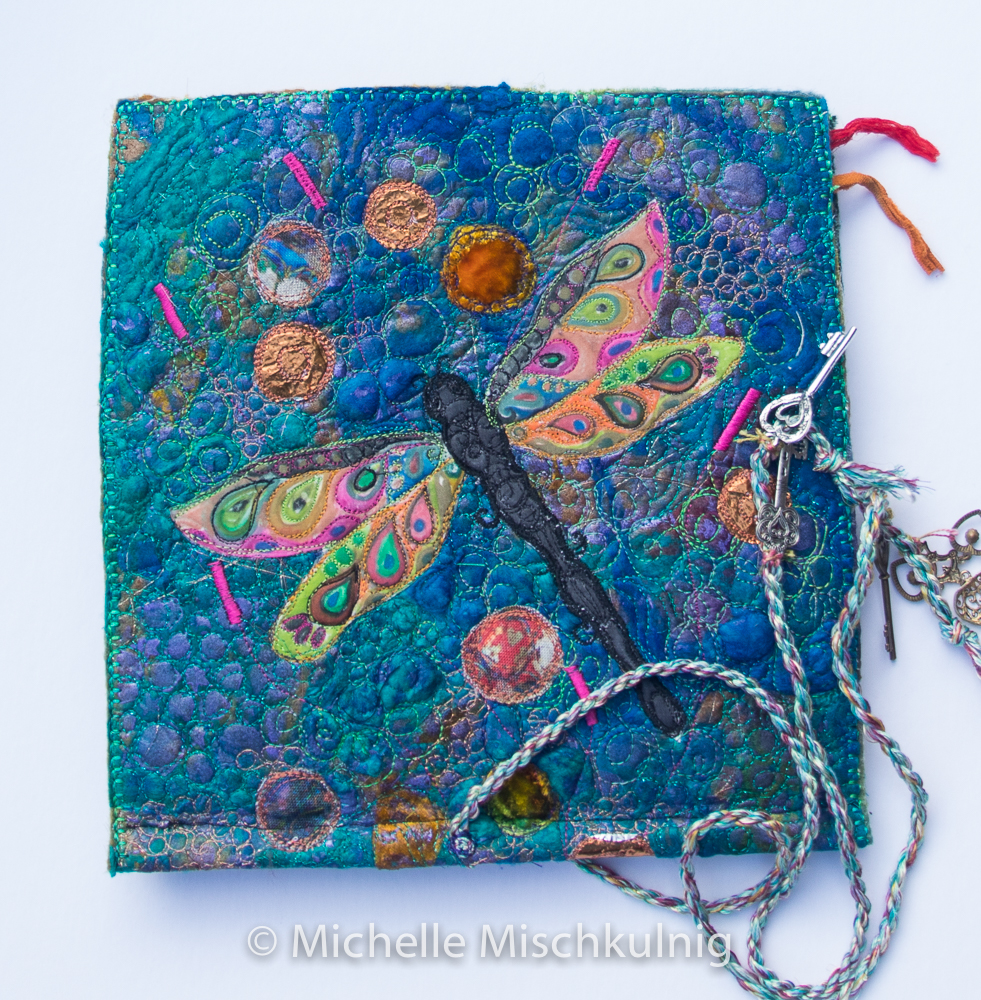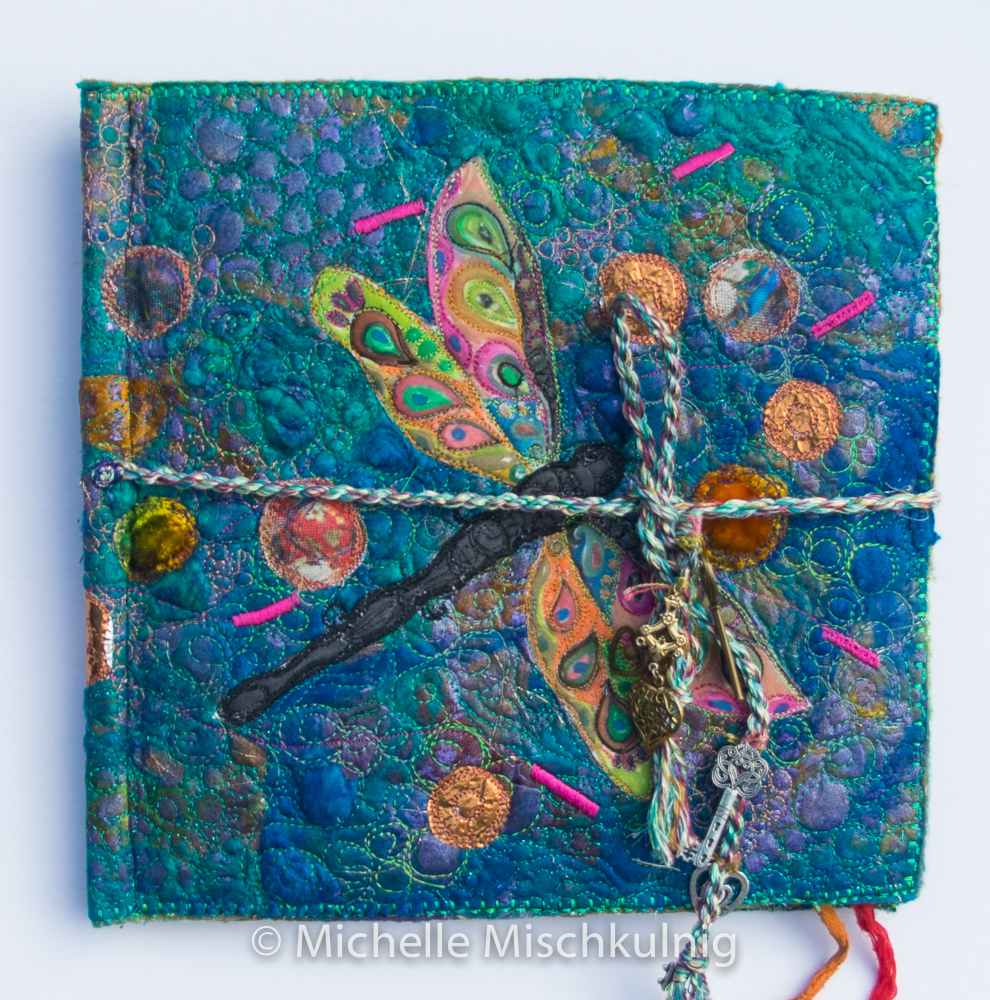 ---
Dont forget to sign up for my classes at Uluru 2018 we will be creating sensational art garment which will be fully reversible, all the stitching will capture the moods of the landscape working on a very luxurious and sensational hand dyed silk fabric. Expression of interest at
---
Berry quilt retreat 2017
Registrations are not open yet but you can contact Elizabeth for details.
I am teaching 2 x 2day work shops class samples below. One 2 day class will be a wearable art tunic using luxurious hand dyed silk mesh enjoying its folds and flow and pulling it all together with free motion stitching. The other workshop is producing a wall hanging about the coast "Post cards for the coast" unit prints images, silk organza , free motion embroidery, paper, ribbons fibres, found objects, wire and a passionate for the coast.