A textural journey/journal to share
Enjoy the view
"I am often asked what inspires me and my answer is life.
With that thought I wandered around my garden – it is the ordinary that is extraordinary – everyday life, travel, the beach, family, all the good stuff that me makes me happy.
The secret to a creative life is to let your intuition, curiosity, and soul capture the sparkling magic that surrounds us in our not so ordinary.
When I look in the garden I see colours shapes, textures, layers, fabrics, ribbons, stitches, yarns and so on.
I don't try to create a botanical drawing or an accurate depiction, I create a feeling, an emotion, an interpretation. It is an expression of what I have observed, listened to, sensed and carried in my heart and head, it is a possibility". Michelle Mischkulnig
---
Sadly I have been so busy making that I haven't had time to add to my blog for some weeks, but I am now in charge again albeit for a week or so, so time to catch up with you all. Today I am sharing with you the last 2 pages in the textural journey journal and truly hope it has inspired you in some small way. These last two textures are sinchy but expressive textures. I will keep sharing little techniques, easy projects and other inspiration in my blog and we will see where the journey takes us, no destination just the journey.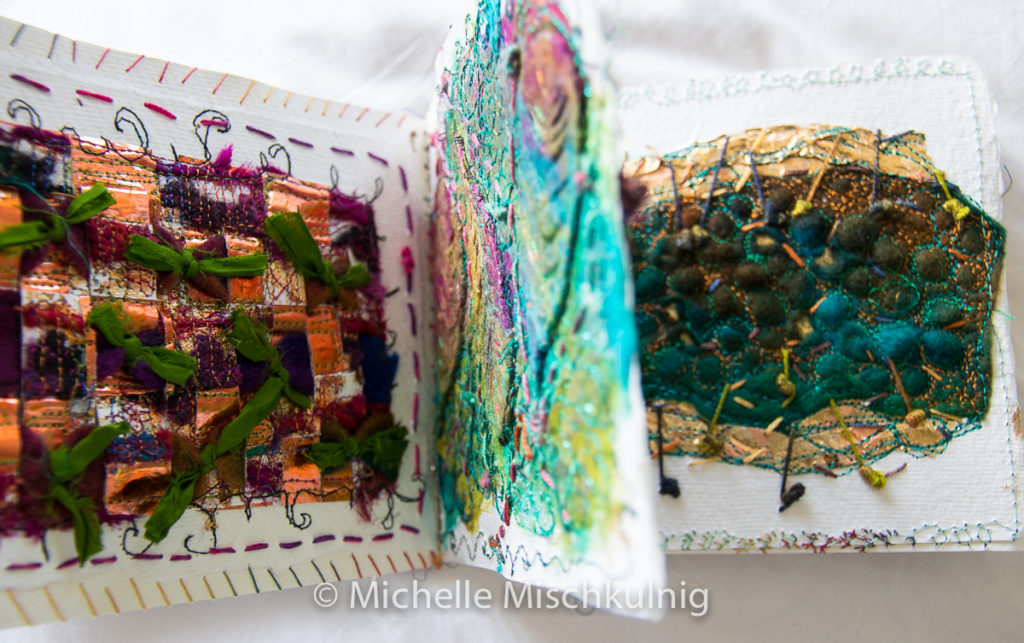 ---
Texture 7 
Materials.
1. Small piece of pre felt ( or a fabric with stretch such as wool)
2.  Journal page ( 1. Khadi cotton rag book I am using the 40 page block as that size suits me.I like to use cotton rag for its versatility and strength when stitched A textural journal to make.)
3. Gold or copper foil ( a paper that is easy to fold and scrunch )
4. Free motion embroidery foot.
5. Machine embroidery threads
6. Hand embroidery threads.
7. A little spare time ;-)
8. Baking paper
---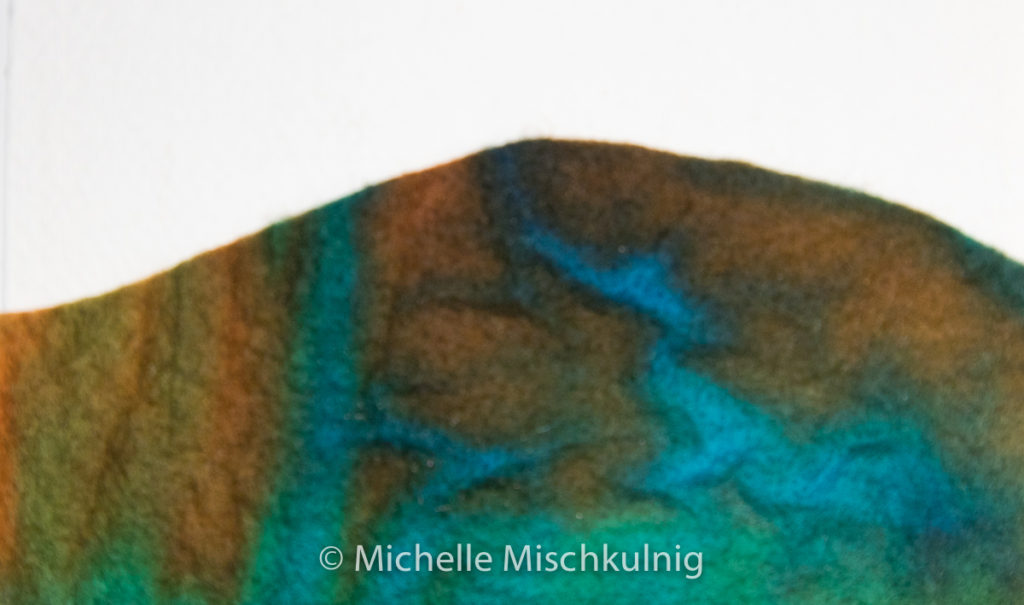 Cut a organic shaped piece of pre felt or such roughly the size of your khadi paper page.
---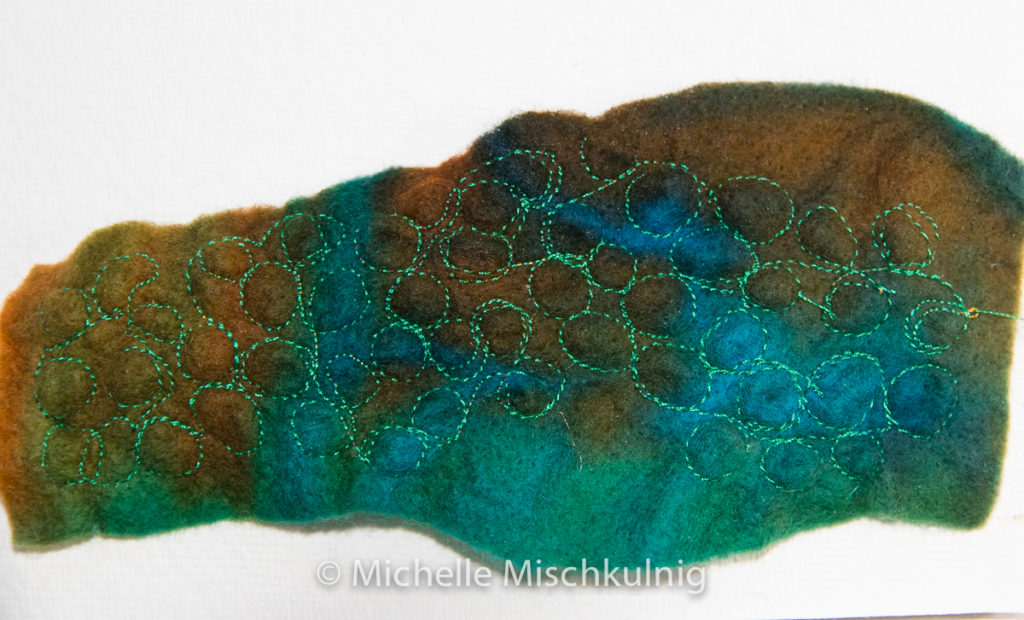 Free motion stitch small circles over most of the fabric leaving some areas of interest not stitched.
---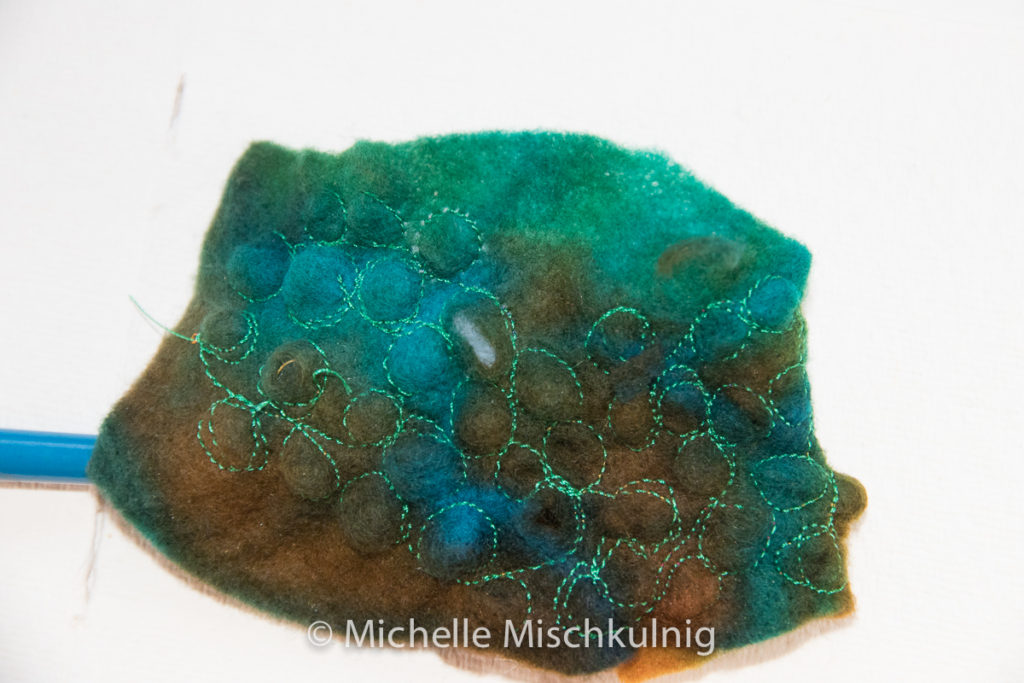 Stretch through the circles to make bobbles :-), I have used the end of a paint brush and carefully stretched the felt to make bobbles.
---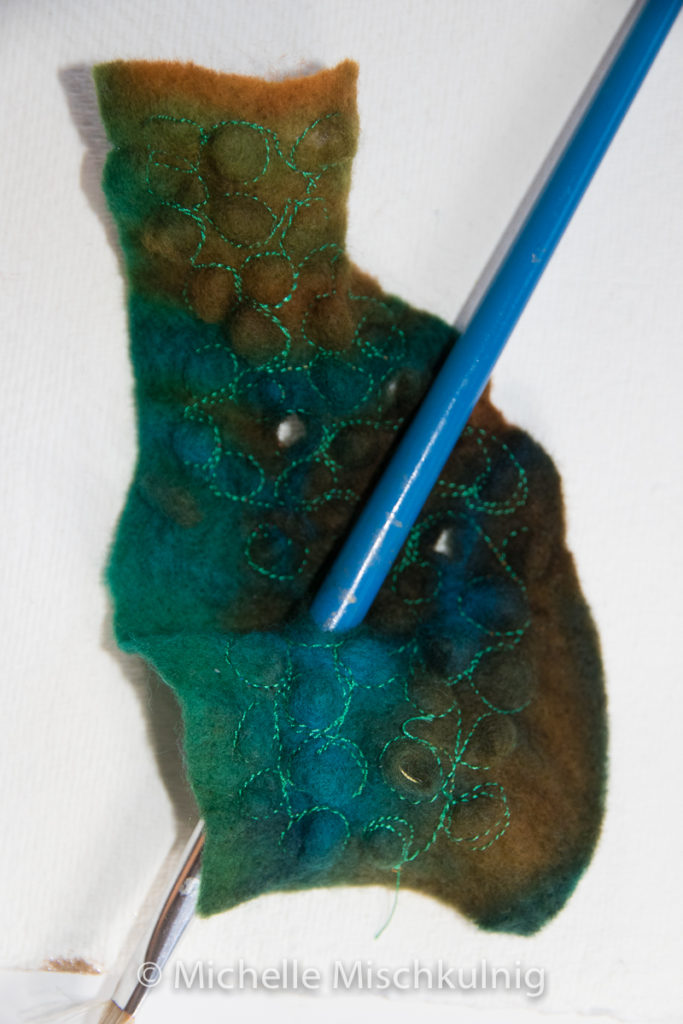 I have poked some holes through the felt using the end of the paint brush
---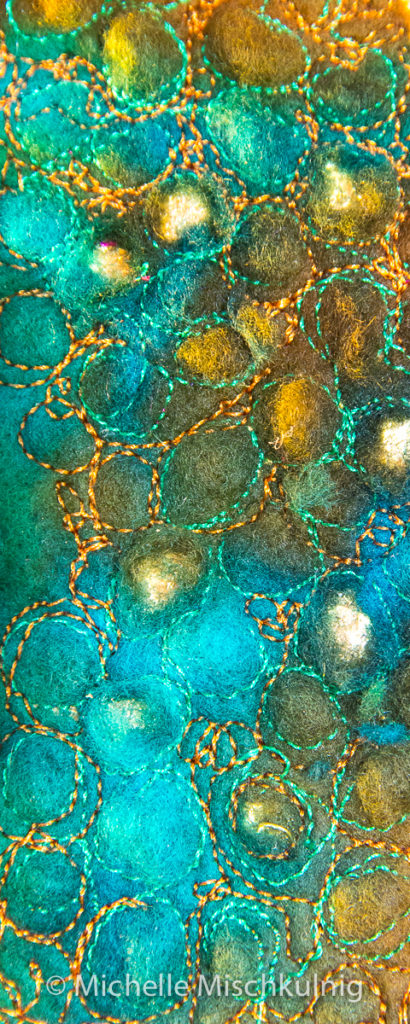 Attach to your Khadi page with the larger than felt gold foil layer under the felted bobbles, use free motion stitch to attach.
---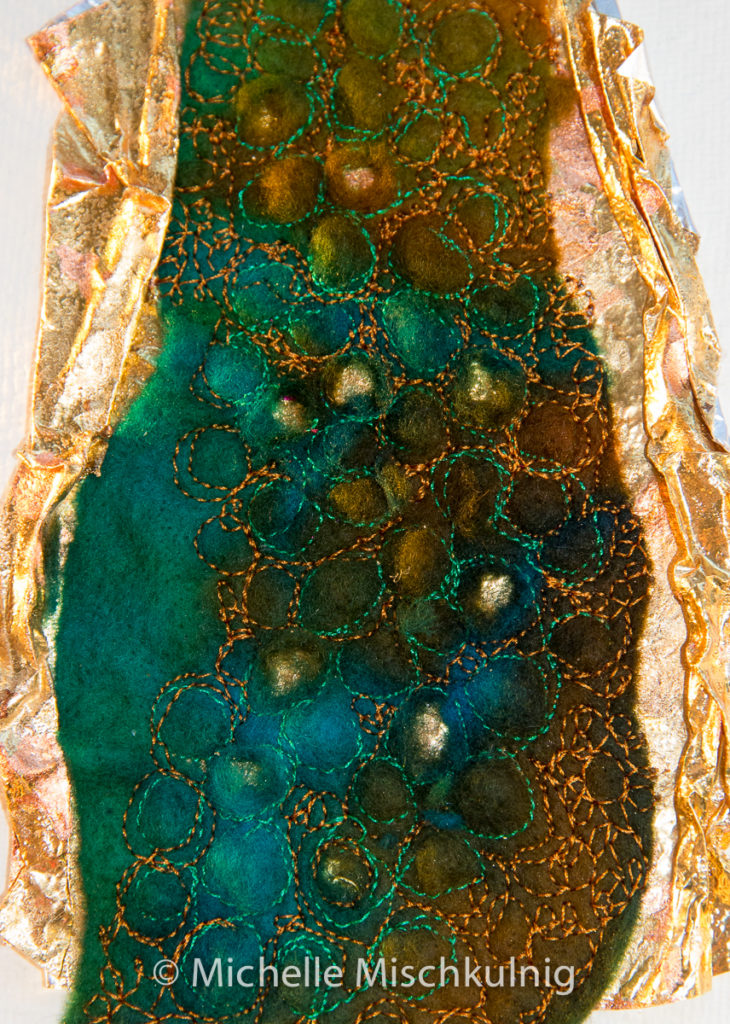 Then fold crease and wrap organically the very tactile foil around the edges of your bobble felt, this creates a flow and movement.
---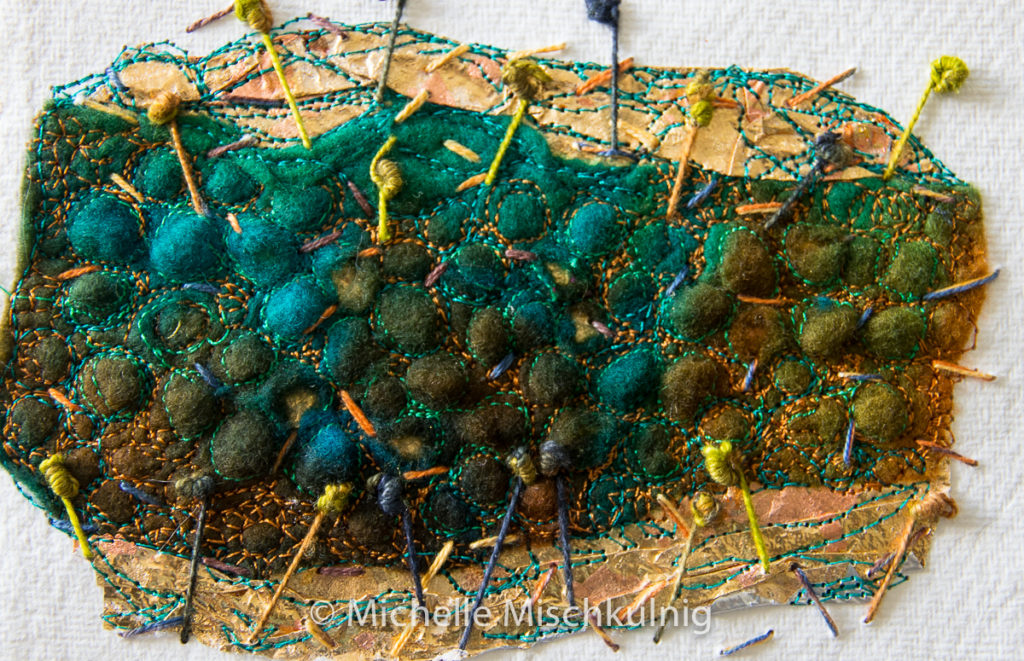 Free motion machine stitch your foil and think about the lovely creases and folds and how to accentuate these.When you have finished the machine stitching hand stitch with beautiful threads to add another dimension.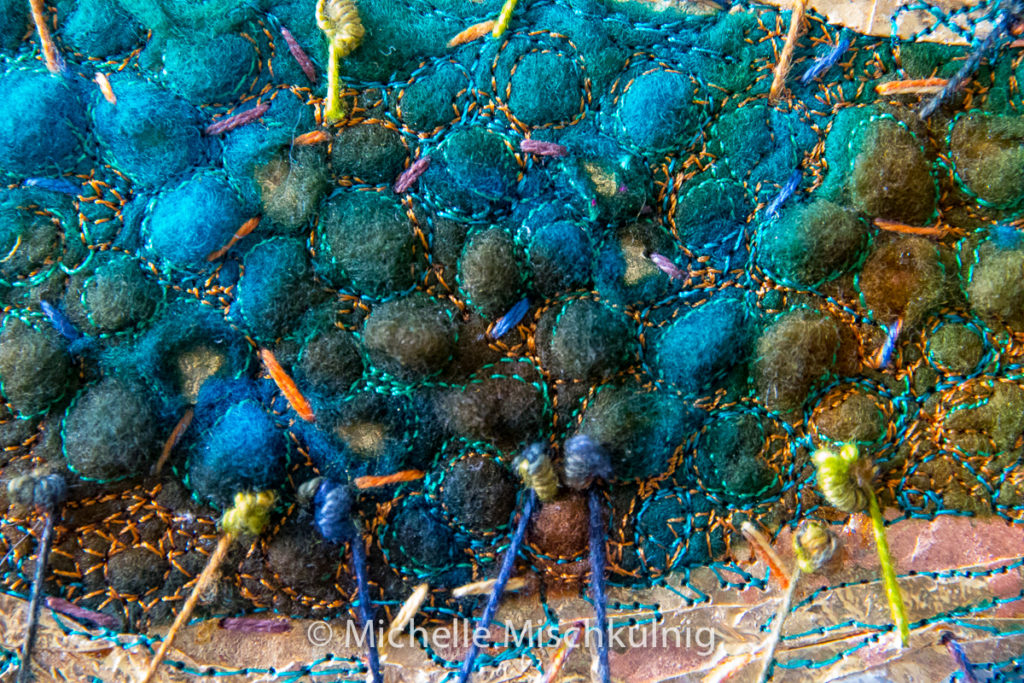 Think how you can use this possibility in your own textile art work, there are endless possibilities.
---

Journal page 8 the final page 
As I write this final page the sun has just risen on a glorious Spring day, I love how the seasons change.
Materials
Fine soft mesh or gauze fabric just a small amount.
Fusible web ( vleisofix )
Silk yarn or equivalent.
Gold foil.
Free motion embroidery foot.
Small scraps of felted or similar .
Hand embroidery threads .
free motion embroidery threads.
final khadi paper page form the journal.
Baking paper.
---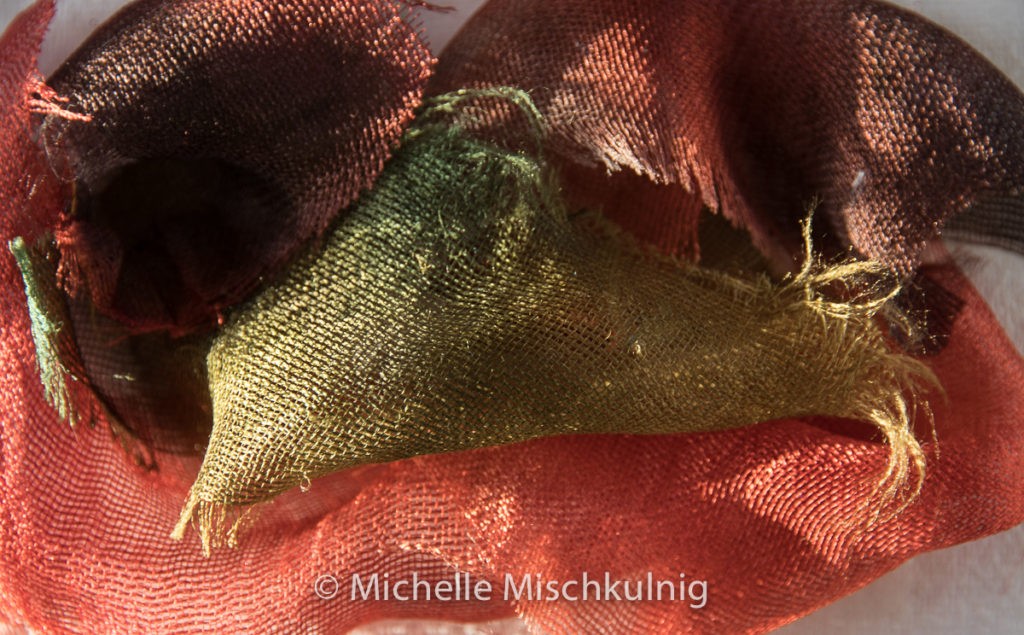 Lay a piece of peeled fusible web on top of the khadi paper page.Then layer the gauze fabric allow it to fall gently with lovely folds.Place a piece of baking paper on top of the mesh/gauze fabric and fuse using a hot iron.
---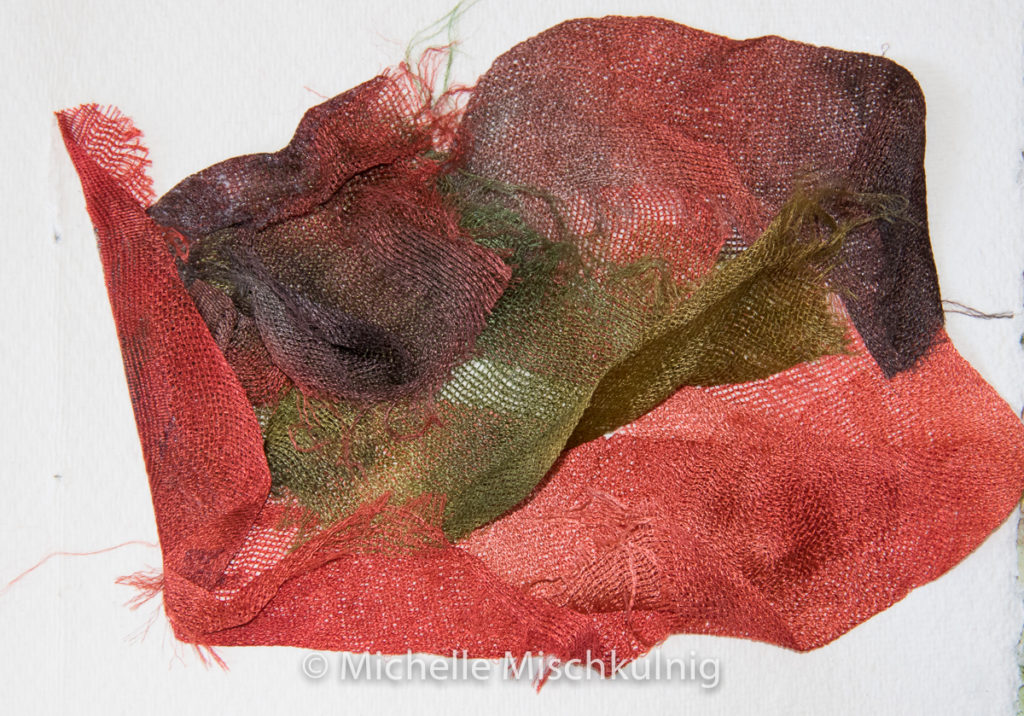 When it is fused as above place another peeled layer of fusible web on top of the gauze/mesh fabric and twirl your yarn. Place the yarn on top of the fusible web layer and then a layer of baking paper fuse with a hot dry iron.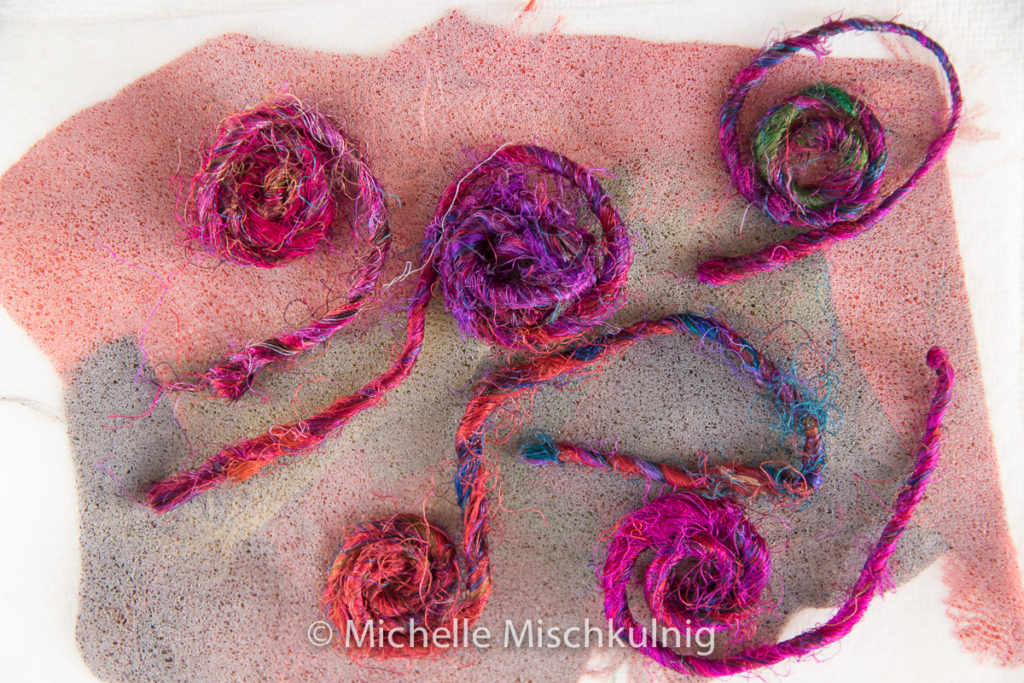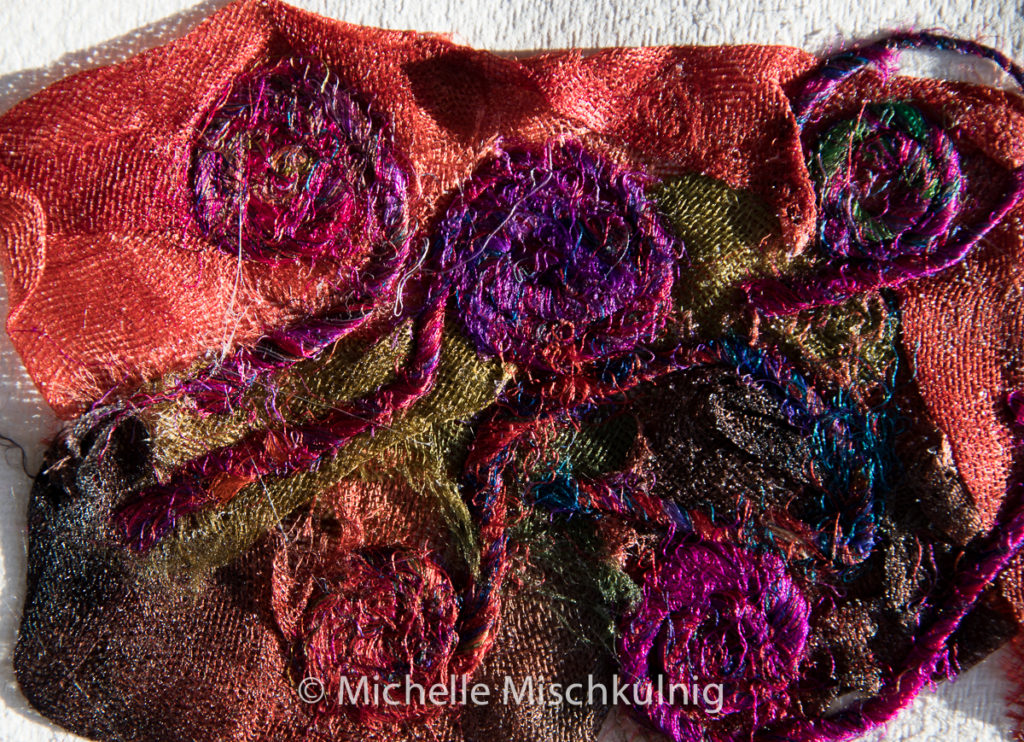 ---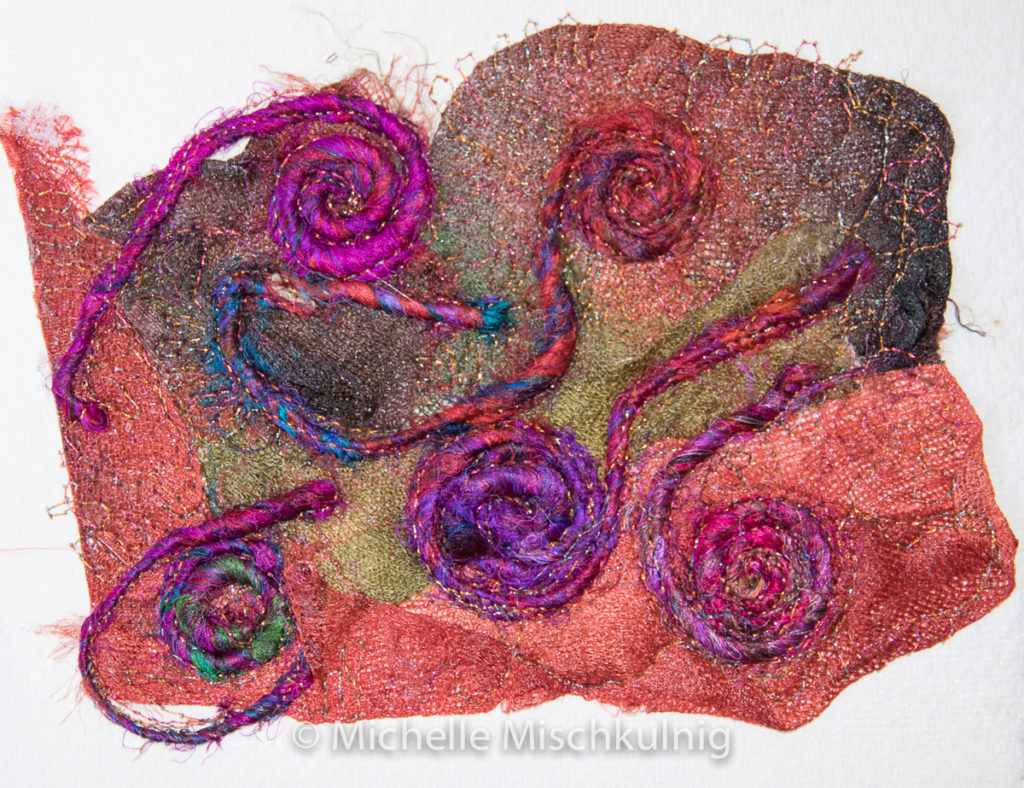 Using a metallic thread or such embroider and stitch attach to the khaki paper your gauze/mesh fabric accentuating the shapes and folds.
---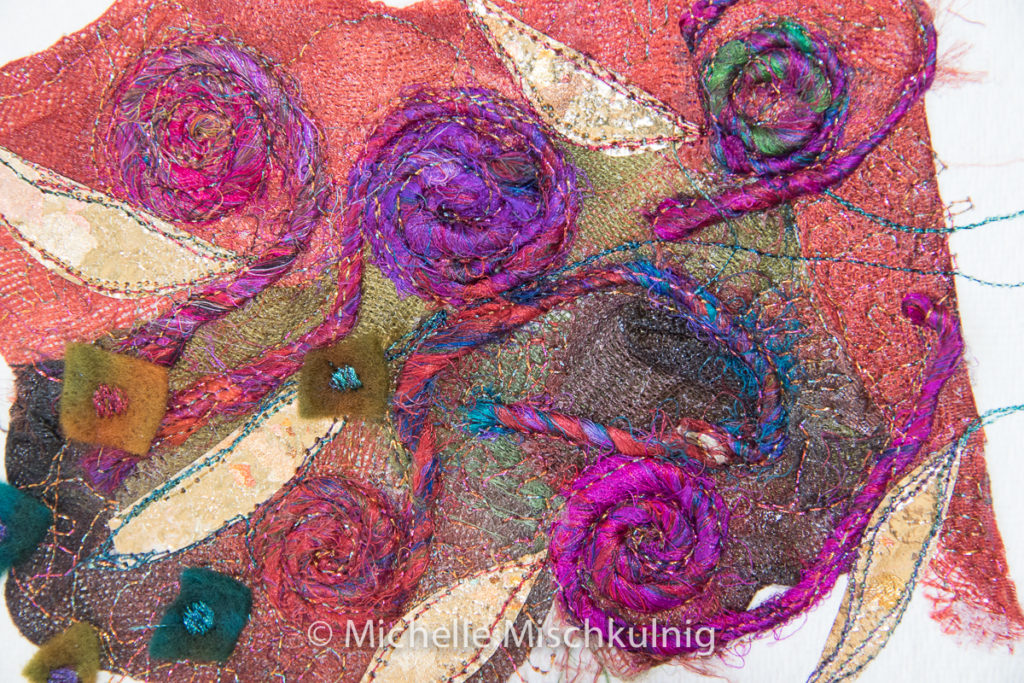 Embellish with gold foil and a contrasting fabric
---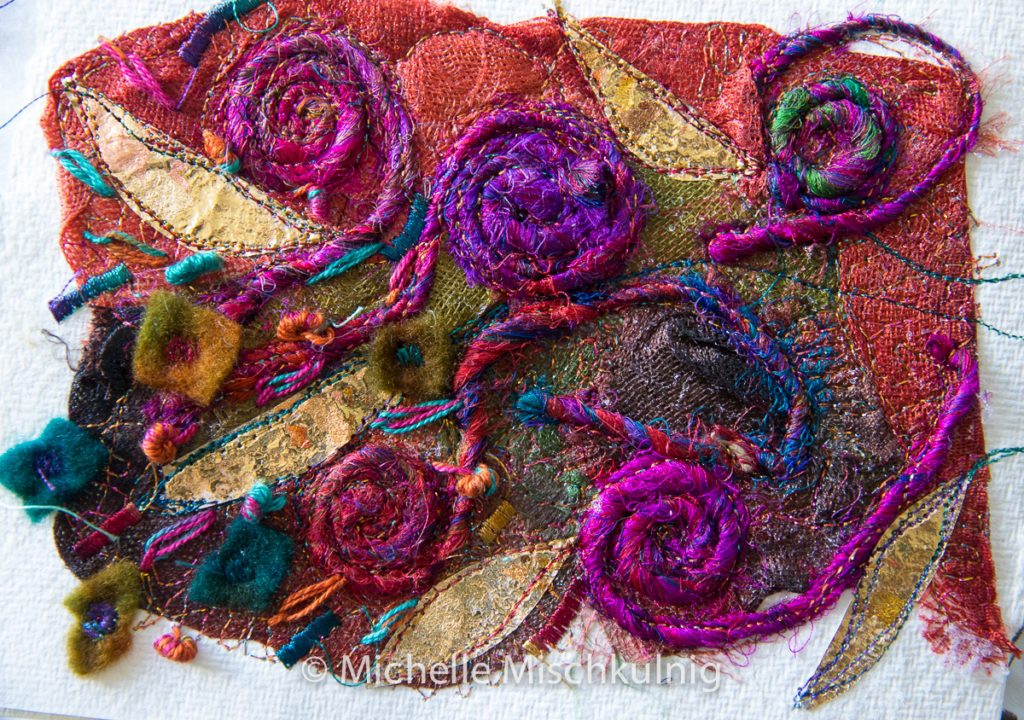 I have used a free motion satin stitch to appear like beading leaving the start and end threads untrimmed to add another texture. The final step is to add some hand stitching with variegated hand threads.
Ta  da it is done, please take these little gems of inspiration and add your own signature to build a library of ideas and the beginnings of fantastic textile art works.
---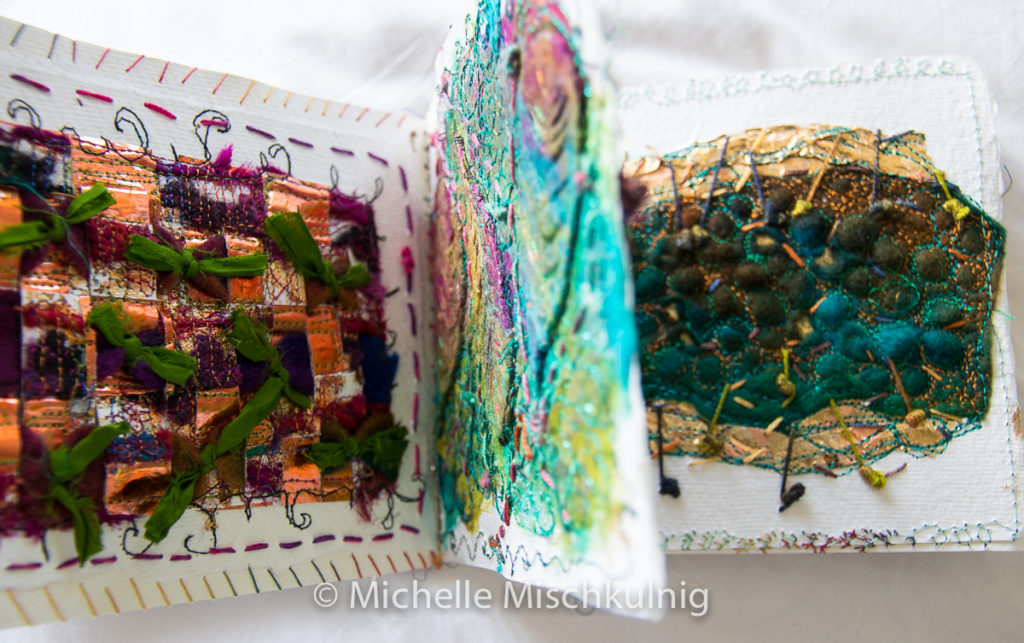 ---
Some work shop projects have been set for 2017 and 2018.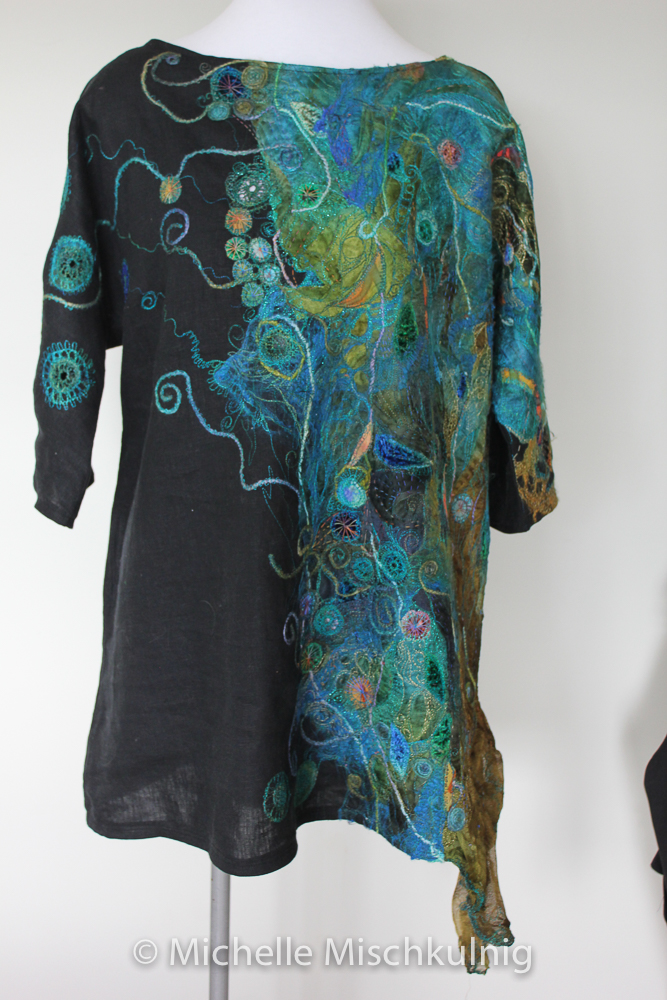 This tunic will be one of my 2 x 2day work shops at berry quilt retreat 2017 .The second project will be available soon, registrations and information available on this website in 2017. http://www.berryquiltingretreat.com.au
---
I will be teaching this reversabile diamond fold with sleeves  silk jacket at Uluru 2018 expressions of interest. the colours will be a little different inspired by the sun rises and sunset in central Australia .  http://www.textileartworkshopsonline.com/uluru-2018/