I'm back
Well just quickly just to update you, I will be starting some texture blogs in two weeks , I will do a series of 8 small projects just to enjoy texture, interesting materials and techniques. I am sorry I have been away for so long, life has filled every spare moment. Below is a pictorial story of the making of a lampshade , a fun art piece I made this week. My son and I are joining on some collaborative work he believes in up cycling, repurposing beautiful old furniture and treasures enjoying the workmanship and design of what has been . There are also some images of the upholstery fabric that I have stitched for our collaborative furniture . We are looking forward in sharing these art pieces very soon.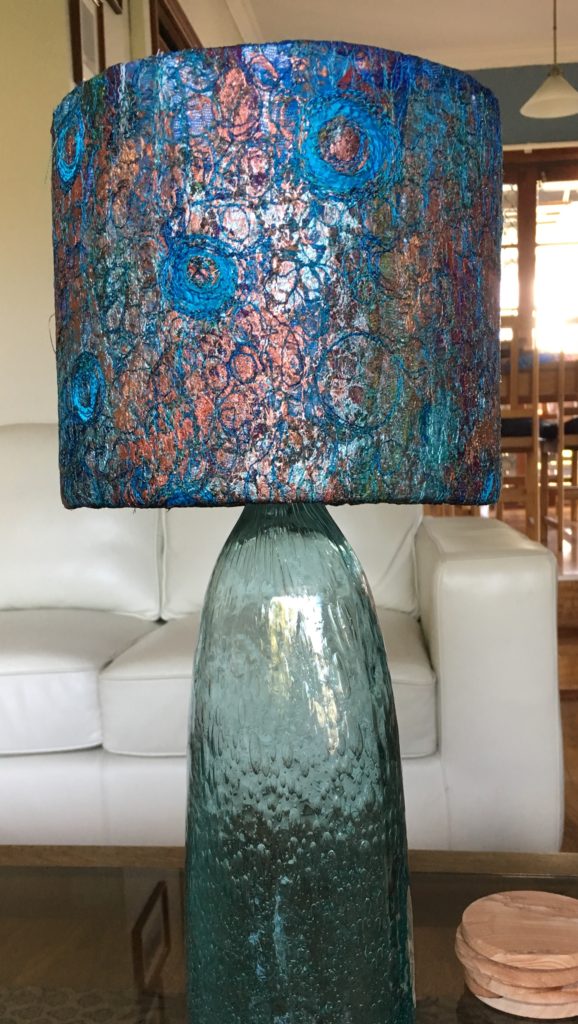 The glass bottle is not the base for the lampshade , the lampshade will become a floor lamp with a very interesting repurposed base looking forward to sharing with you .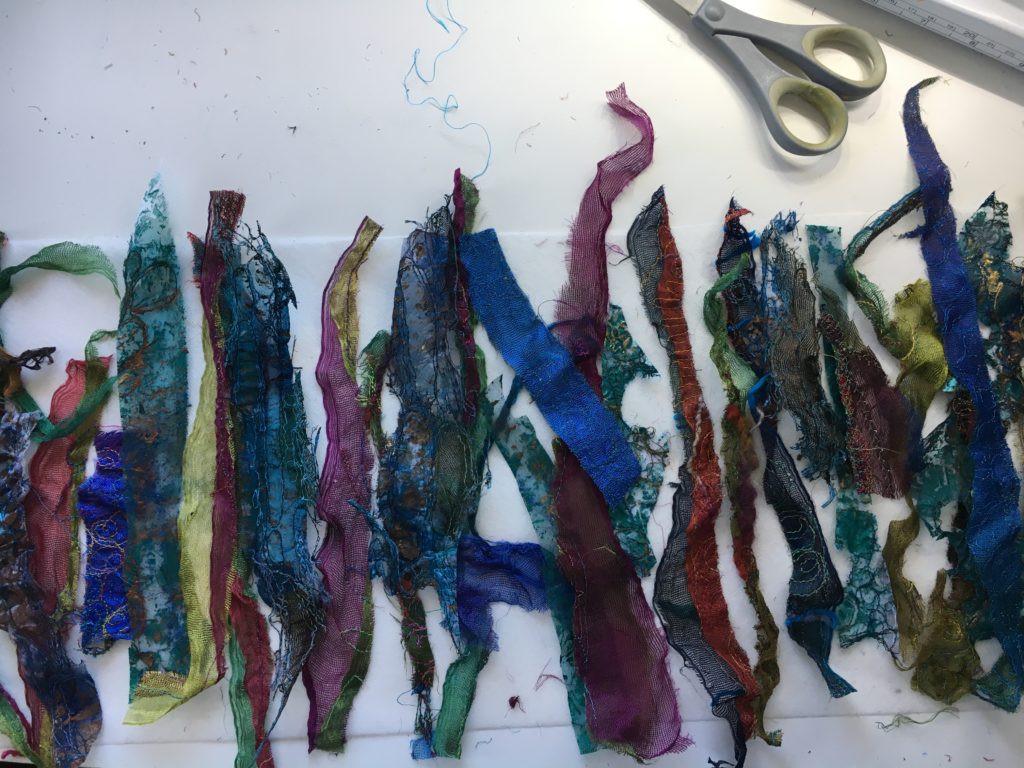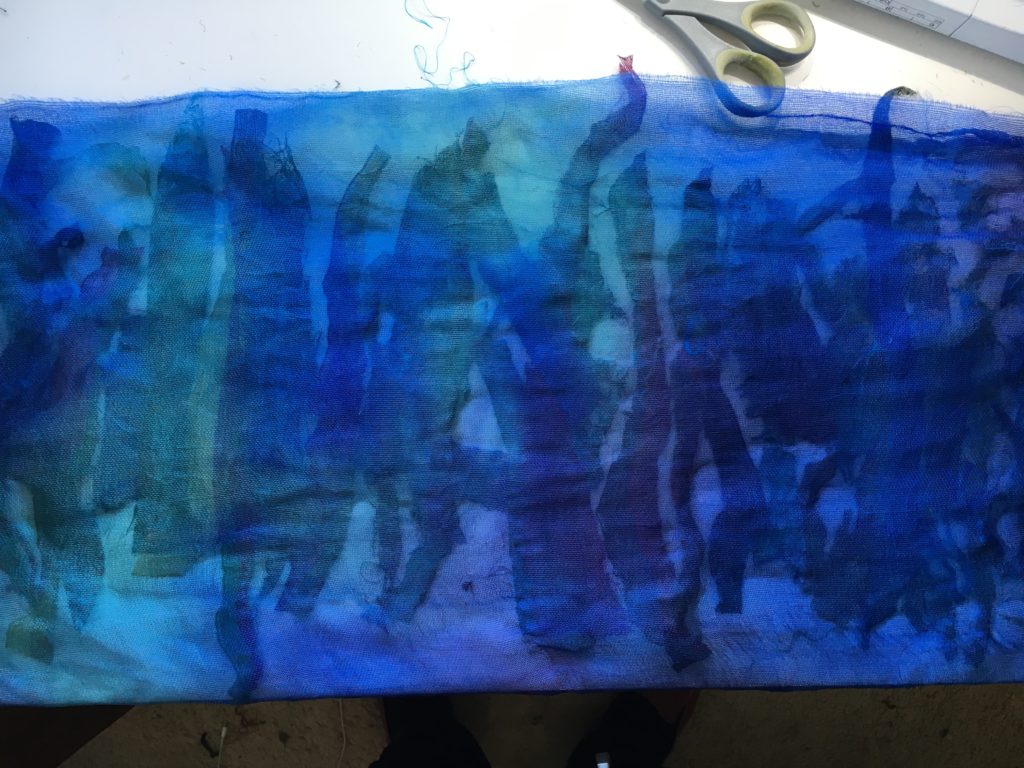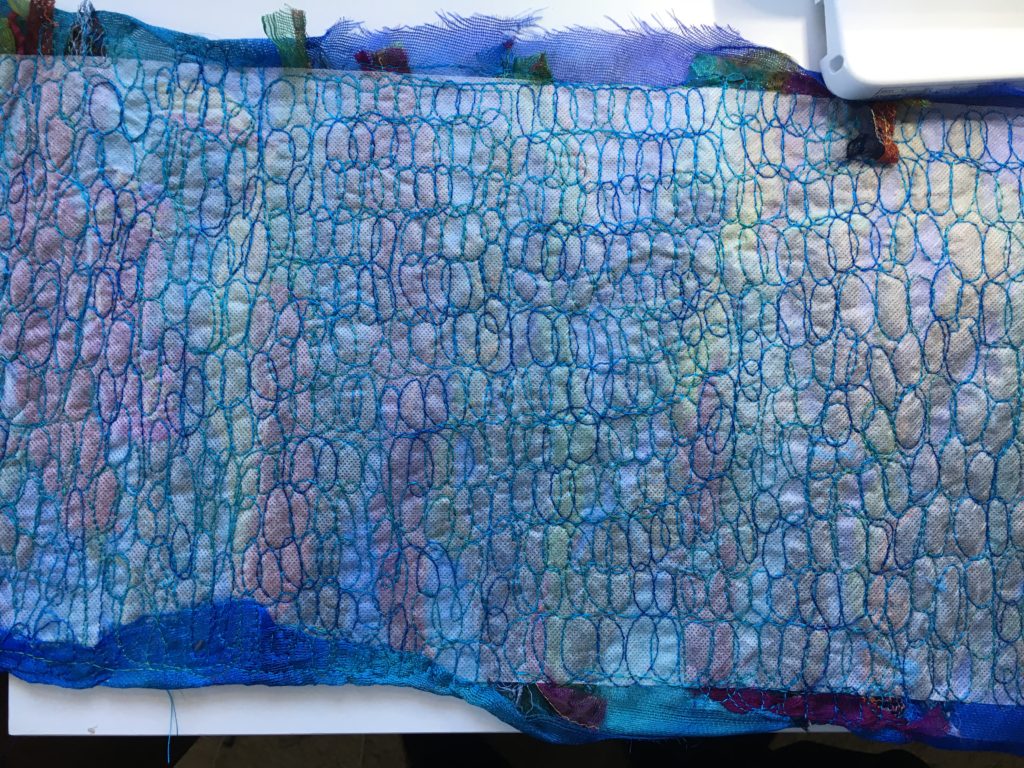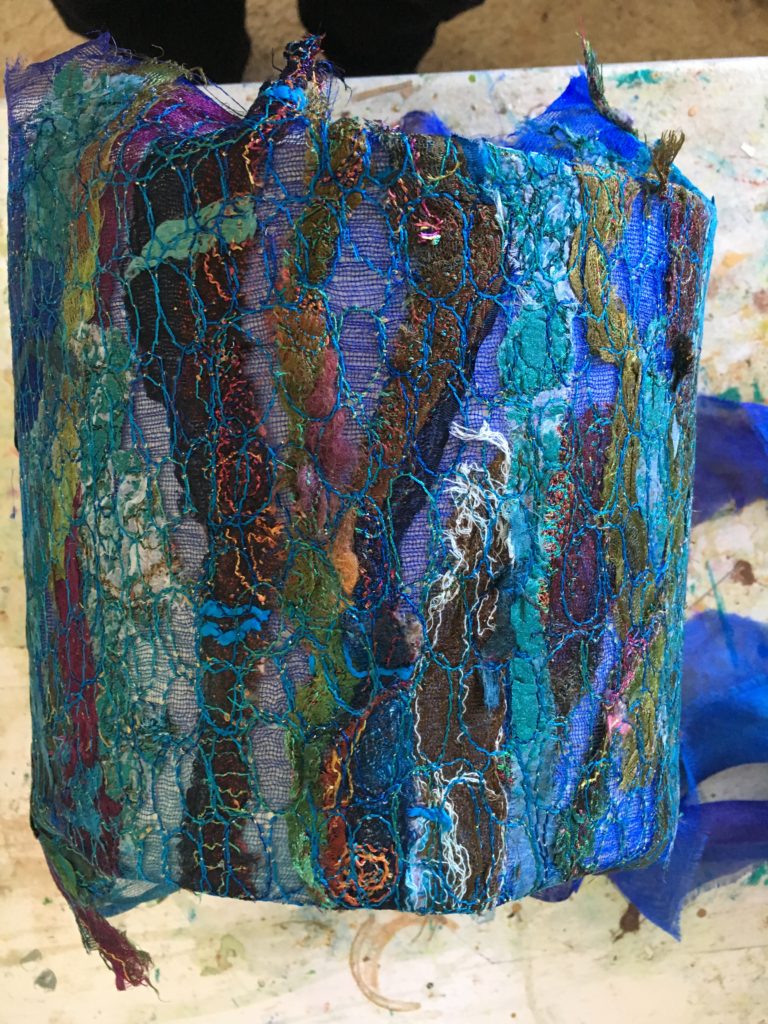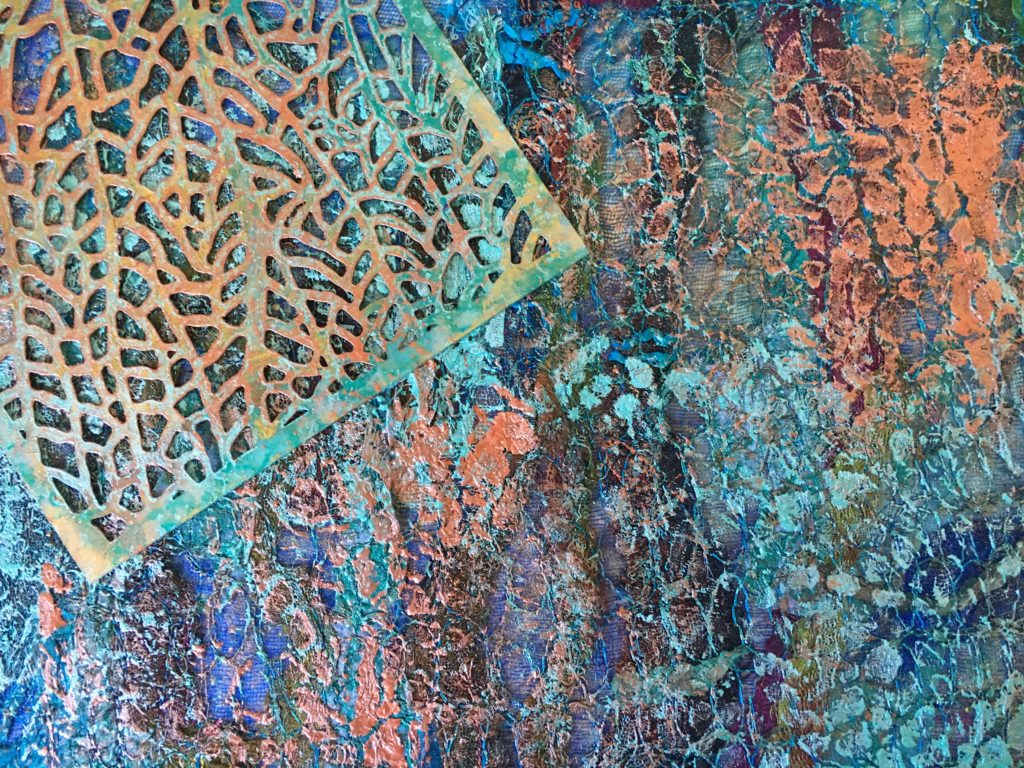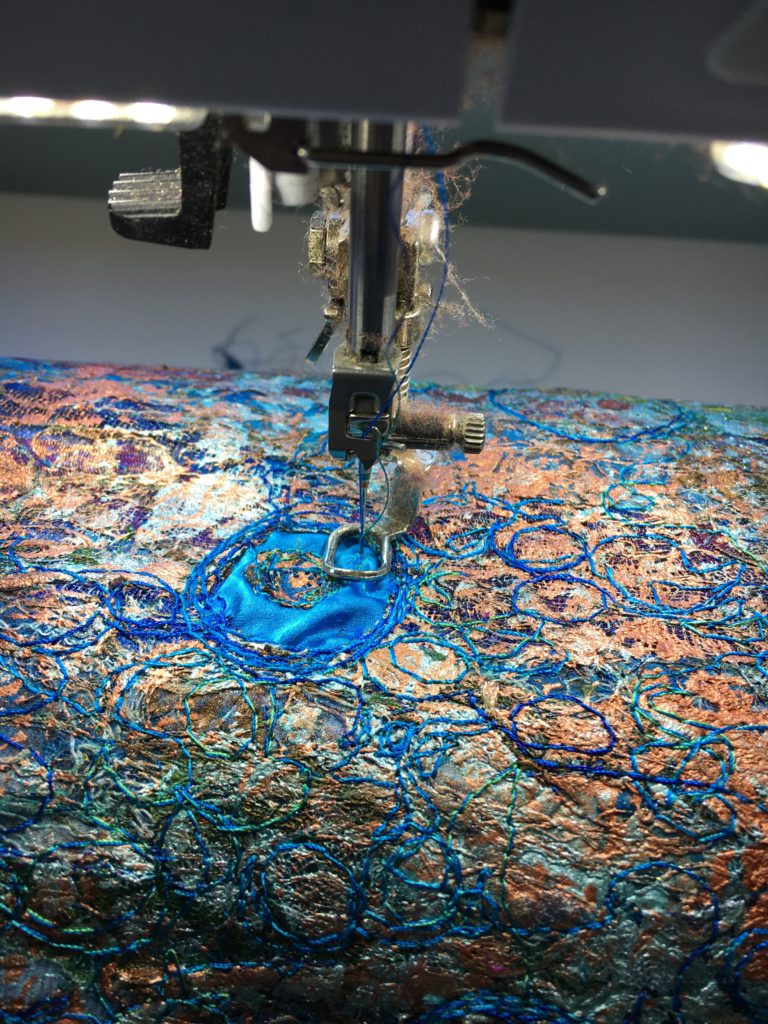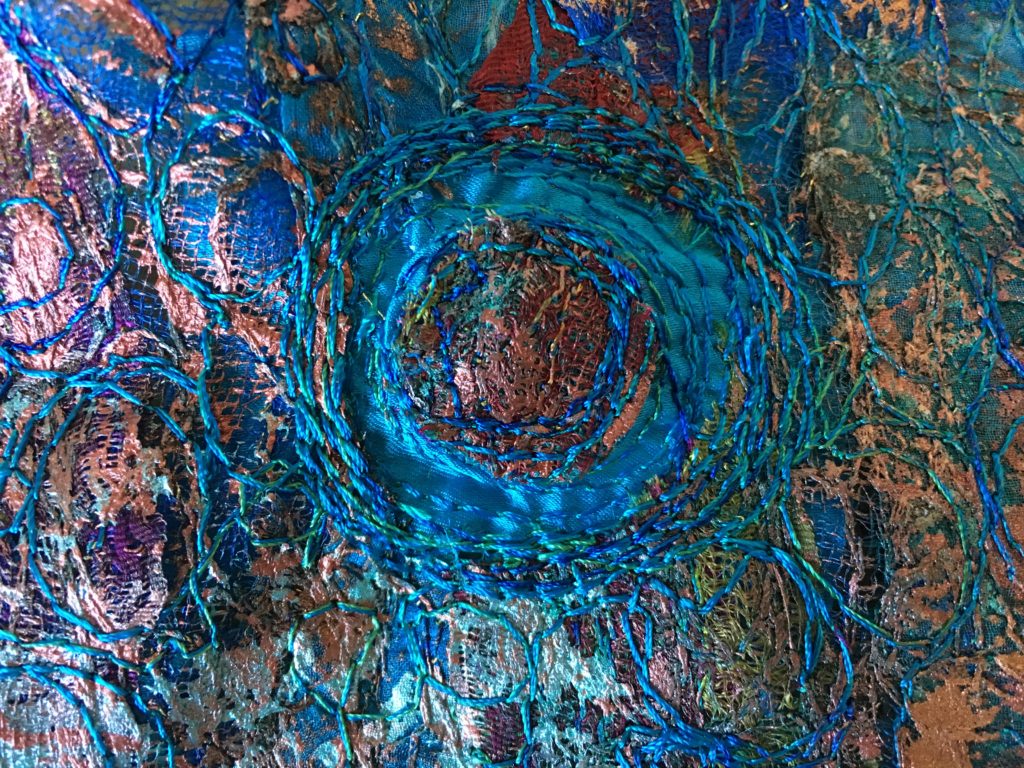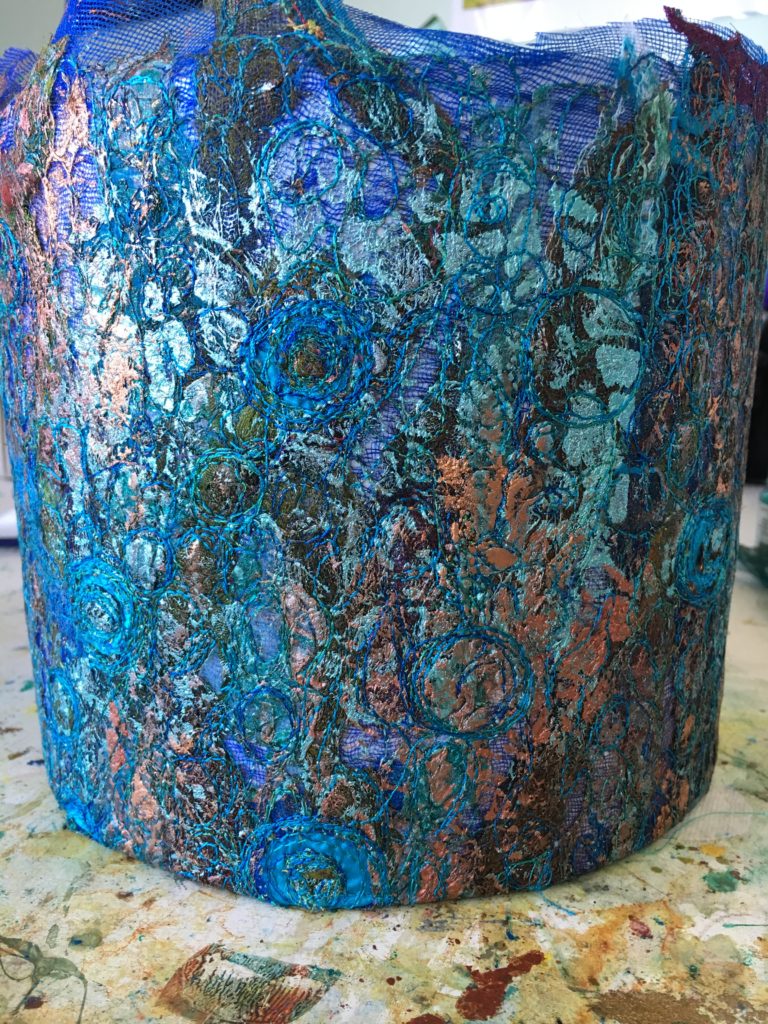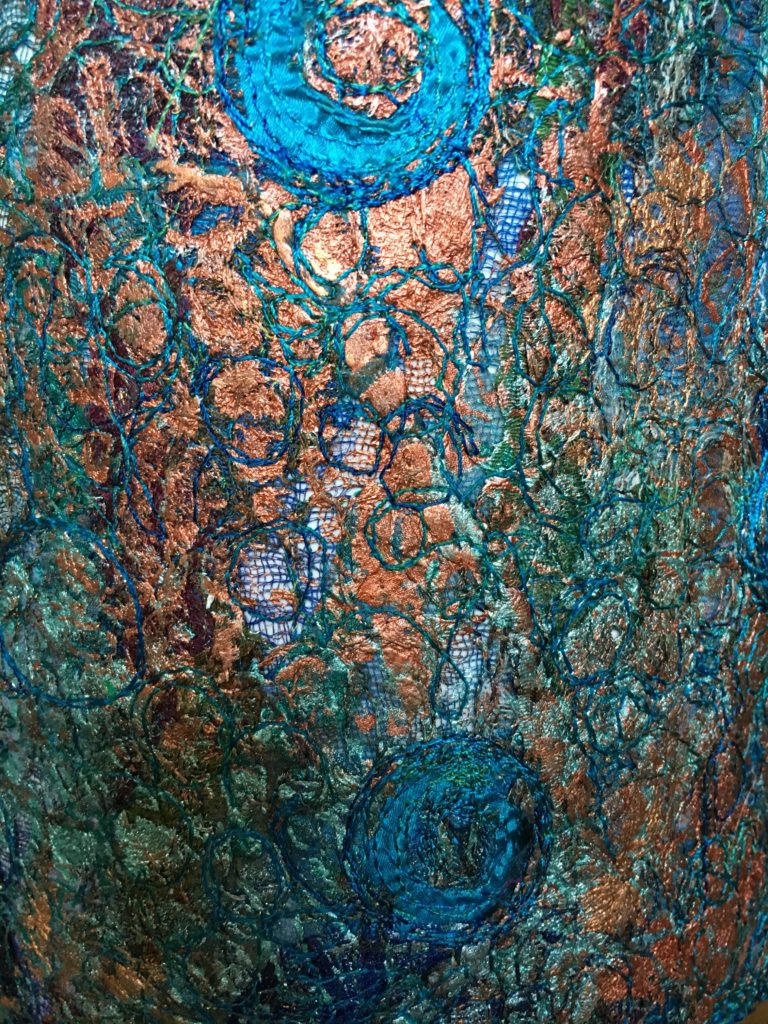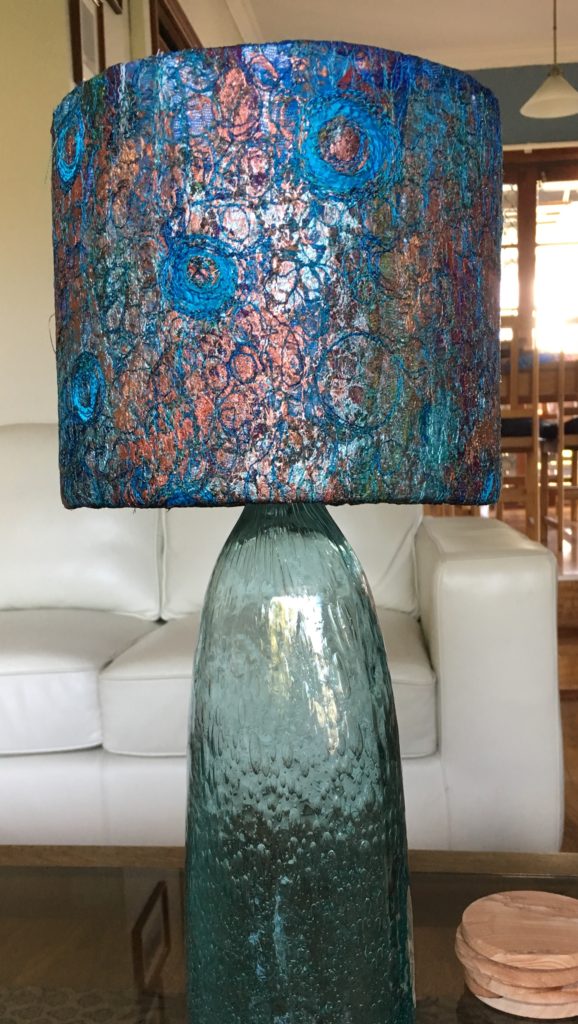 The glass bottle is not the base for the lampshade , the lampshade will become a floor lamp with a very interesting repurposed base looking forward to sharing with you .
---
Dates for 2018
MAY – "Threadalicious " group textiles exhibition Stonehouse Gallery https://www.stonehousegallery.com/up-and-comingthreadalicious.html
JUNE –Ambassador for Bernina http://www.craftfair.com.au/wp/Sydney/
JULY – Ambassador for Bernina http://www.craftfair.com.au/wp/Brisbane/
These events are new or have a couple of spaces left my other classes are booked out.
A wonderful whole experience in Bali "Walking on Sunshine "
Once in a while an amazing opportunity comes along where creativity, spirituality, passion for art and a desire to learn all come together in one special tour, and this is the one!
You are invited to join Australian master artist Michelle Mischkulnig and Jim West on a once in a lifetime trip in Bali this October as we present: "WALKING ON SUNSHINE- a creative journey of art, textiles, batiks and wellness!"
This 10-day experience is life-changing in many ways, from the specially designed textile workshops and exciting hands-on batik classes, to the spiritual wellness you will encounter as you immerse yourself in the Balinese way of life.
Space is limited to 20 people with only 10 participants in each workshop at one time. Michelle's passion and skill level as a textile genius will give each participant an opportunity to expand their creative soul and dance in a safe and enlightened space of abandoned joy, and Jim West shares his enthusiastic approach to life, business and his spiritual journey.
OCT 24-NOV 2, 2018
• This DELUXE tour package includes:
• Round trip international airfare from the United States to Bali, Indonesia. (Other international airfare is available upon request)
• Deluxe hotel accommodations in the city of Ubud and beach resort area of Nusa Dua.
• Bus transfers to and from the airport and hotels in Bali.
• All taxes and gratuities included in the price.
• "Hands-on Batik workshops" with a focus on fabric dyeing, painting, hot wax stamping and more. (All materials provided)
• "Master textile workshops" with renowned artist Michelle Mischkulnig. (Class kits included)
• Special shopping opportunities for batik fabric at a fraction of retail prices.
• Daily breakfast, some lunches and welcome/farewell dinners.
• Special "flower offering workshop" made in the traditional Balinese way.
• Special "photography workshop" with Jim West.
• A spiritual cleansing encounter at the "Tirta Empul Temple."
• Morning meditations and Tai Chi class for beginners.
• "Creating a business from your passion" presentation with Jim West.
• An "optional dinner and fireside blessing" with a local Balinese family.
• Special showing of the Emmy-Award nominated "Destination Craft with Jim West- Bali episode."
• Commemorative Craftours gifts including lanyard, luggage tag and totebag.
• Shopping in special craft markets and shops for unique treasures.
• "Traveling with an Artist's Eye" presentation with Jim West.
We are also offering an optional 3-day tour to the island of Jakarta for those who are interested.
The total cost of this extraordinary 10-day creative experience is only $3947.00 per person based on double occupancy and first come/first served.
DON'T MISS THIS VERY SPECIAL OPPORTUNITY TO TAKE YOUR JOURNEY TO A HIGHER LEVEL IN YOUR SPIRITUAL AND CREATIVE LIFE!
https://www.youtube.com/watch?v=iPUmE-tne5U
Call Craftours and reserve your space today! 877 887 1188 or email Lucille@Craftours.com
http://www.craftours.com/trips/?page=bali_michelle_1018
Images for my first teaching trip to Bali
---
ULURU
Another wonderful experience not to be missed sensational landscapes great fun , making fiends and a incredible wearable art garment. Hope to see you there.
http://www.textileartworkshopsonline.com/michelle-mischkulnig-2018/