Create whatever causes a revolution in your heart. The rest will take care go its self. Elizabeth Gilbert
I have been absent from my blog for quite some time, so much has happened and each day is full of creativity and magic.
This is the project but first some news .
Textile banner to make
My book has been published and is available from my website https://chelletextiles.com.au/product/my-creative-life-book/ . My book is a labour of love in it I share with you beautiful images of my art work and words that describe what I see in the every day and how we just need to be open to all the inspiration that surrounds us, to welcome it into our head, heart and hands.
I am very excited to have my textile art being exhibited at Visions http://www.visionsartmuseum.org/in-the-garden/ I hope if you live in San Diego you can visit and see my art work in reality.
A Tuscan tour
Don't worry soon we will get to the making project a Textile banner .But i have some more news I would like to share with you. In October 2020 I am teaching on a tour of Tuscany , this is a whole experience of visiting a gorgeous country and feeling inspired by the, textures, layers, colours and forms. The tour should be up on the Craftours website https://www.craftours.com/tours.php in the very near future or you can send Craftours an expression of interest, through https://www.craftours.com/contact.php i will also announce on my Facebook page, Instagram and through emails . On this tour I will immersing you in creativity we will be using hand dyed fabrics and fibre to create memories of the tour. I am not just teaching in class but I will be touring with you so am available for any advice, conversation and laughter .I have been playing with some ideas for our projects you will see these below they are still works in progress. Do consider this tour I know it will be fabulous and my 3rd trip with Jim West and Craftours. Please note we will not have sewing machines but we will have so much more !
A great new magazine
The last piece of news I would like to share with you is an amazing new magazine Digital Cloth, Caroline Sharkey and Mel are on an amazing adventure with this magazine which will be for sale from this link as of June 1. Caroline is not only an amazing artist but also a a phenomenal supporter of all textile artists and a gorgeous fun friend to have. Caroline interviewed me for her magazine Digital Cloth we did laugh a lot so if there might be a few bloopers. https://www.textileretreats.com.au/shop.html ( please note not available until June 1 )https://www.facebook.com/thedigitalcloth/?tn-str=k*F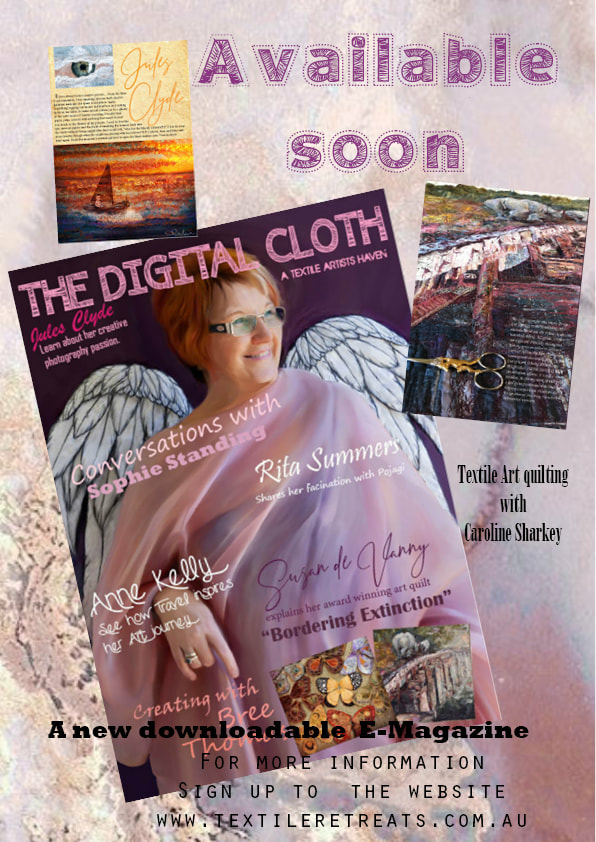 So now for some creative play and using all those bits and pieces you have stuffed in bags and drawers
Always remember what I share here as a project is a possibility you can take it in any direction you wish, just a little insight into some techniques to play with.
Materials
Small scraps of interesting fabrics and fibres in different weights, textures and colours .I have used, silk organza, silk scraps stitched felt and velvet also silk and angelina fibre.
Fusible fabric such as vliesofix or misty fuse.size is your choice I used approx. 20cm x 30cm x 2.
A piece of felt or similar as a backing mine was brightly coloured approx. 24cm x 30cm.
Silk fibre such as a silk hanky, a silk hanky is a square of silk fibres which can be split and finely layers often using in felting but this can be substituted to any silk fibre that can be stretched out to fit 24cm x 30cm or a sheer fabric.
Metallic gilding paste or similar I use this brand Creative Expressions – Shimmer Metallic Gilding Polish, it is not permanent on fabric
A fine silk ribbon or such you can used strips of fabric as substitute
large eye hand stitch needle such as chenille
threads for machine stitching I use rayons
sewing machine that is able to be set up for free motion embroidery with a closed toe embroidery foot
Optional I have used a free motion couching foot.
The backing to the art work -materials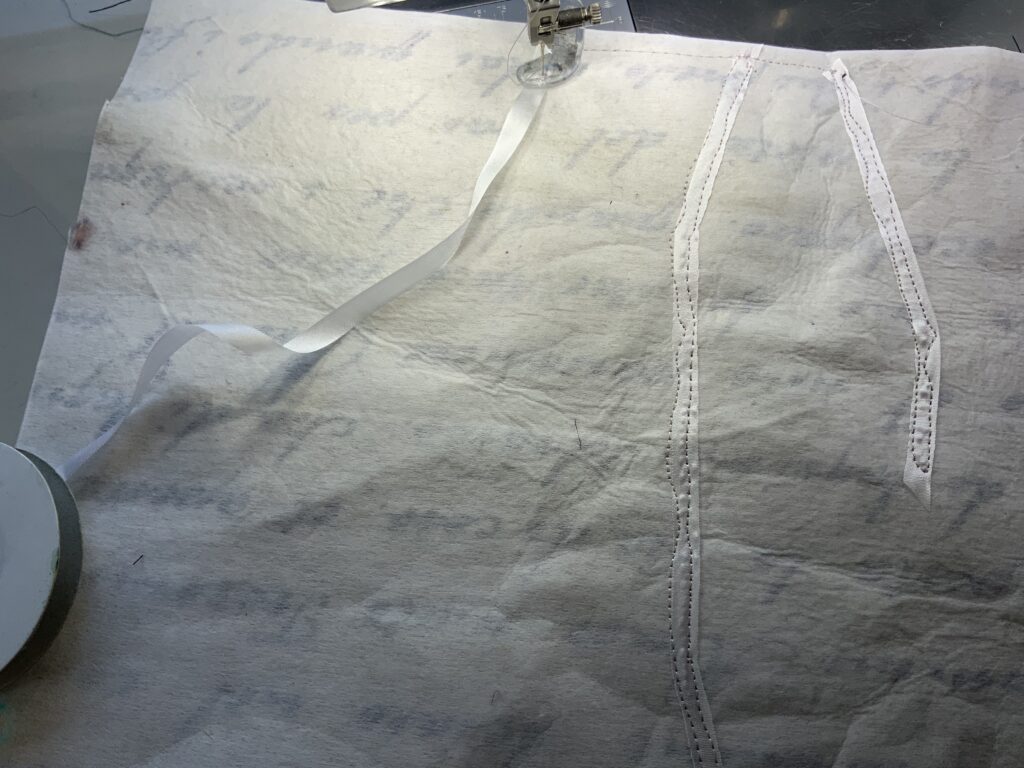 Heavy weight iron on interfacing
optional some written words i have used fabric which was commercially printed but you can print some from images on the computer and use this sandwiched between to layers of the interfacing
silk ribbon or similar
silk organza or similar sheer fabric
Inktense or water colour
gilding paste or similar
hand made paper /khadi paper or similar to bind the backing for the art work
To start making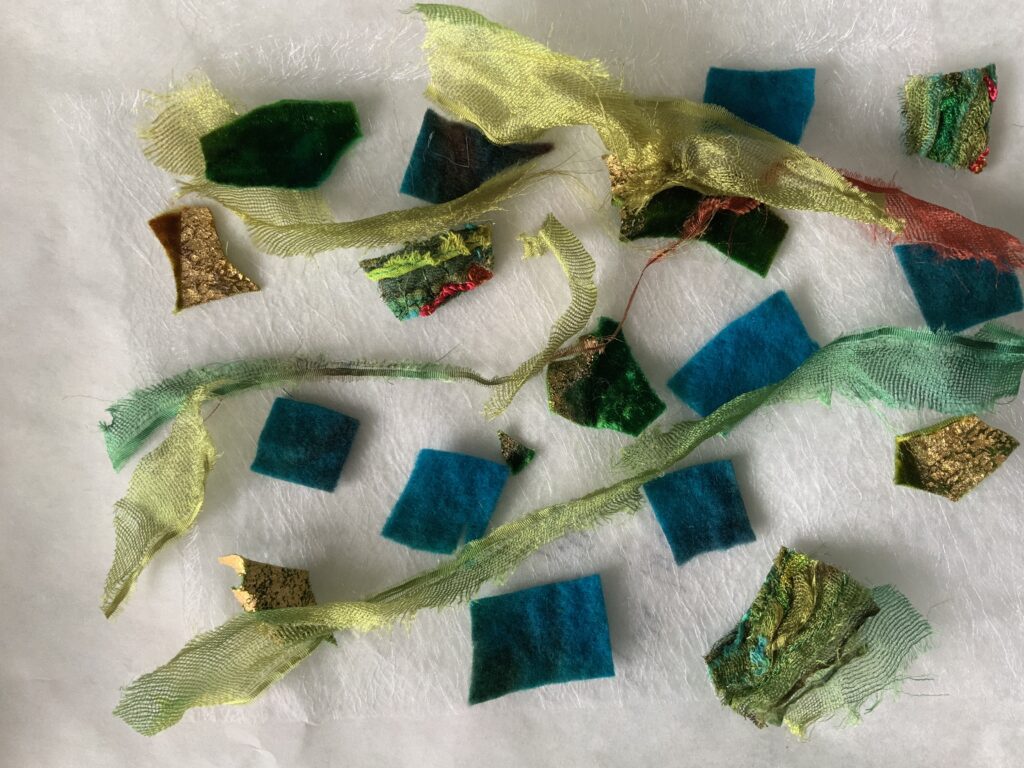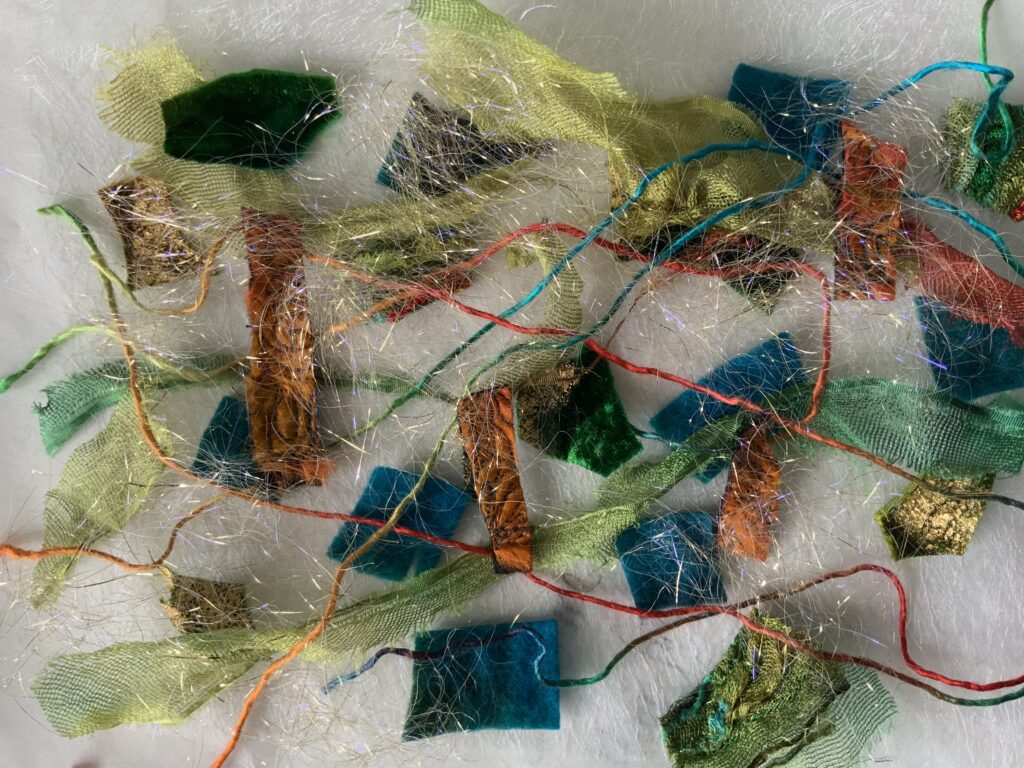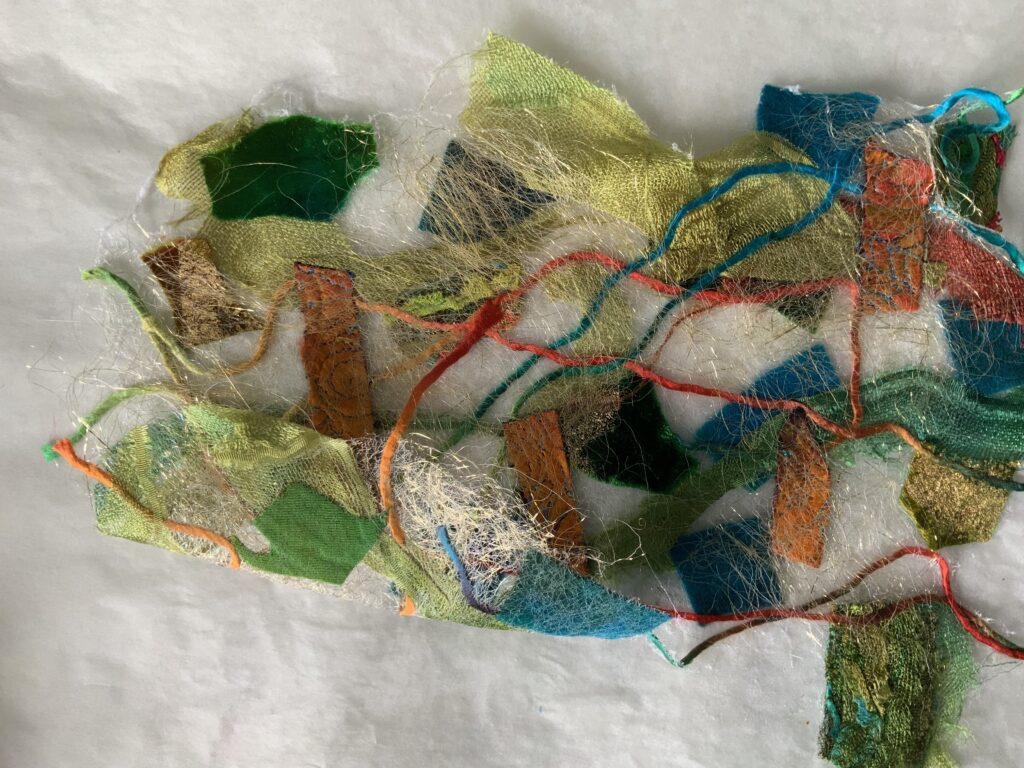 How you decorate the boarder of your created fabric is up to you, take seem of the stitching onto your created fabric and use as many colours and added embellishment as makes you happy, try some hand stitching enhance with jewels, gold threads etc .
Baking for your squares
I have then sewn strips of silk organza over the top of the gold painted ribbons with negative spaces left. You may be able cut through the top layer of the organza to reveal the texture and writing underneath and secure with a little more stitching, if you have use paper you may not be able to cut back thorough also if your fabric interfacing is very sticky it may not be possible. Finally I have coloured with inktense pencils and gilding paste .