A dash of bohemian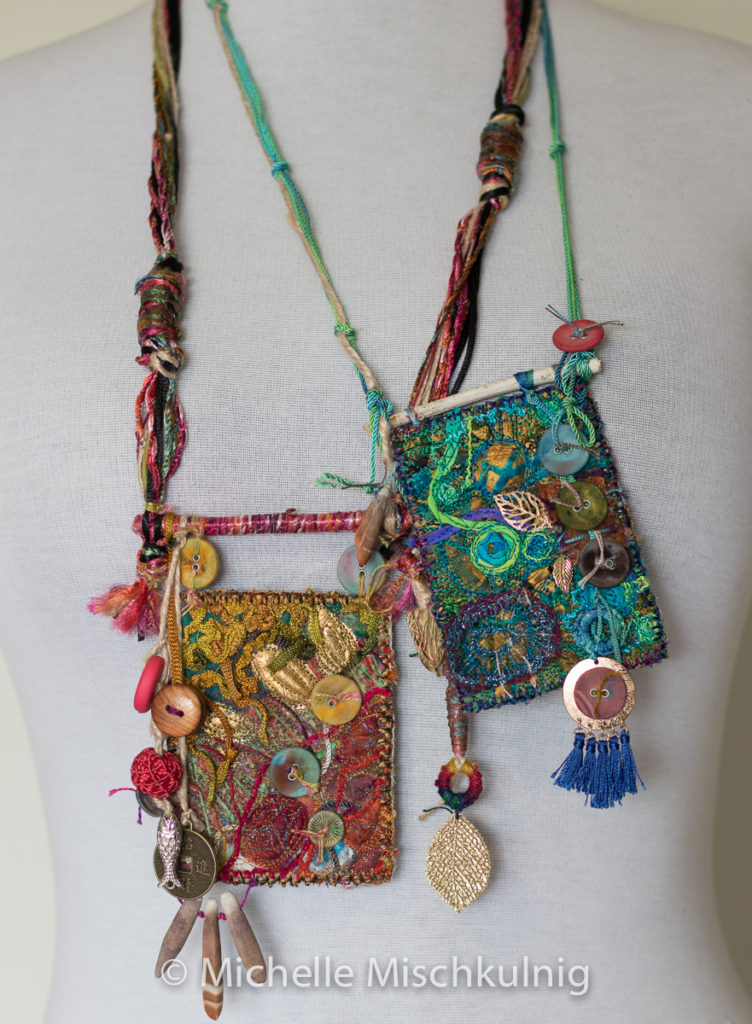 Hi I am back after a long absence it has been a extraordinarily busy year and it continues :-) .
I noticed this year a return to boho style, a little hippie, a little free life maybe thats what we all crave for. I have been playing in my work room with this idea to create some jewellery for the free spirit that lives within all us all. The necklaces have been made from bits and pieces in my workroom and held together by free motion embroidery and hand stitch. I am sharing this technique with you and hope you take the idea and make some that suit your personality, your colours and that for a brief moment you can remember where that free spirit disappeared to. They could also be used as small hangings to bring life and a sense of joy to any space.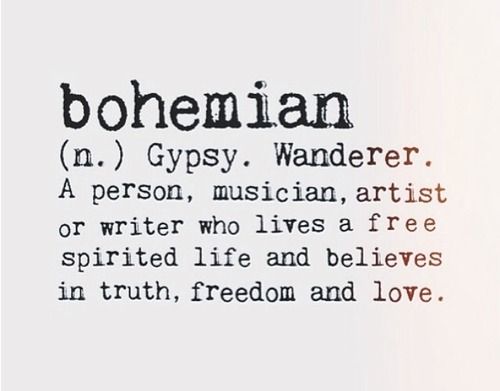 ---
Materials
Trinkets e.g. hand dyed linen buttons, old jewellery, found objects, other bibs and bobs.
http://www.thethreadstudio.com/catalogue/embellish/paintersbuttons/linenbuttons.htm
Fusible web
Fabrics of choice
Yarns of choice
extra interesting fabrics such as velvet and gauze or organza
ribbons chorde etc of choice
Closed toe free motion foot
Iron on stiffening
Small amount of batting
Glue
---
Sea coloured bohemian necklace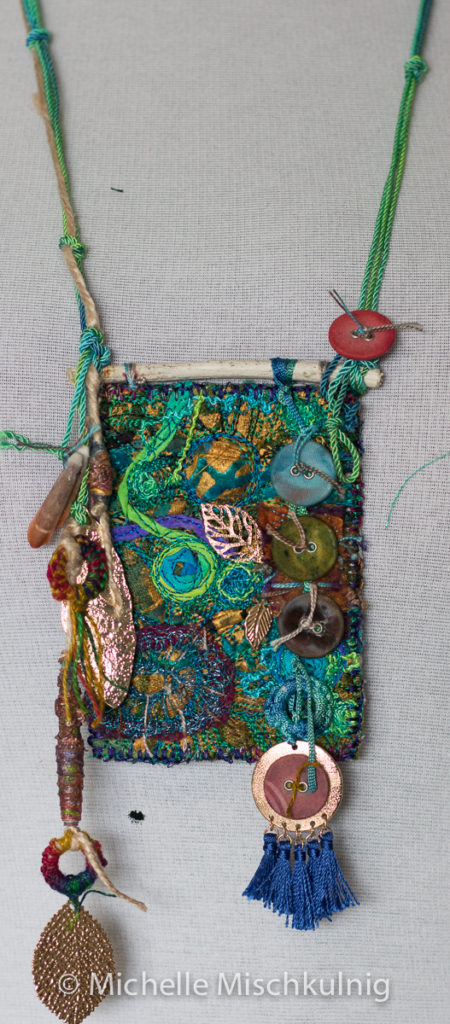 ---
Step 1
Choose your fabric and cut a piece approx. 8cm x 10c. Lay a piece of fusible web on the top of the fabric. The fusible web must be peeled form its backing paper before you lay it on your fabric.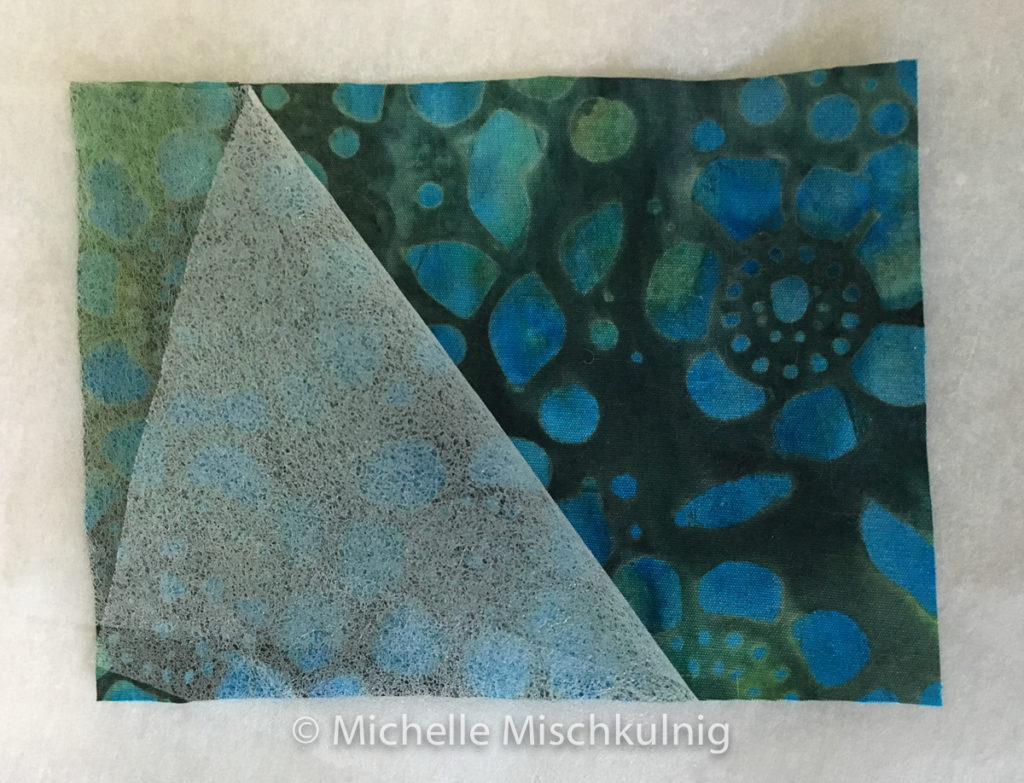 On top of the fusible web lay some interesting fabrics that tone in but are of different textures and weights. I have used velvet and silk mesh.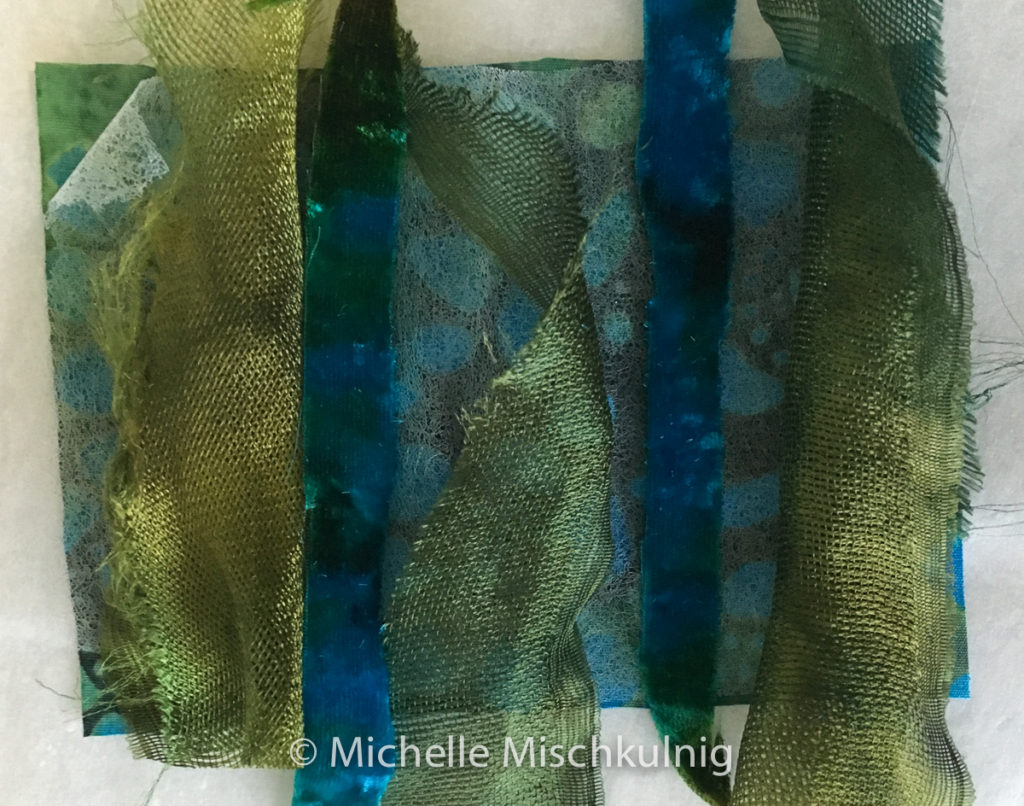 Then I add some silk ribbon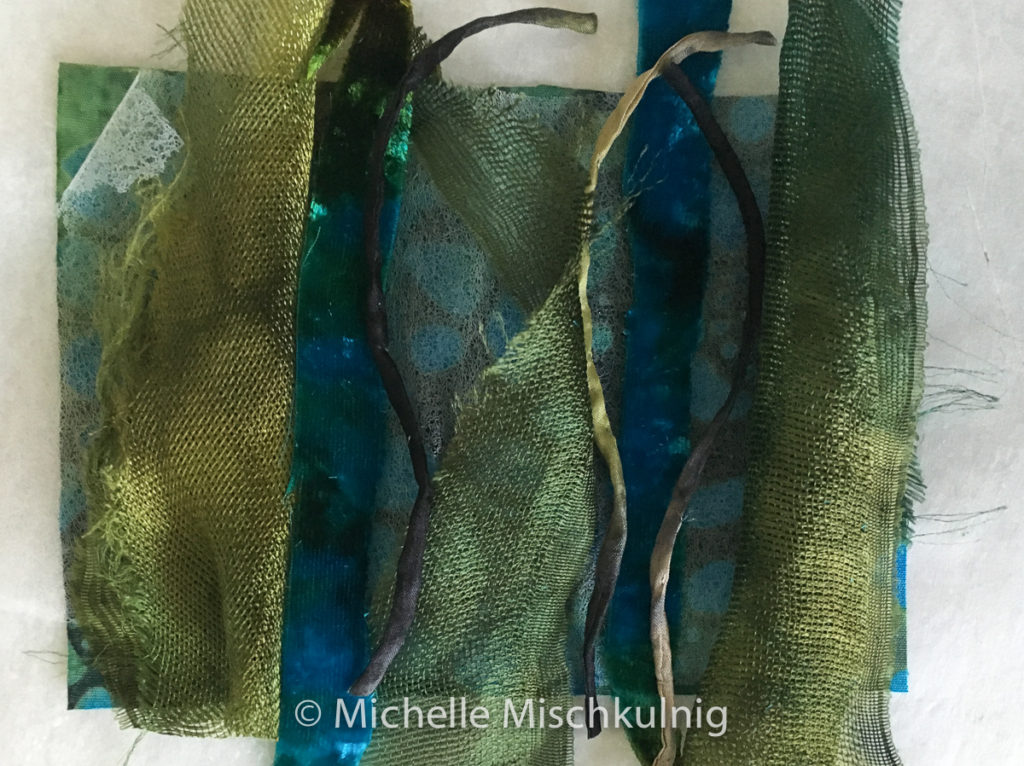 And fuse by using a hot iron with baking paper underneath and on the top to protect your iron and fabric.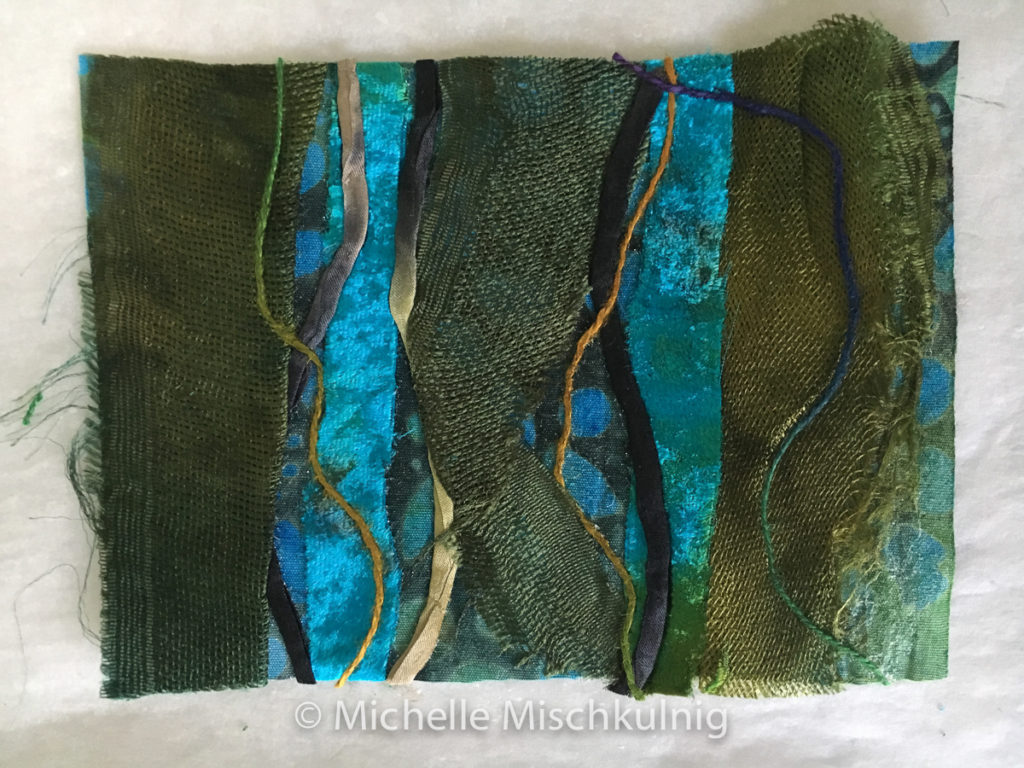 ---
Step 2
This is optional I stencilled over the surface of the fabric with gold fabric paint.You might choose to dab paint or other surface treatment.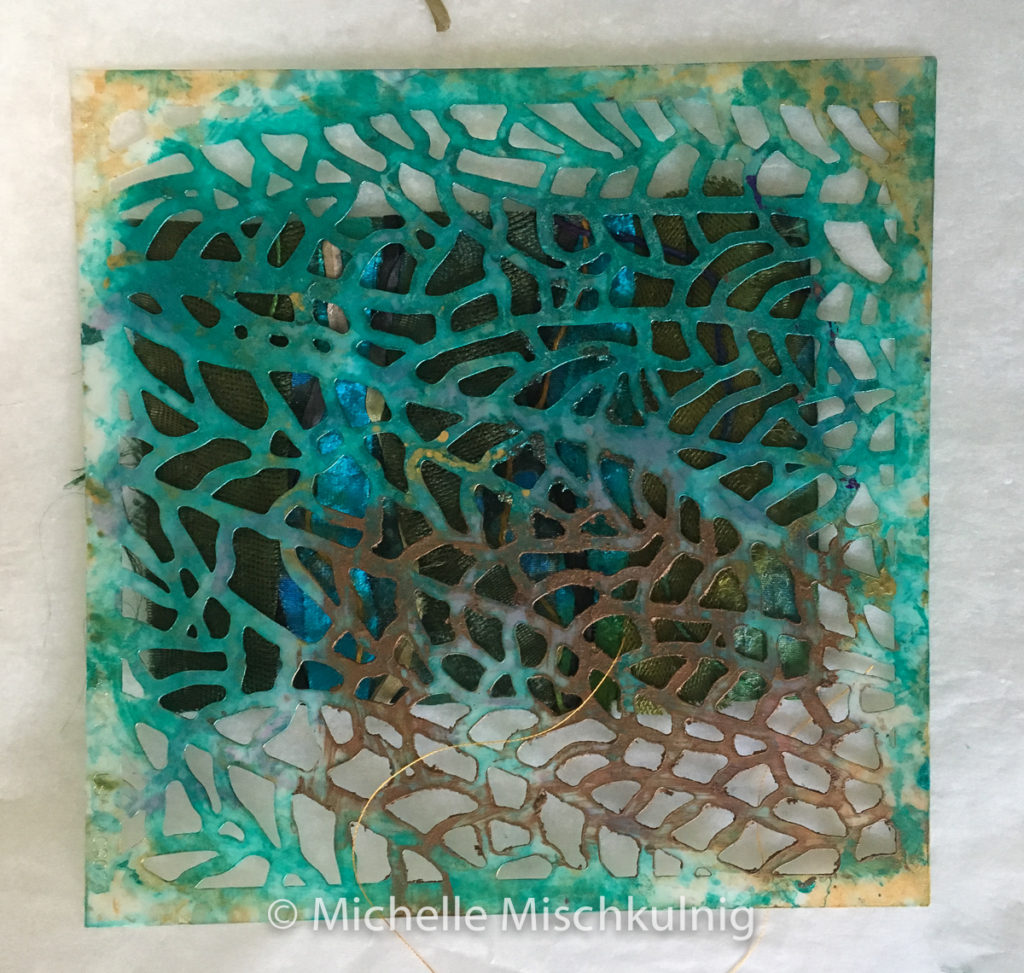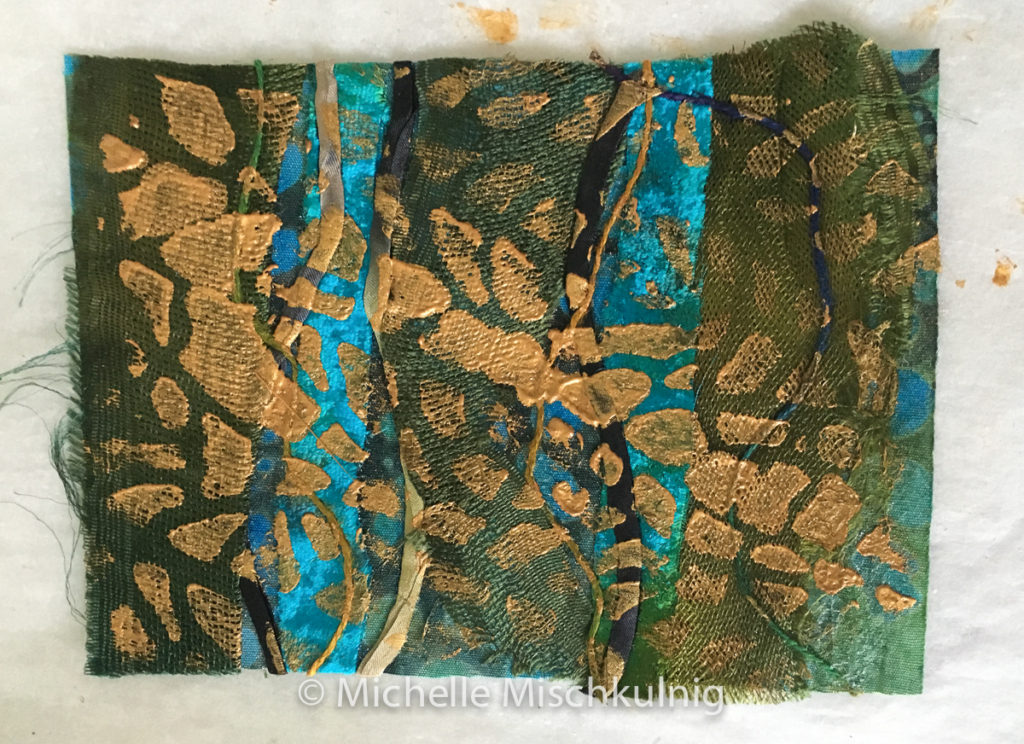 ---
Step 3
Back your fabric with a piece of batting and free motion stitch any design you wish I have used a matching thread and some black to pick up details. Remember to keep it free flowing an organic.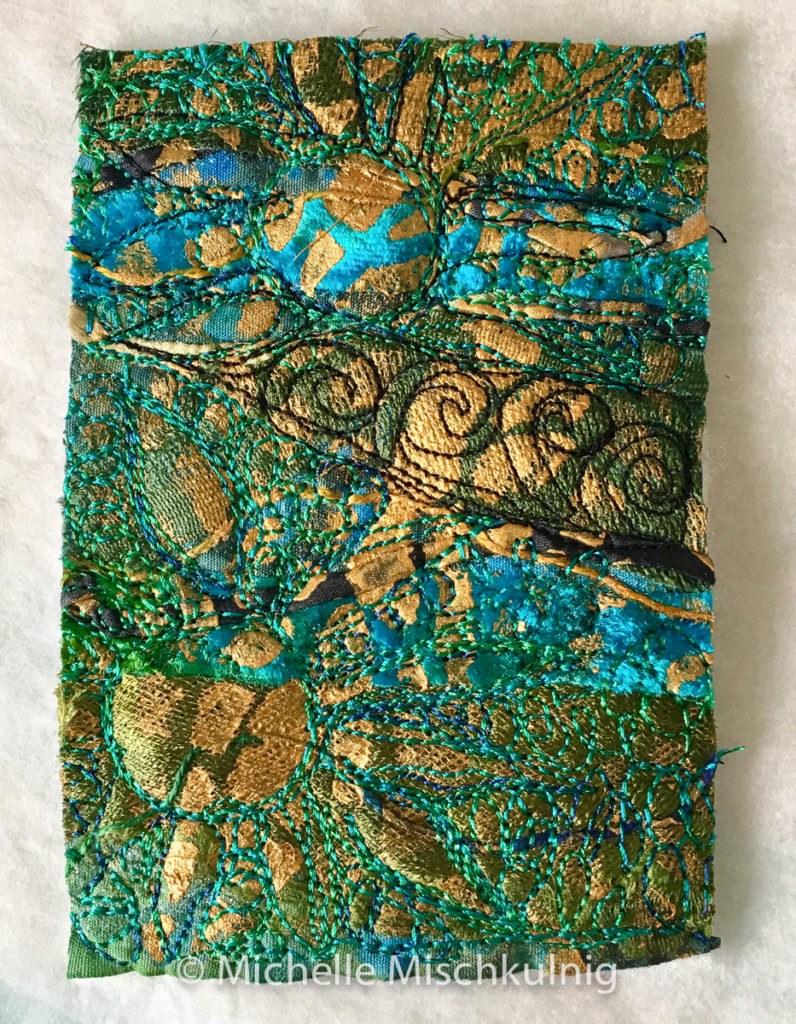 ---
Step 4
stitch some yarn/ ribbon to enhance the surface of the fabric adding a dimension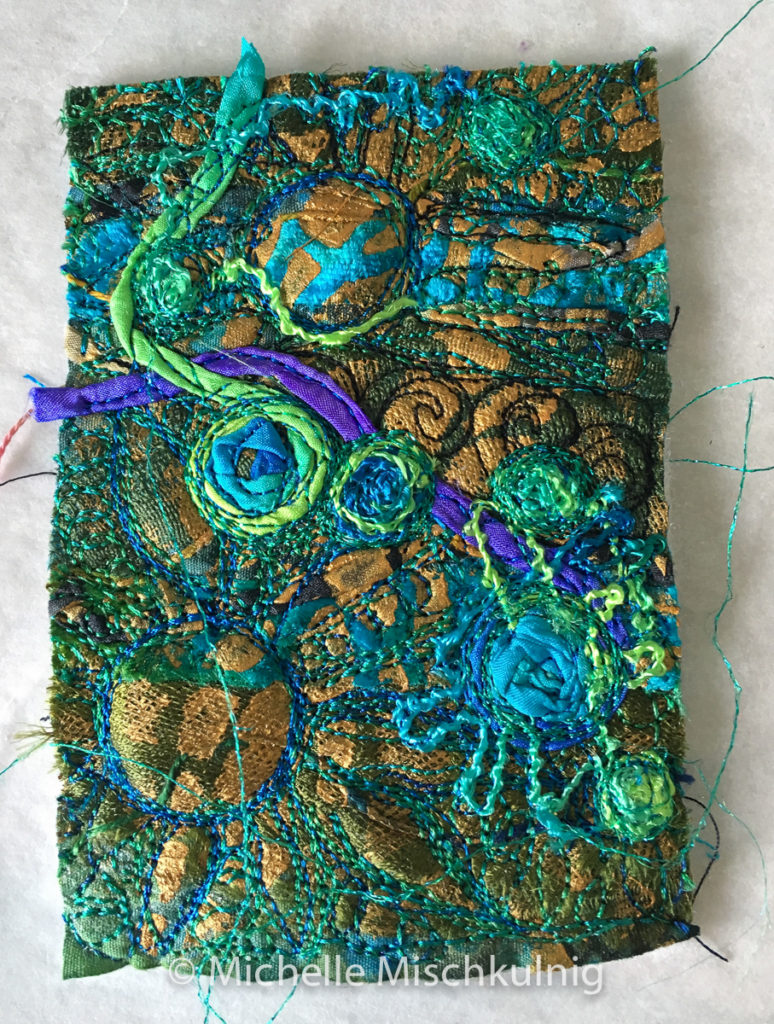 ---
I have laid out bits and pieces from my sewing room, pieces of cheap jewellery, beautiful hand dyed buttons,drfitwood thinking about how and where to use them. I am sure you can find lots of treasures.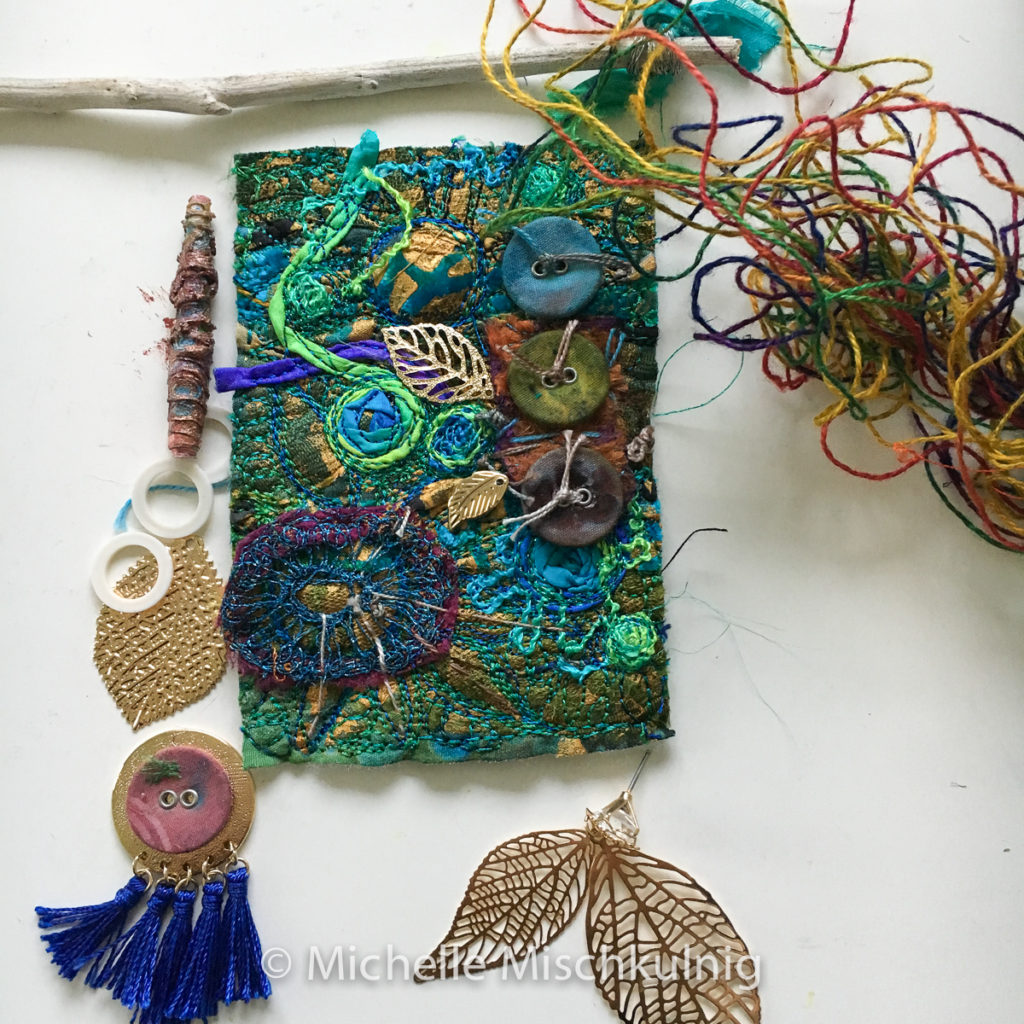 The plastic rings in the picture above I have stitched around in coloured threads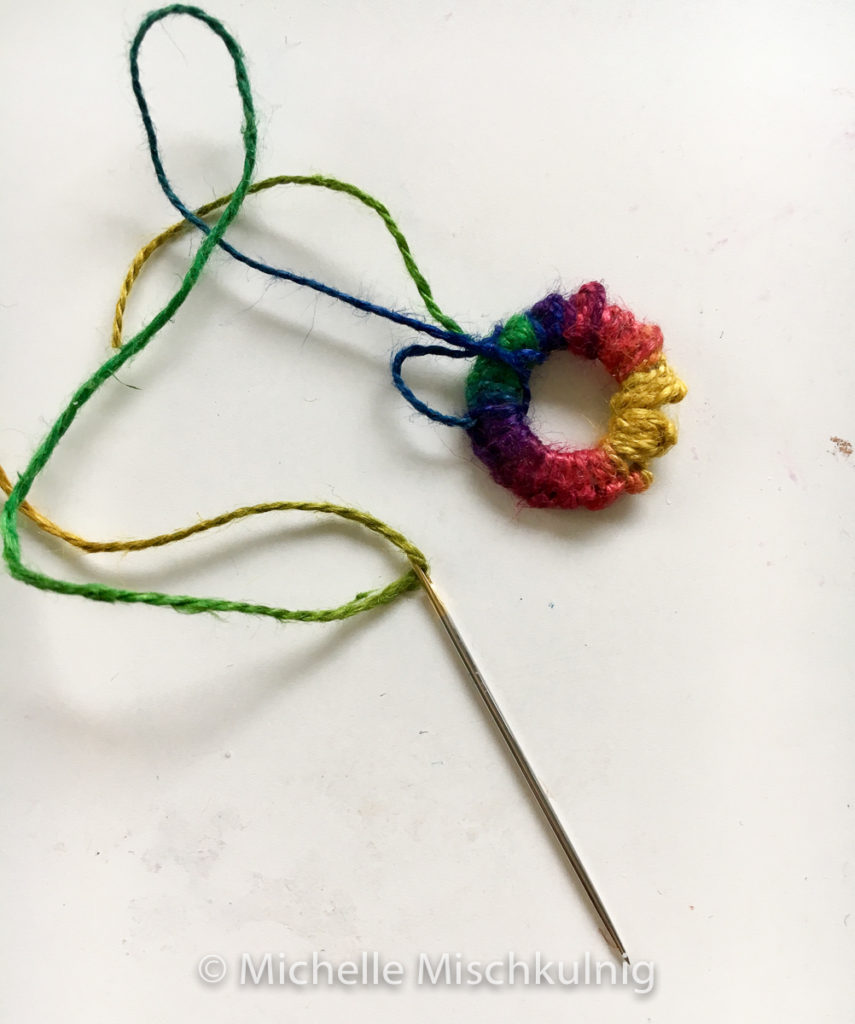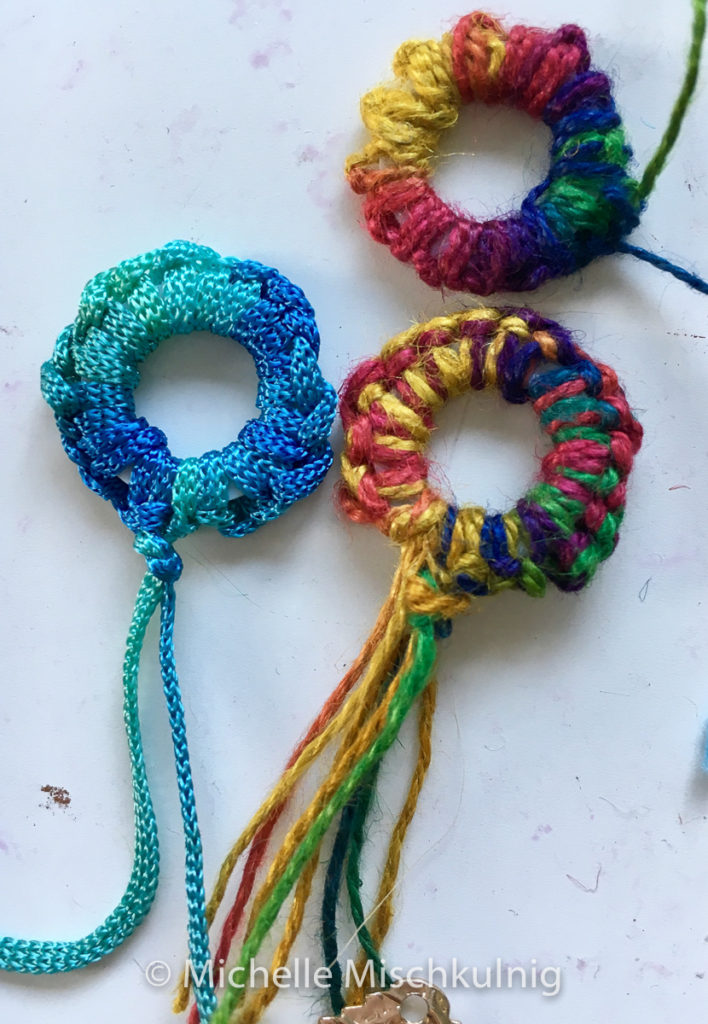 ---
Step 4
Hand stitch on your trinkets and you may consider to carry the hand stitch across the surface of the fabric. Then cut a backing piece and iron the stiffening on to your backing fabric .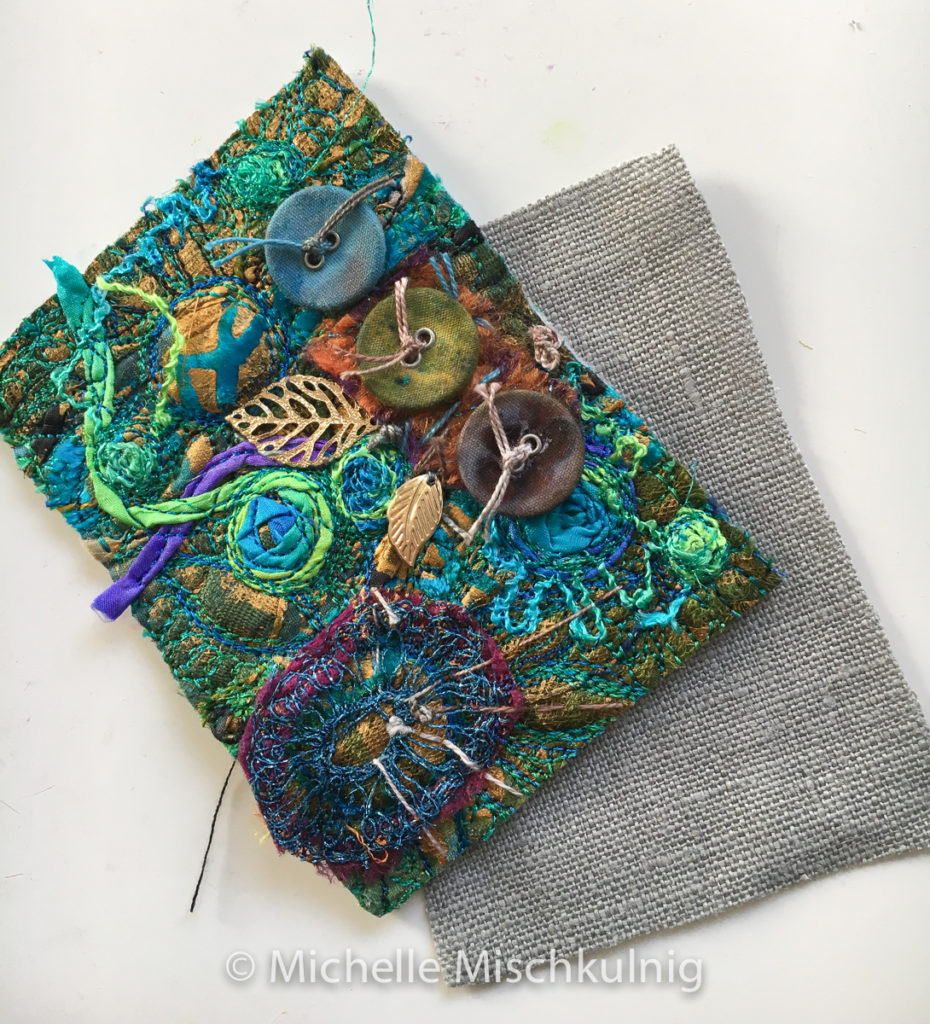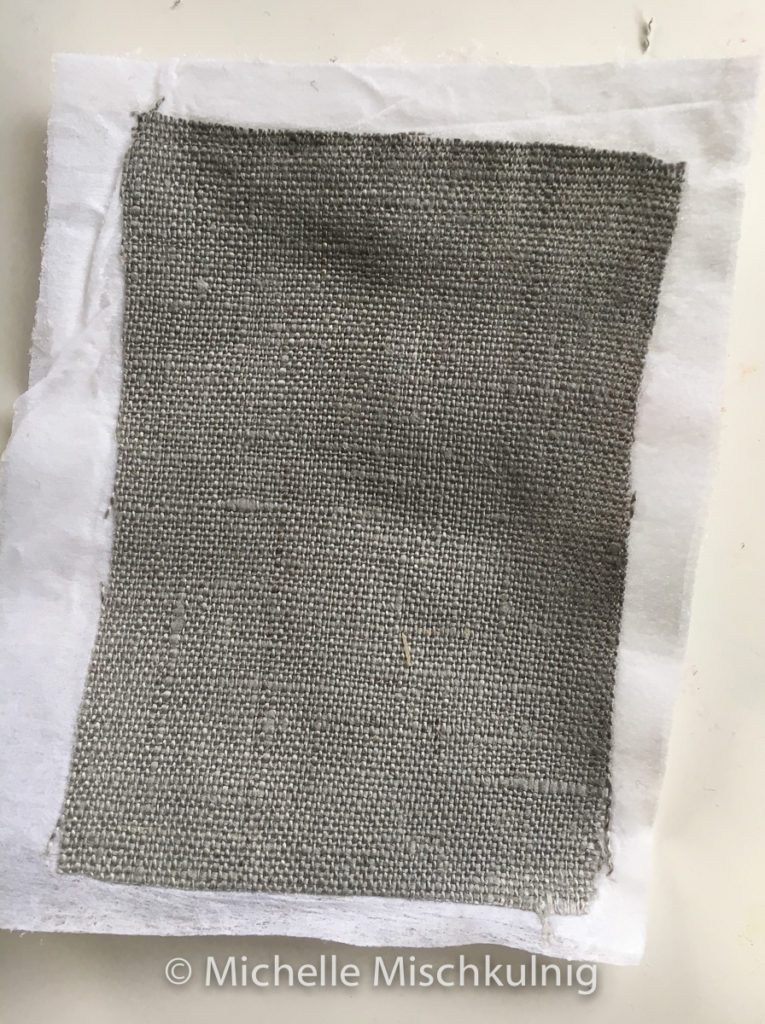 When you have prepared the fabric attach it to your top piece using a decorative stitch such a blanket or zig zag to seal your edges.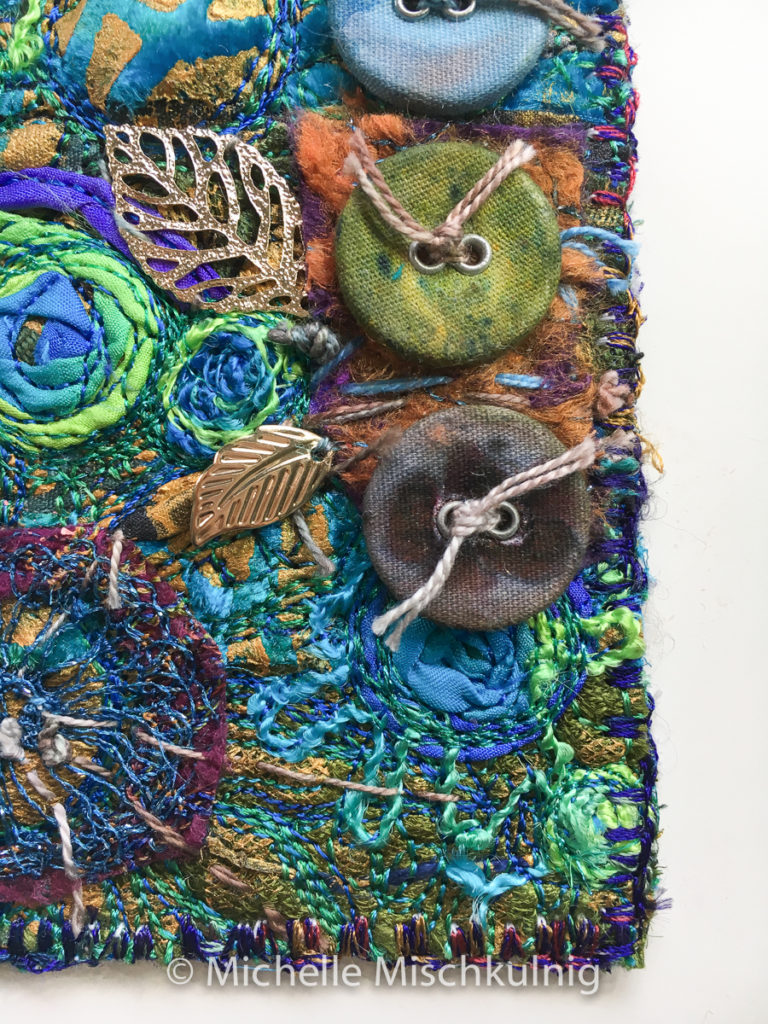 ---
Step 5
I have attached a small piece of driftwood with hand stitching and tied and glued the chord to the drift wood.
Use interesting yarns of different lengths some trinkets to complete the bohemian necklace. Consider the hanging length they should hang a little longer than most necklaces because of their size and they look fabulous worn with plain coloured garment.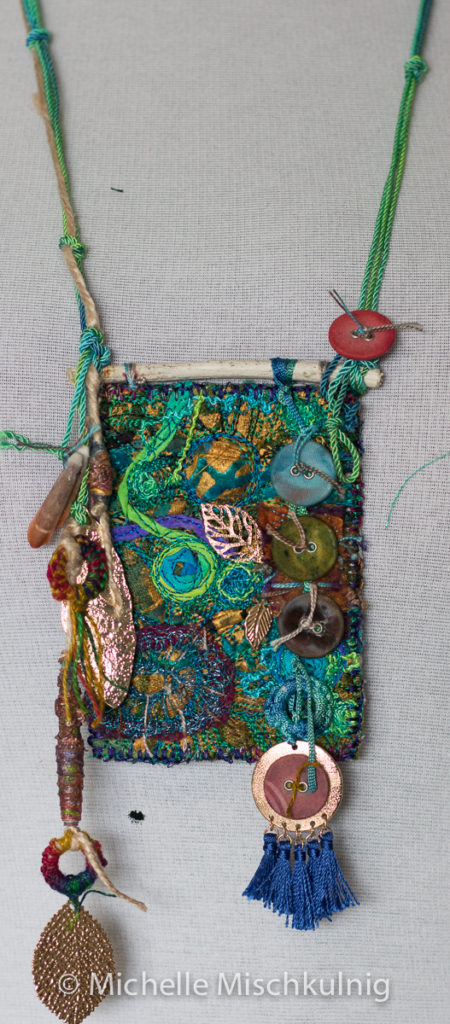 ---
Close ups
---
---
The orange bohemian necklace
Step 1
Choose your base fabric thinking about the colours you love cut to approx. 8cm x 10cm.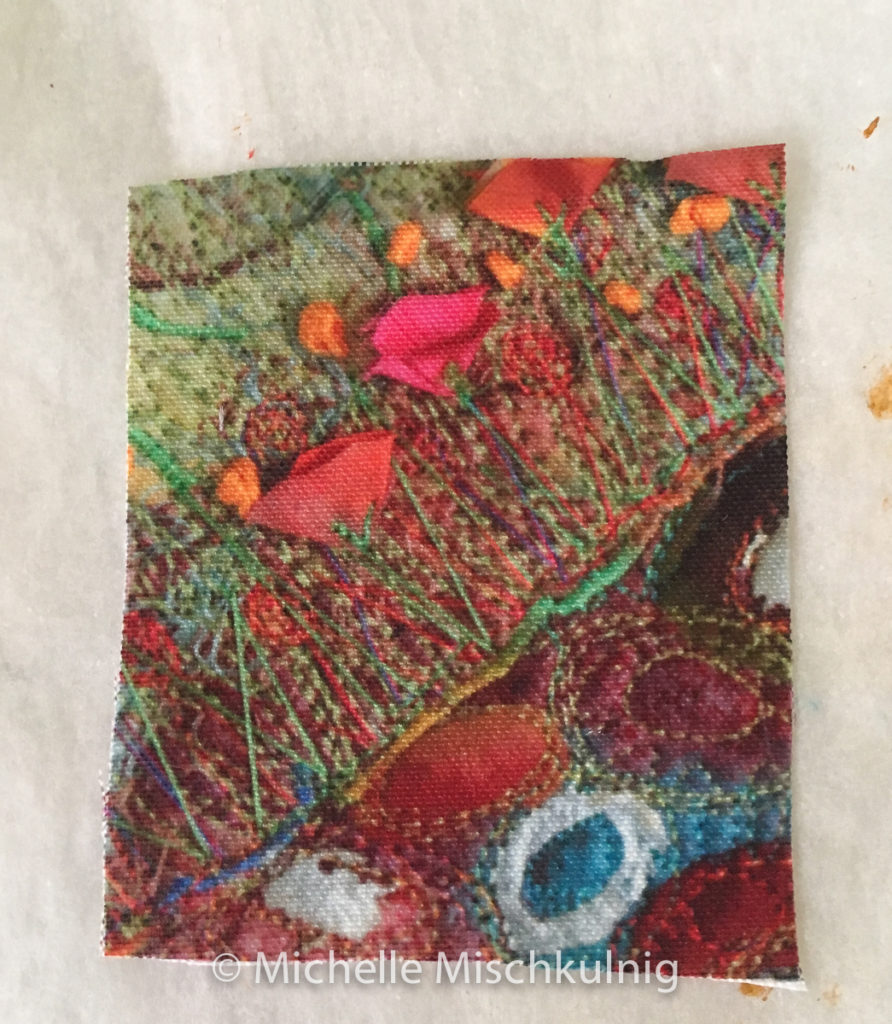 Place a layer of peeled fusible web over your base fabric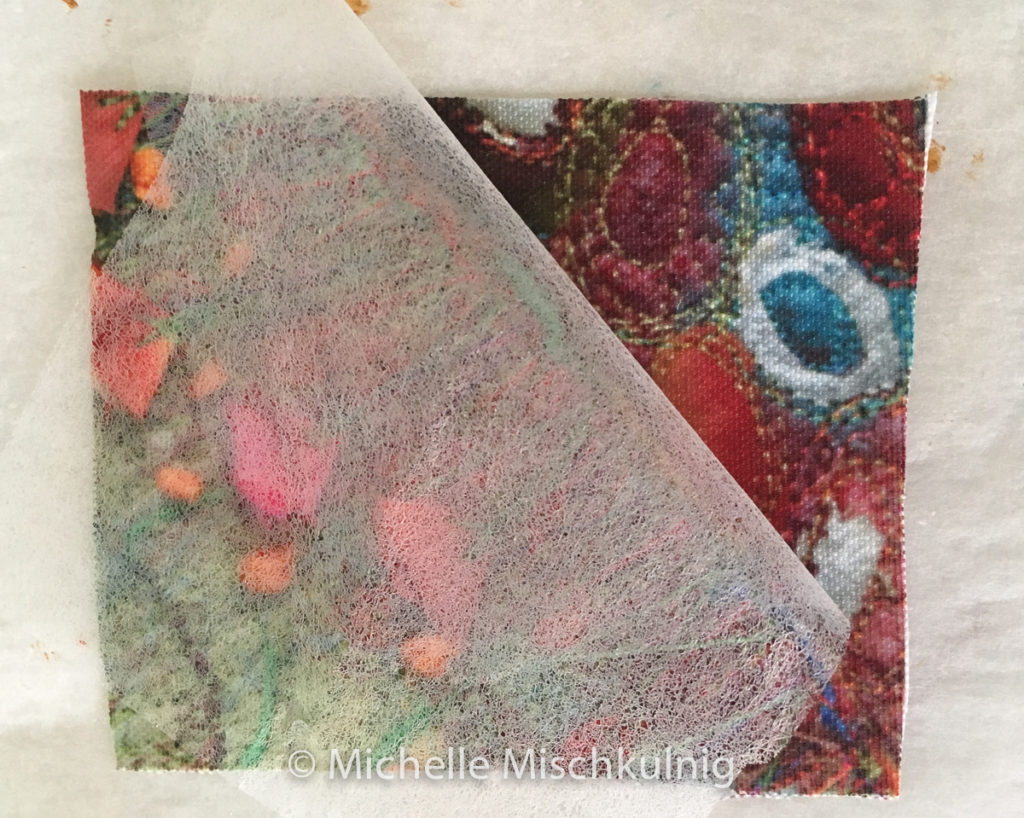 Lay some chords or yarns etc following the pattern of your fabric.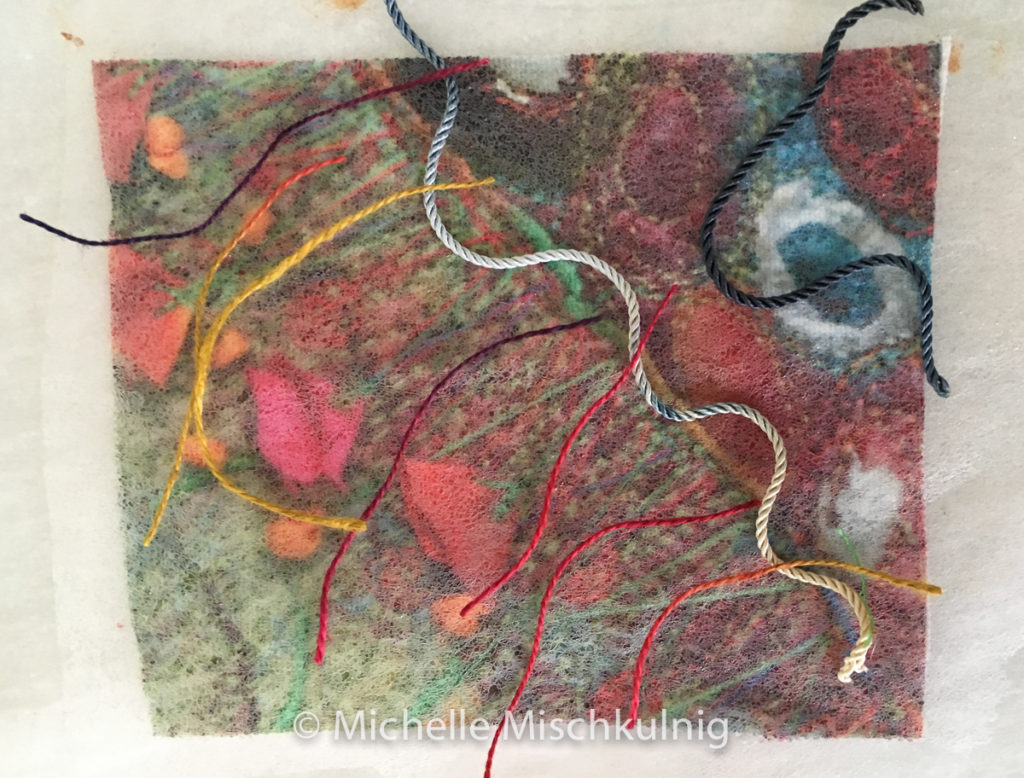 Sandwich between 2 pieces of baking paper and fuse with a hot iron.
After the first layer of yarn I have added another layer on top and some fine silk fibre.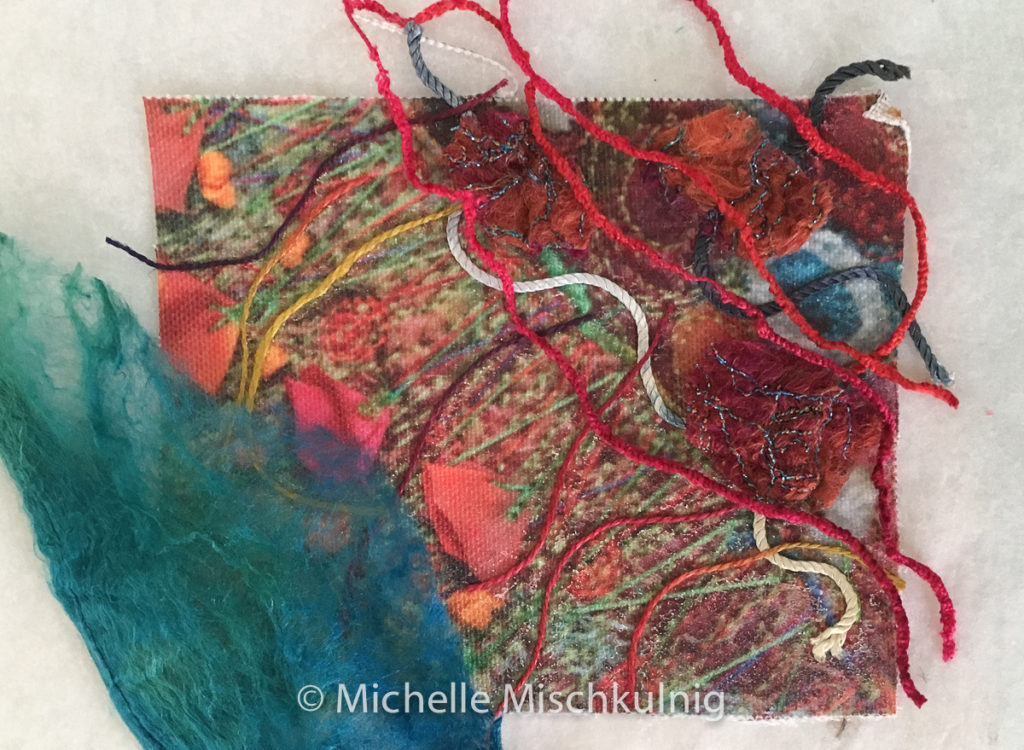 Below is how it looks when it is all fused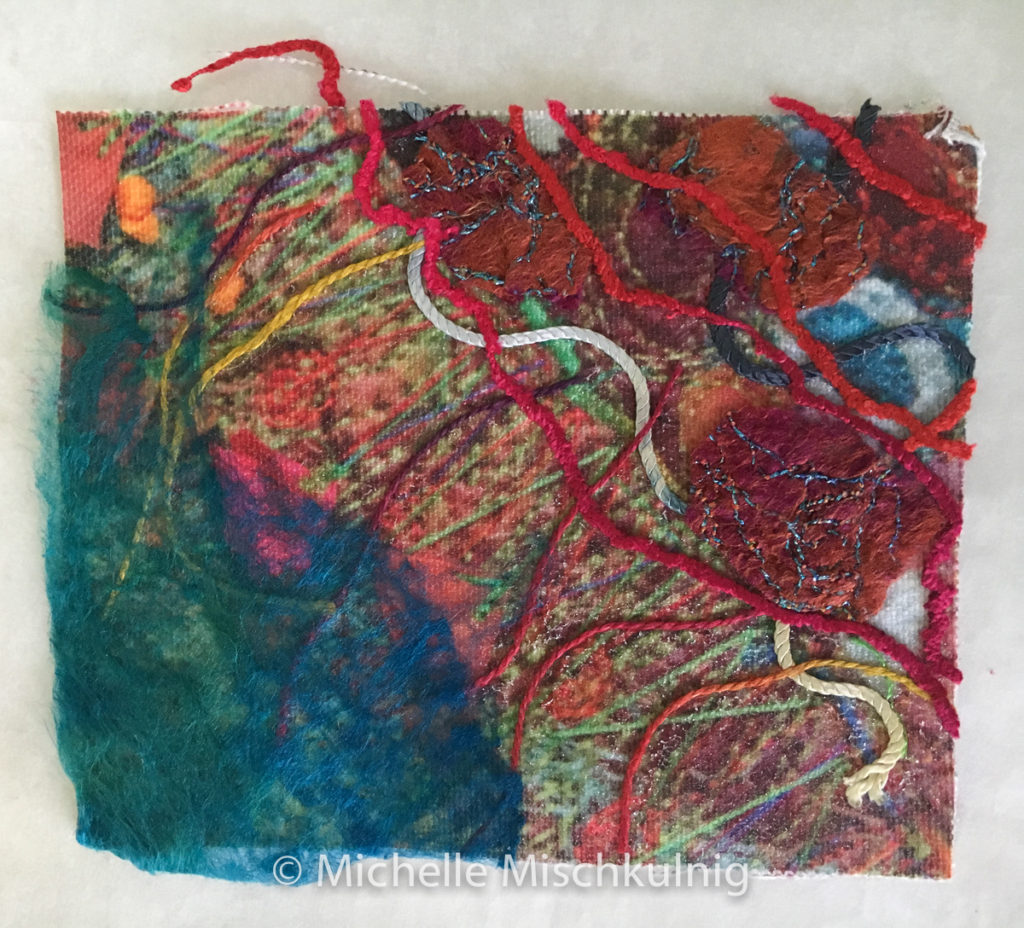 ---
Step 2
I like using foils to add some metallic features. To foil your fabric add a small piece of fusible web and then place a piece of foil over the top of the web metallic colour facing up. Melt the foil onto the fabric by using the nose of the hot iron over the foil until the foil changes colour/ texture and then peel off, the plastic should come away leaving the foil.
http://www.thethreadstudio.com/catalogue/exp/metals.htm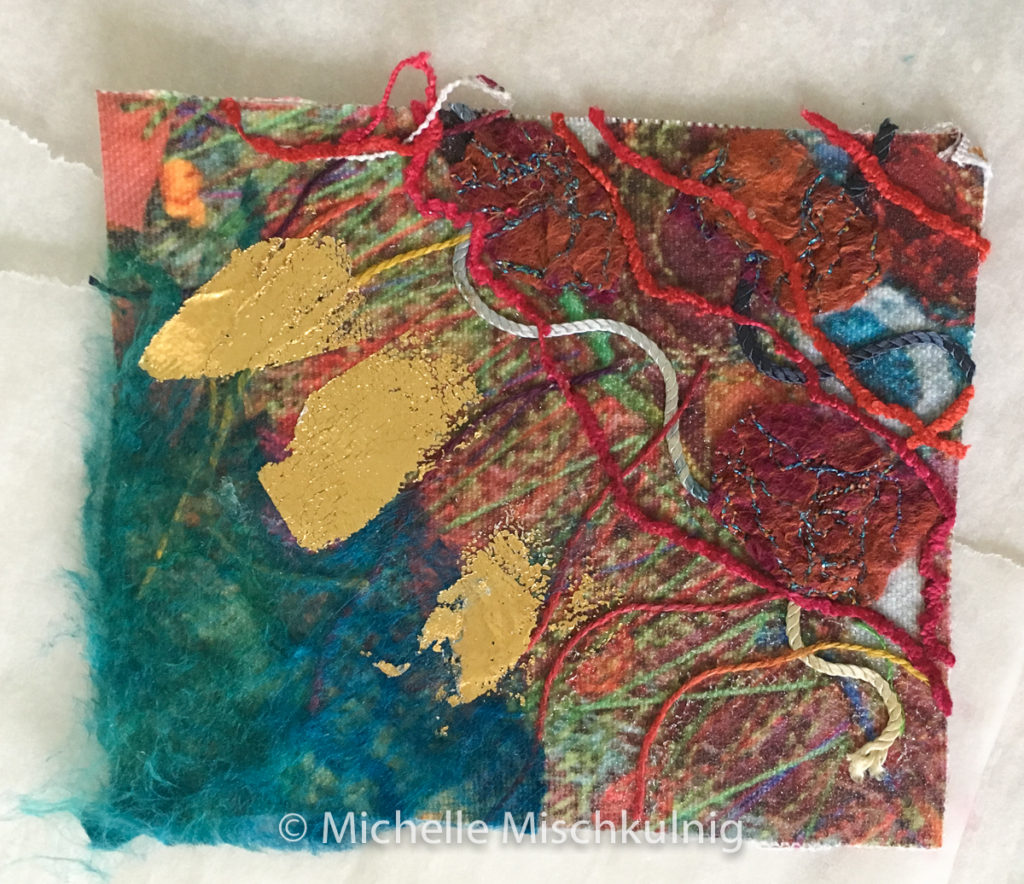 ---
Step 3
Pin some batting to the back of your fabric and then set your sewing machine for free motion stitch and using the design on your base fabric for inspiration stitch to your heats content.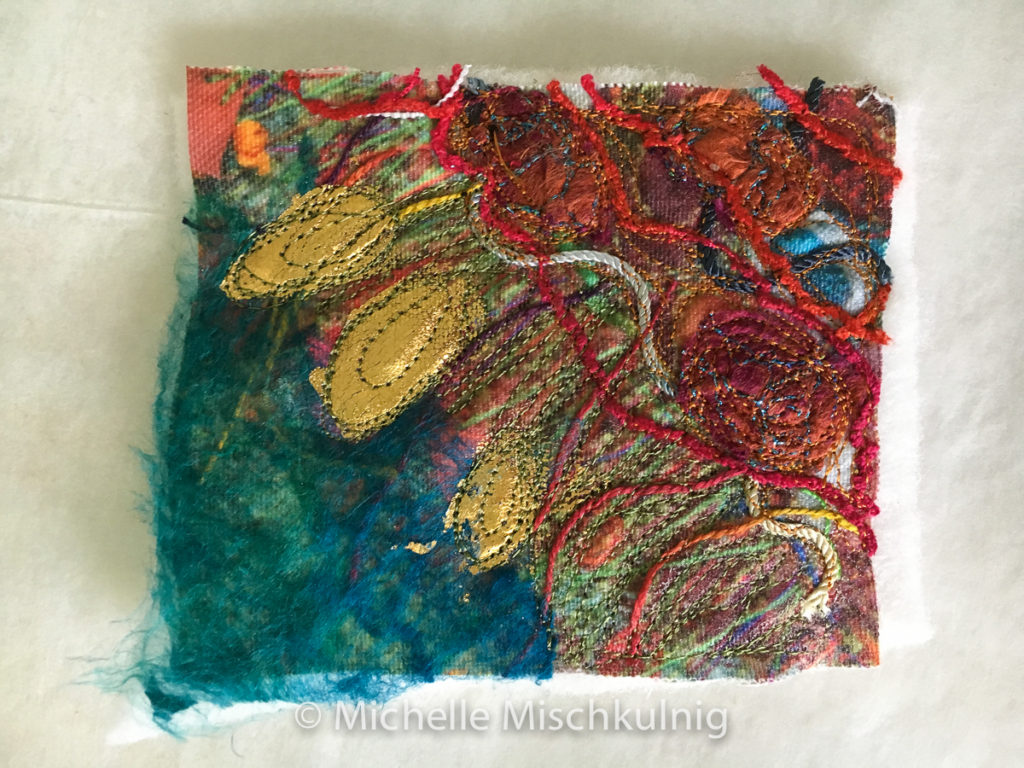 ---
Step 4
I have used a free motion chording foot to add some texture to my fabric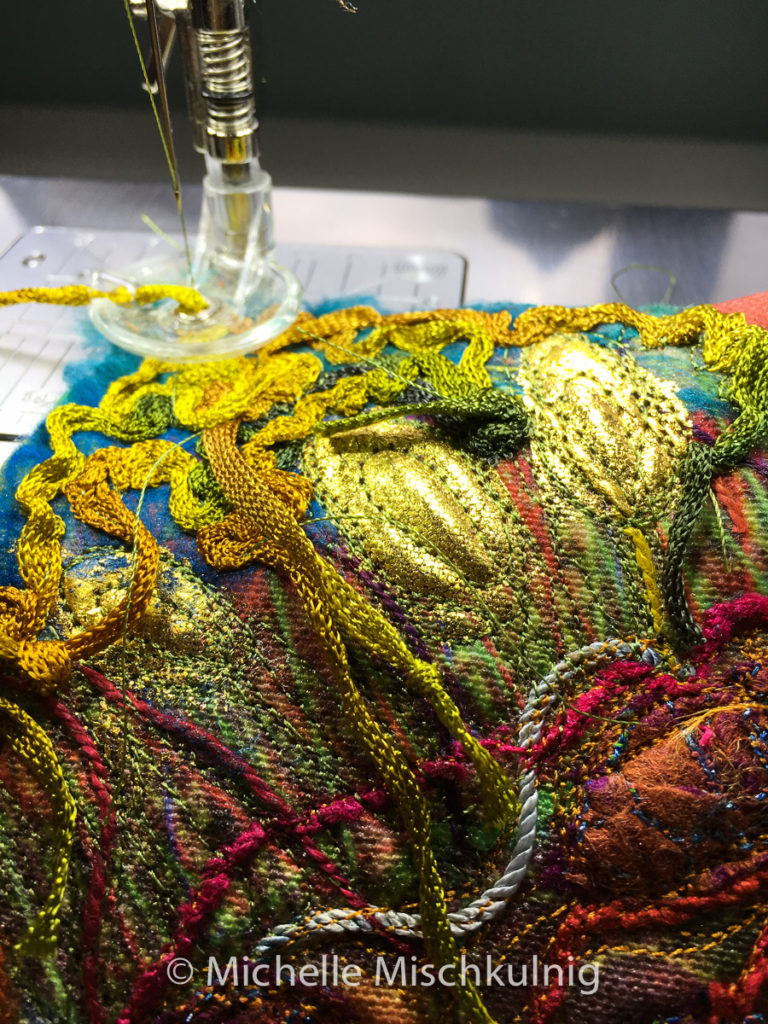 ---
Step 5
Selecting and placing the buttons or trinkets on your fabric.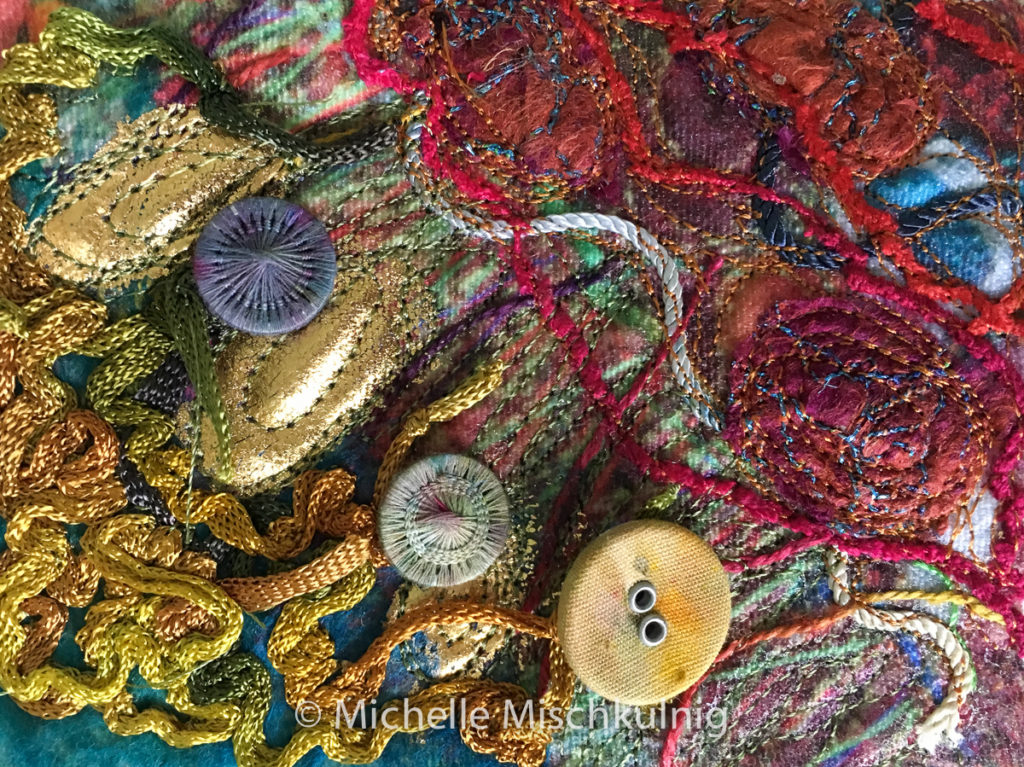 When these are attached by hand stitching cut the backing fabric and stiffen with sticky sided vilene. Stitch around the edges with a sealing stitch such a zig zag or blanket stitch.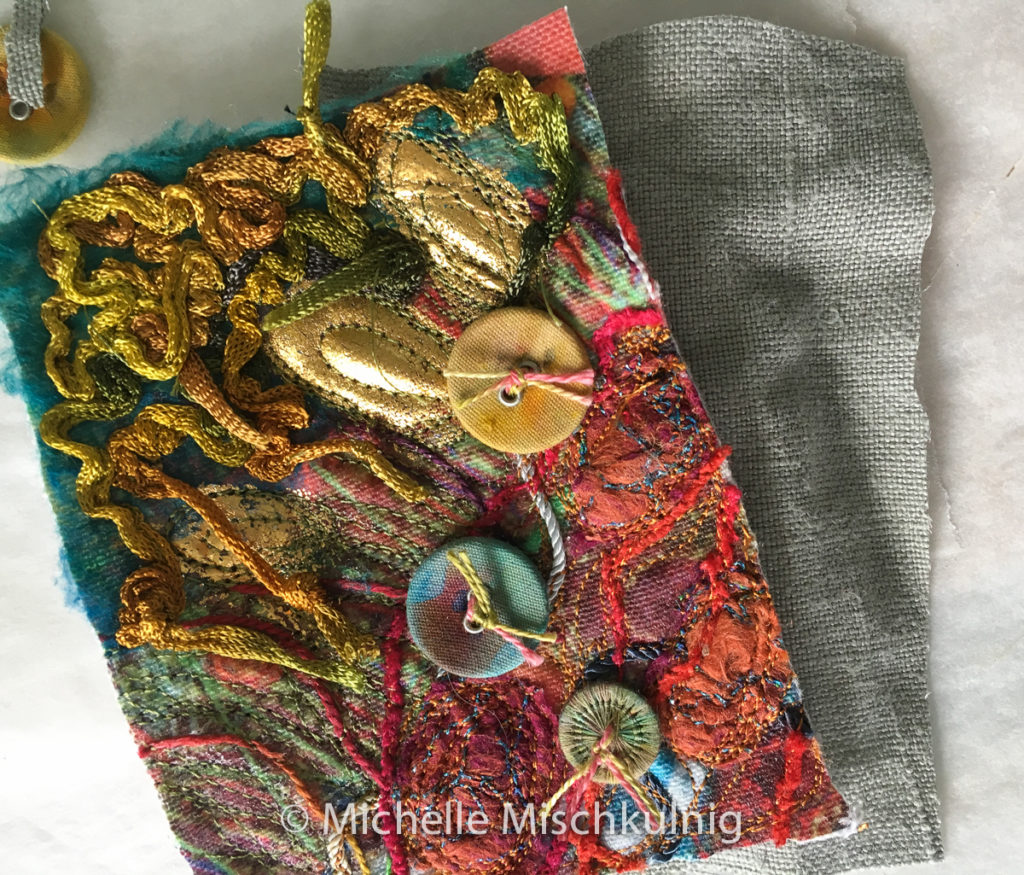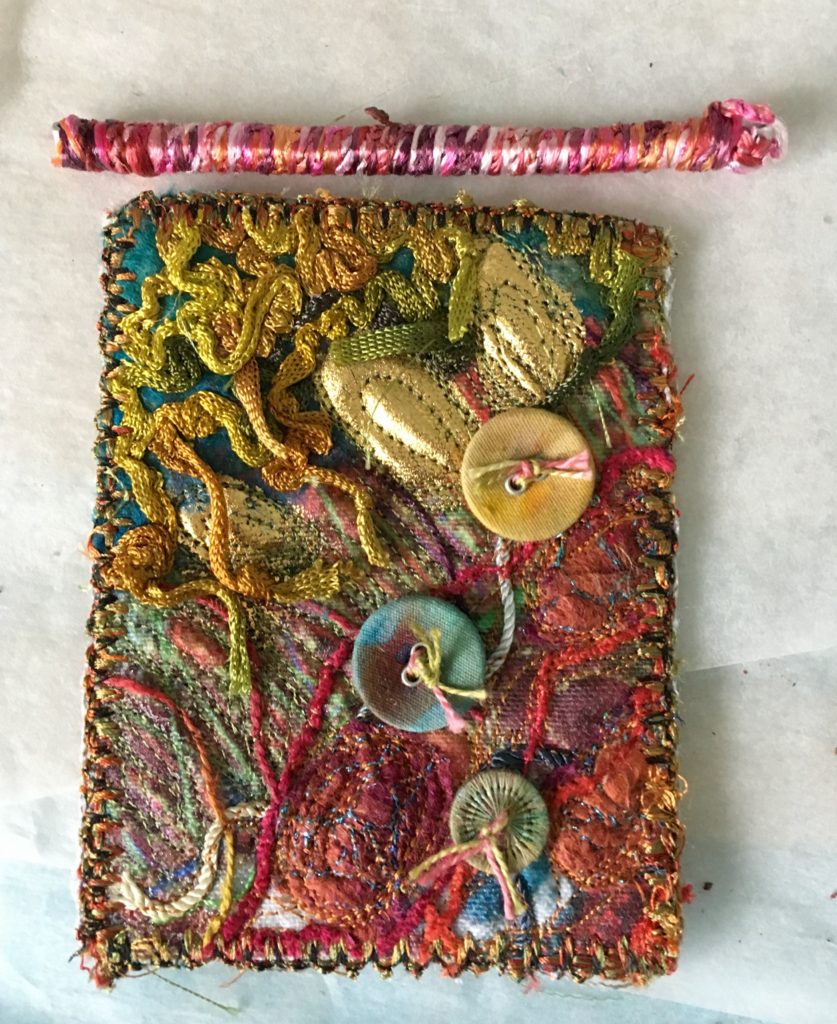 ---
Step 6
I have made some beads out of cotton reels by cutting them and wrapping them in fabric and yarn and painting them with a slightly watered down PVA glue.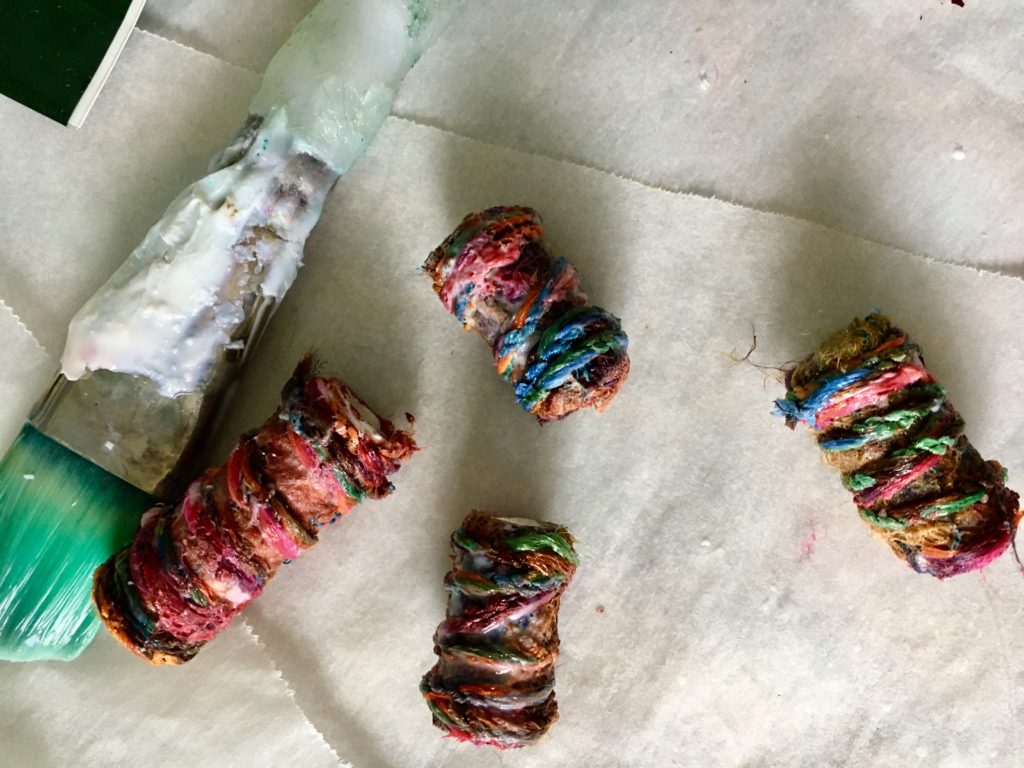 ---
Step 7
Looking at all my trinkets which include sea urchin spines, wooden buttons, hand dyed linen buttons and more.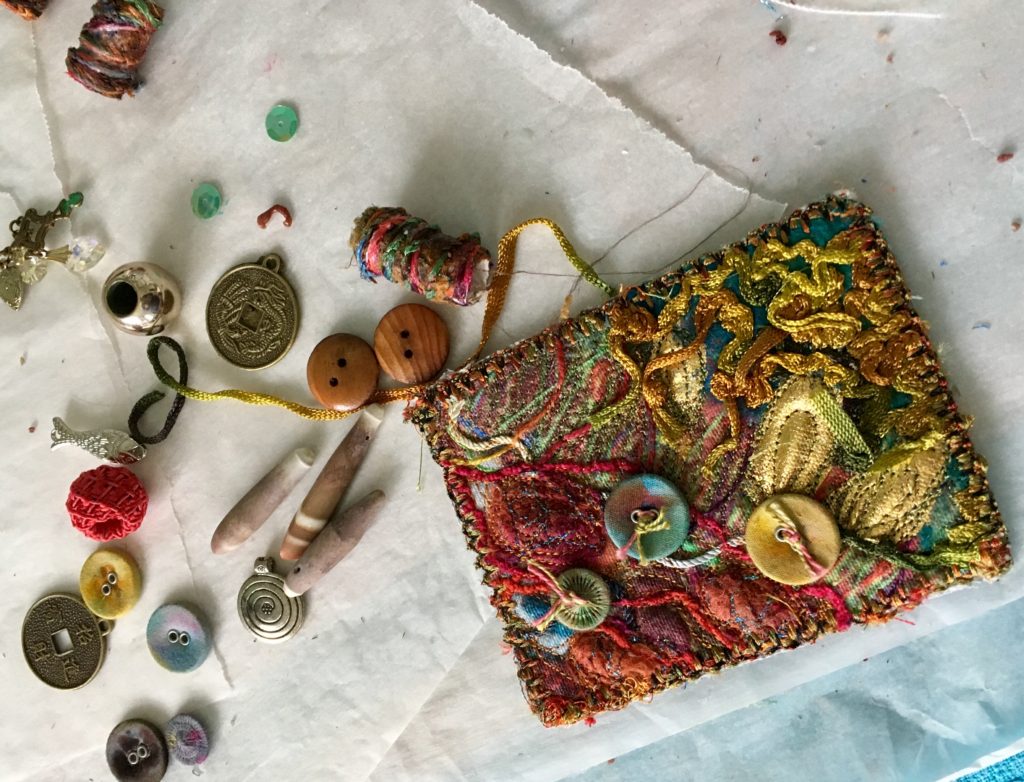 ---
Step 8
I am hanging my fabric of a bar which has been wrapped with a shiny yarn. The bar is just a little wider than the fabric.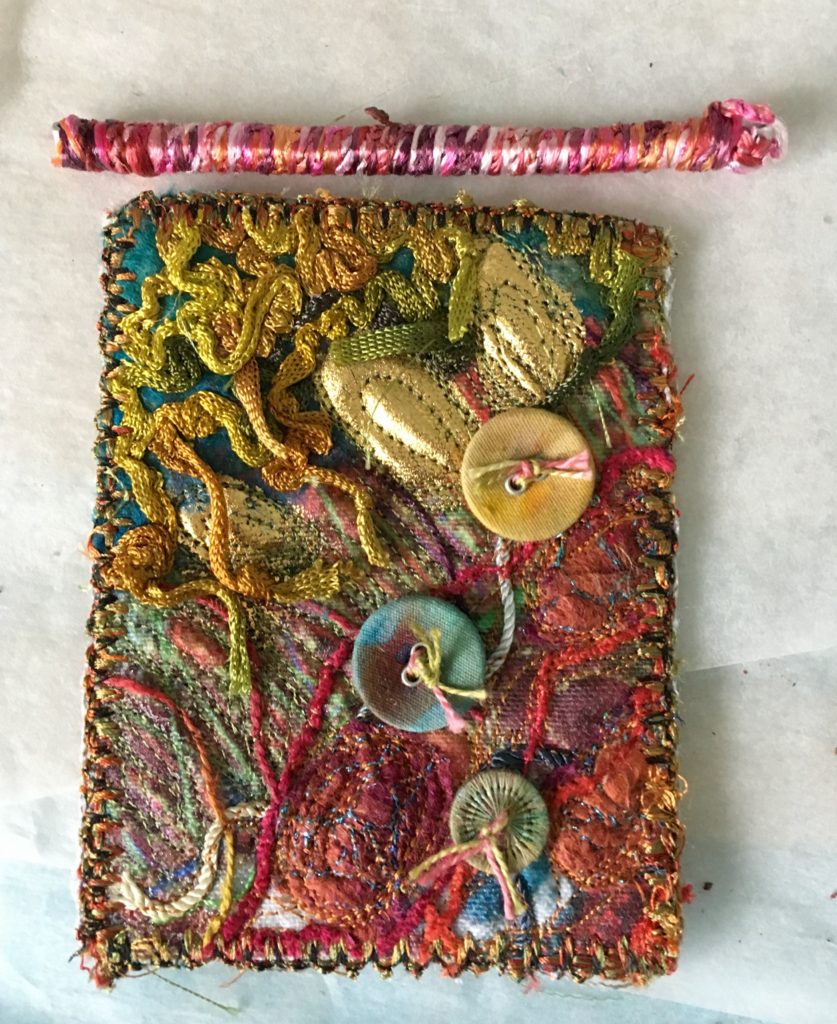 ---
Step 9
Here I am measuring and gathering interesting chords and yarns to go around the neck which I thread the cotton reel beads over and knot the yarn to hold into place.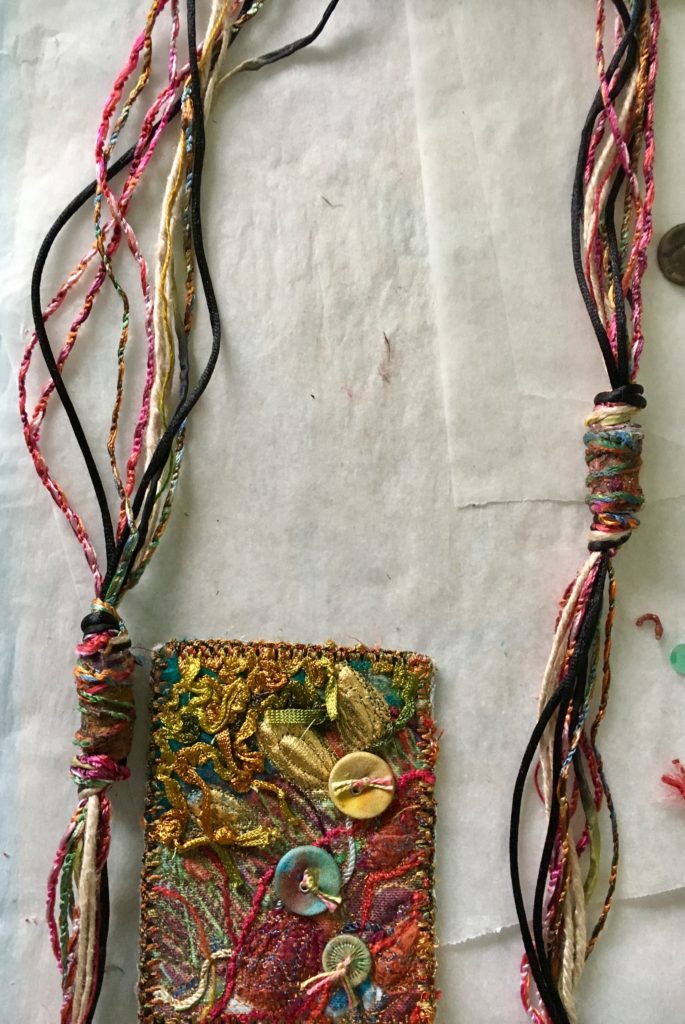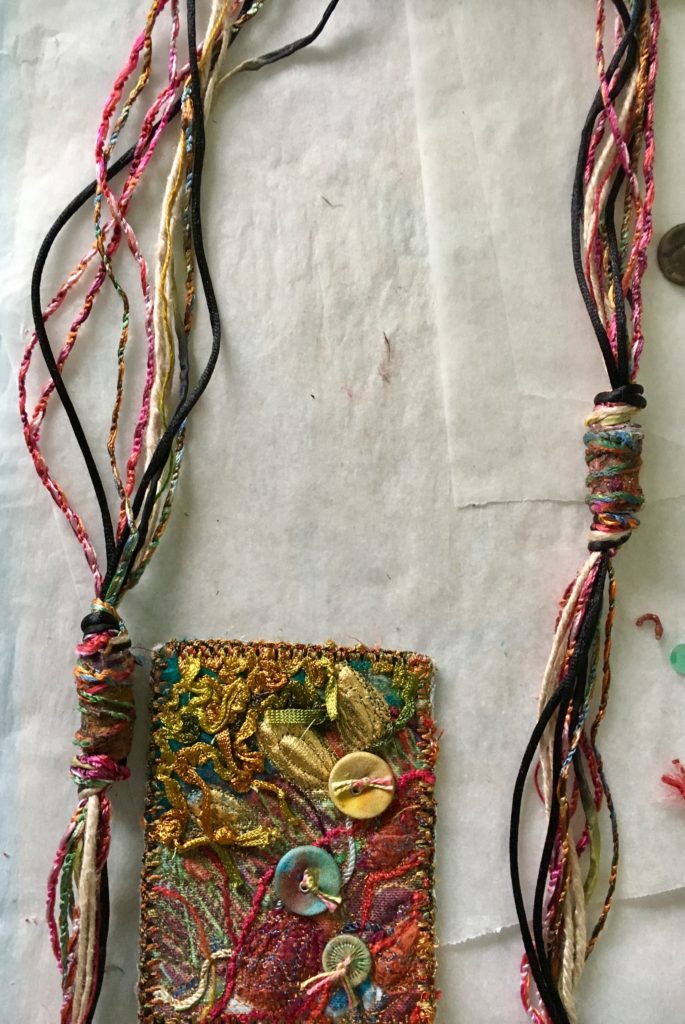 ---
Step 10
I hold the top bar to the fabric using the two large hand dyed linen buttons, hand stitching them into place and then knot and glue the neck chord to the bar.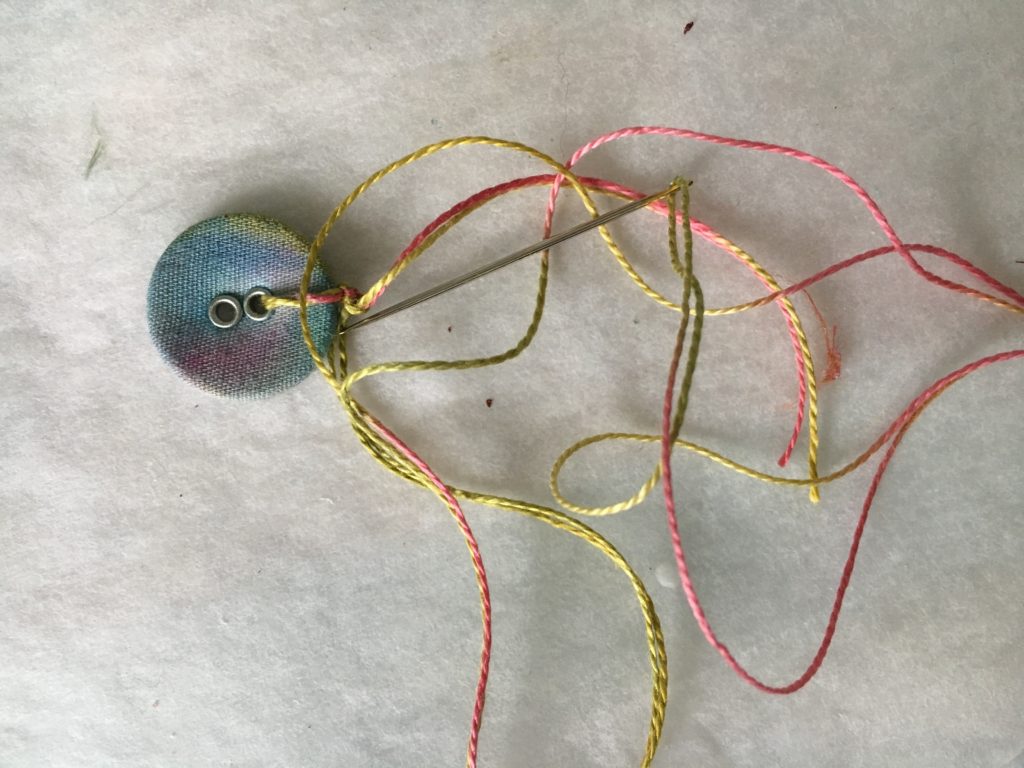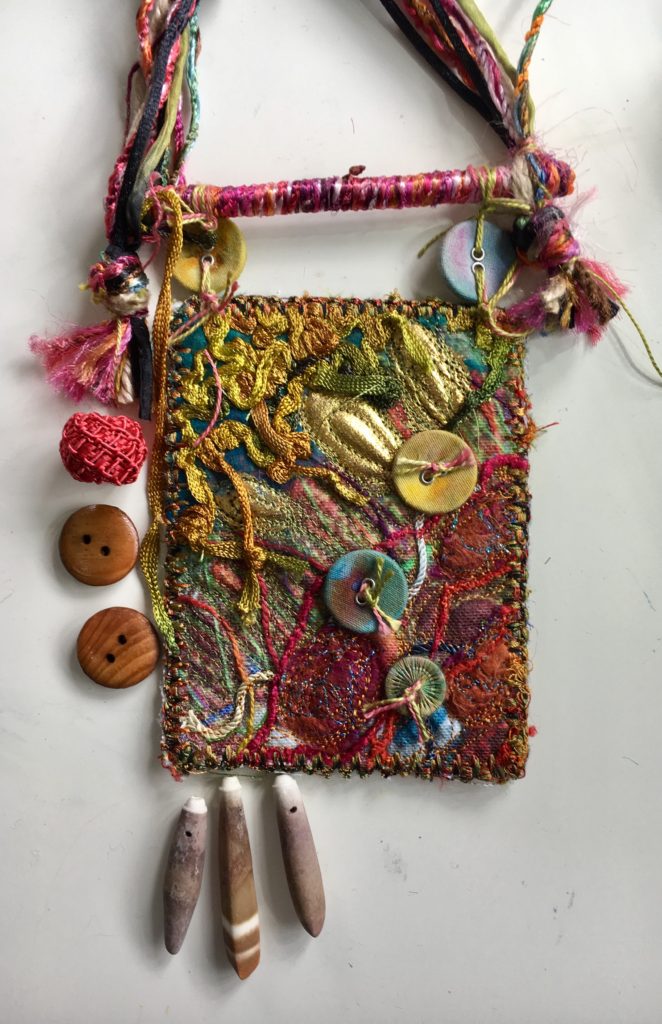 ---
The final step
Add all your trinkets with interesting chords and yarns, and hand stitch. Now you have created a beautiful free spirited gift to ones self or a wonderful friend.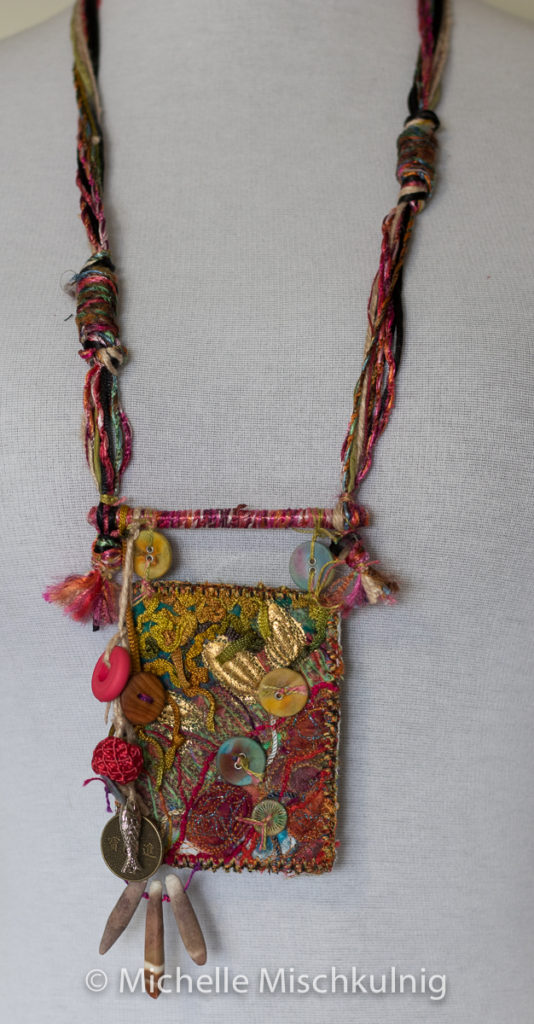 ---
Close ups
---
Teaching events for 2017
I only have one event left for this year and I believe there is still 2 spaces available. https://artquilttahoe.com/michelle-mischkulnig/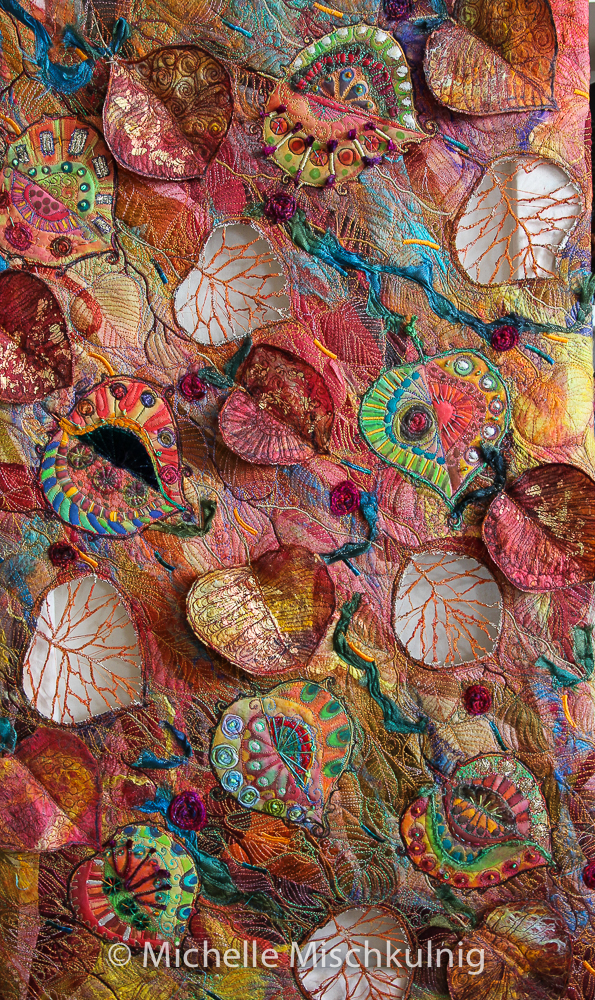 Teaching 2018
In 2018 I have 3 teaching events and one more yet to be announced.More about that in the information below .
The first event is booked out with a full wait list but I ma just sorting through another date to teach this workshop and will make it public in the next few days.
http://threadsandtangles.com.au/shop/classes/michelle-mischkulnig-chelle-textiles-29th-30th-april-2017/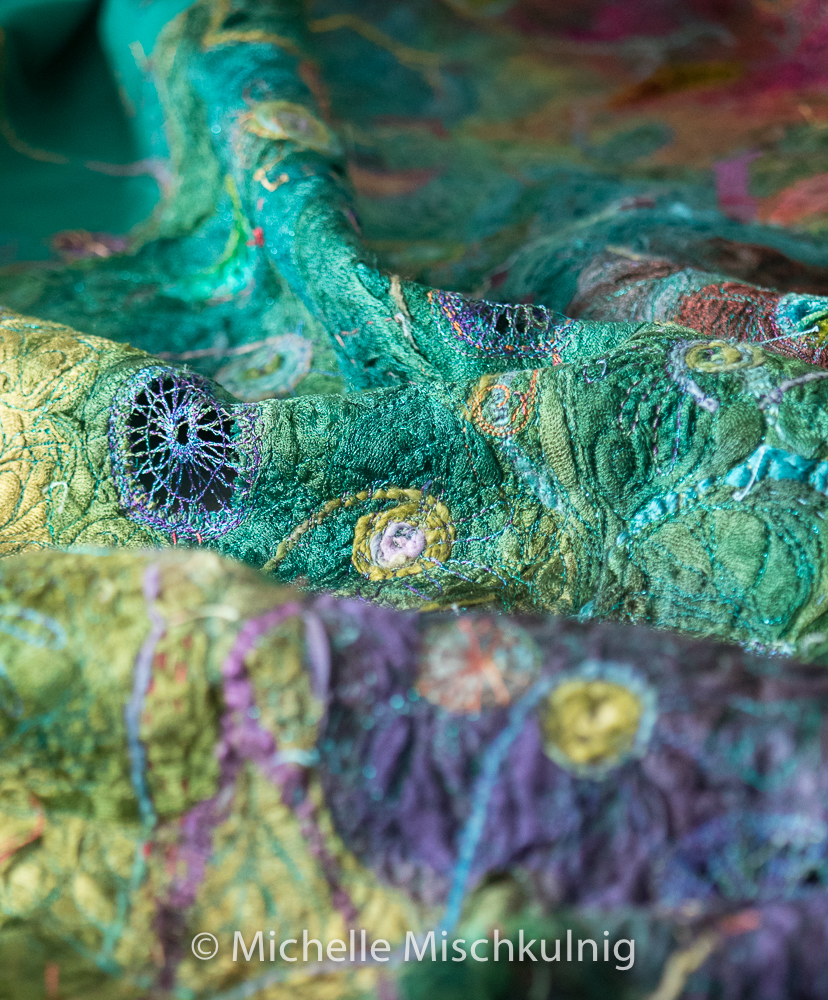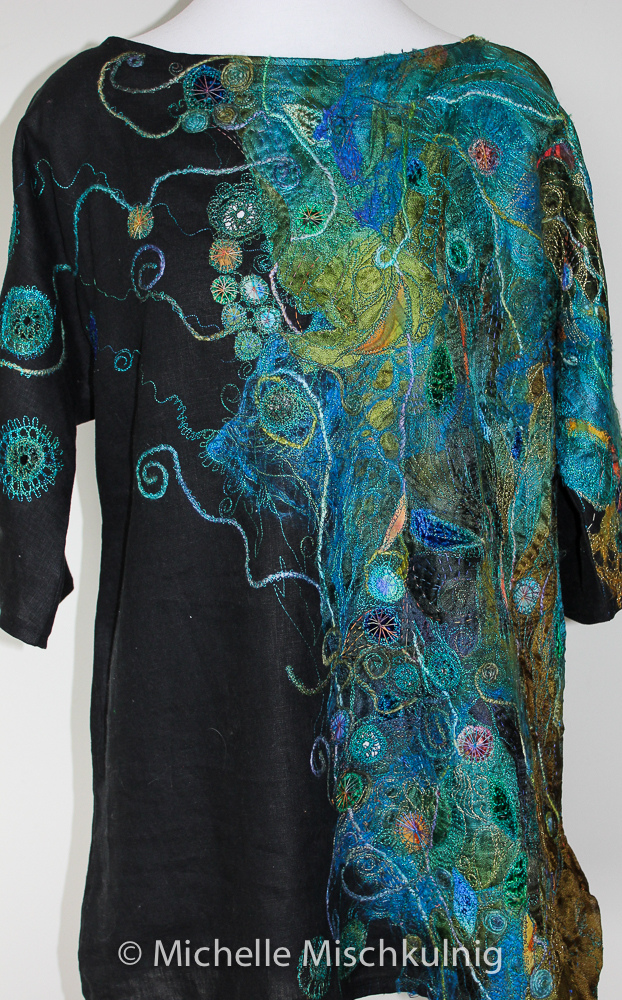 ---
August 2018
This will be a wonderful experience in a breath taking land scape
http://www.textileartworkshopsonline.com/the-uluru-retreat-2018/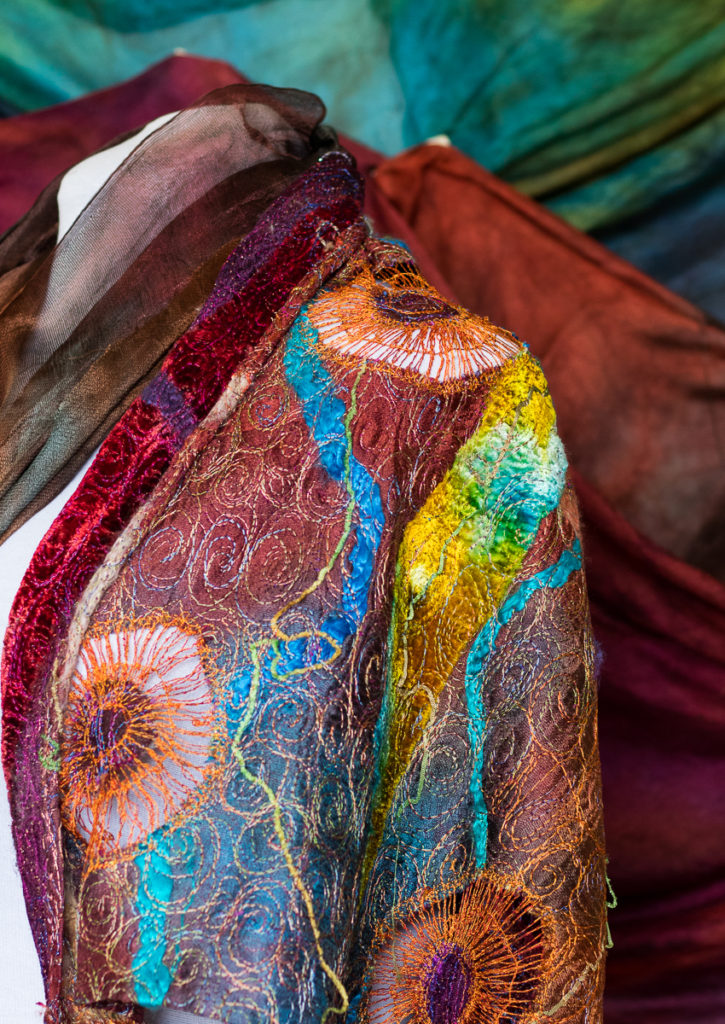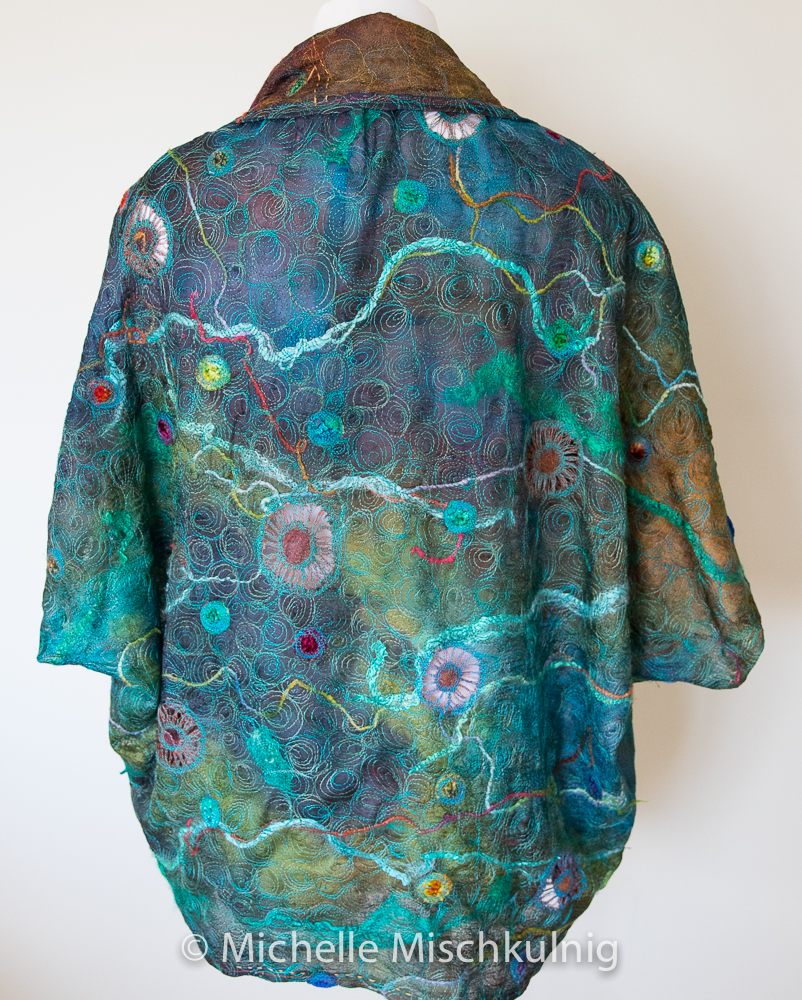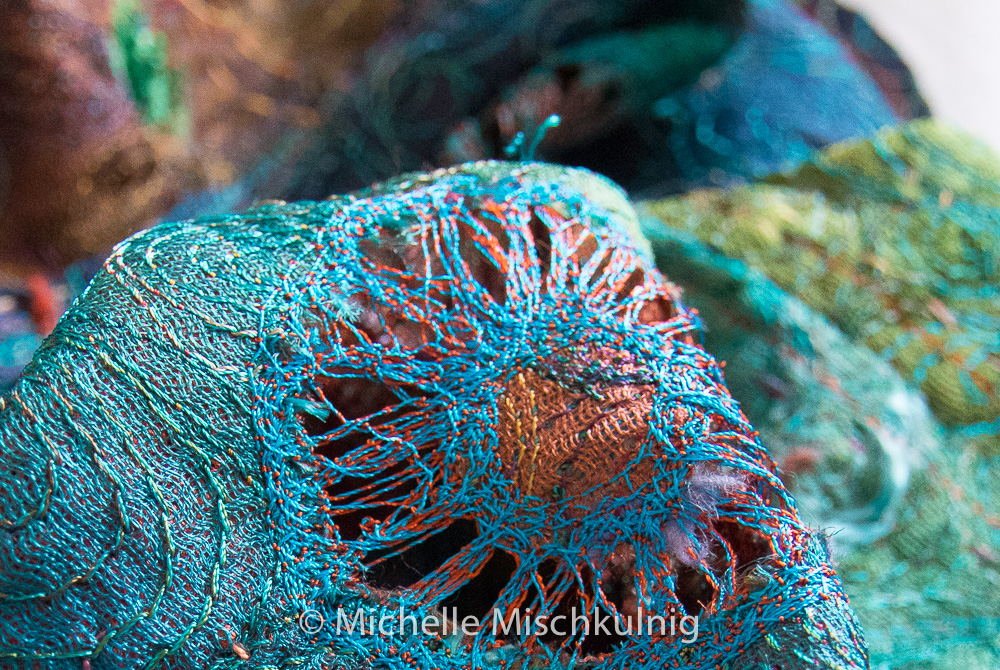 ---
Threads and Tangles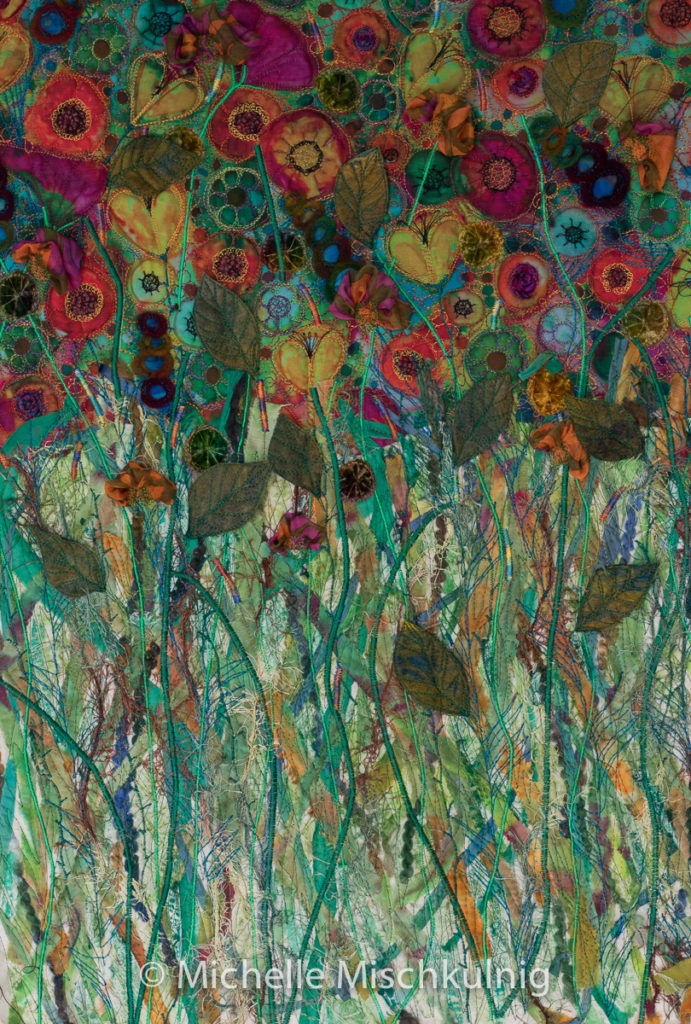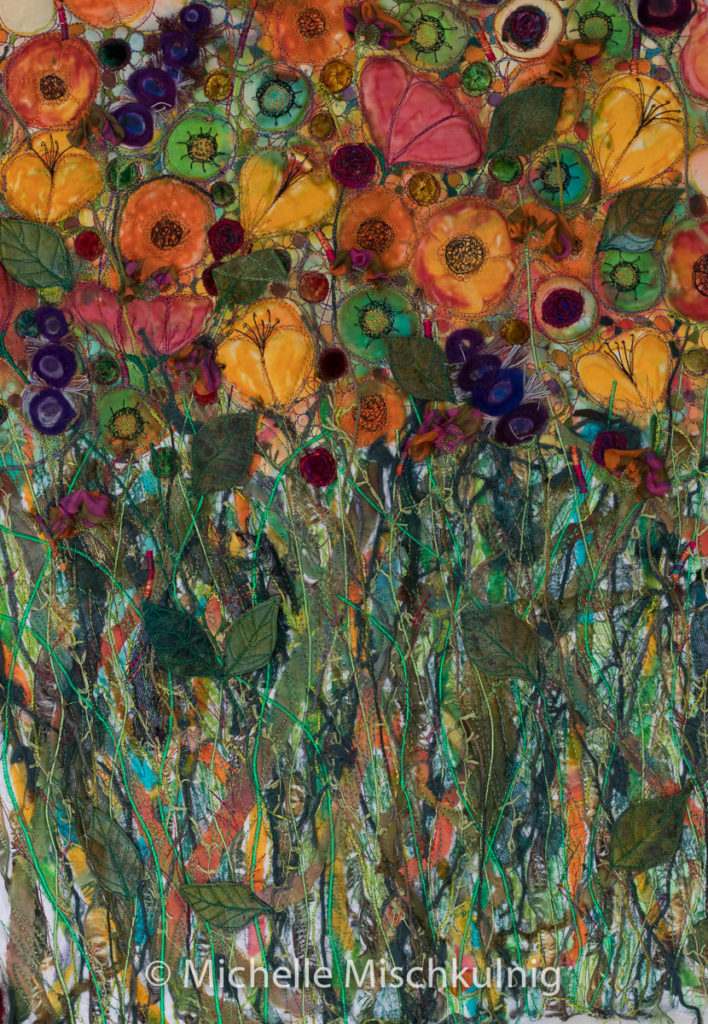 http://threadsandtangles.com.au/shop/classes/michelle-mischkulnig-of-chelle-textiles-25th-26th-august-2018-copy/