Making pebbles
"The object isn't to make art, it's to be in that wonderful state which makes art inevitable."
― Robert Henri

Lots of lovely people have asked how me how I created my pebble texture which has been used in some of my recent textile art work. Today I  would like to share with you this technique.
I am giving you and idea a possibility for you to develop and own as yours to be used with your creative style and flair.
Rock pools are so wonderful with pebbles that surround them,pebbles sublime in their differing shapes and colours.The warmth of summer pebbles gently massaging your feet as you cross the beach. They are  smooth, colourful and ever-changing in colour as the tide moves across them .They lay gentle on the bottom of rock pools and skip across the water in one swift arm movement.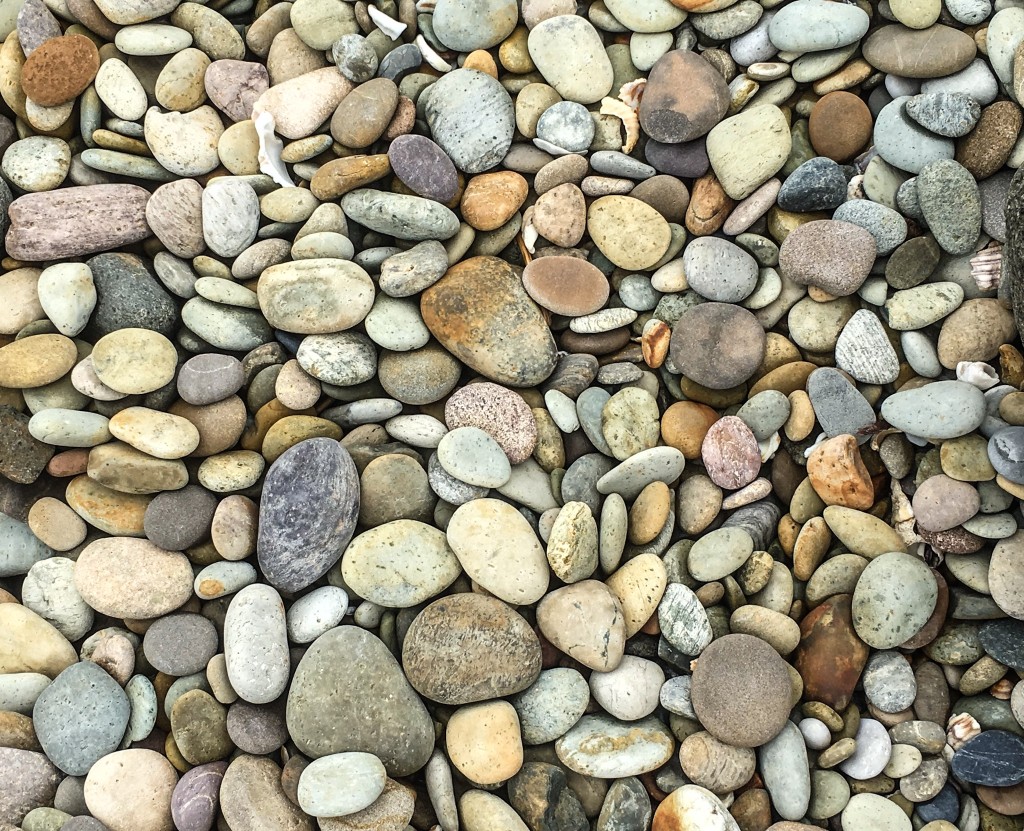 You will be printing your image onto fabric using a inkjet printer .I will be sharing with you 2 different techniques.
Materials 
To create your pebble look you need a good photo image of pebbles (please dont use mine ).I have manipulated my image by using some simple apps.
Inkjet transfer paper for white and light coloured fabrics
Freezer paper.
Inkjet Printer
Silk or fine cotton fabric.
A sense of adventure.
Freezer paper method 
Start with a freshly ironed piece of fabric I have printed onto habotai silk but you can use fine cotton fabrics or similar. I have been using pre cut freezer paper which fits directly into the printer http://www.dharmatrading.com/transfers/freezer-paper-sheets.html, you can also buy freezer paper by the roll and cut to size to fit your printers paper (on the roll Reynolds Freezer paper).
Iron your fabric onto the shiny side of  the paper until it adheres nicely all over ( I believe you can reuse the freezer paper I haven't tried this ).
Trim up the fabric and Freezer paper to exactly the size of the copy paper you use in your printer. A suggestion is to use a piece of printer cardstock as a pattern, to make sure the size is exact. Take care not to have any frayed edges, and that the fabric does not overhang the paper this prevents jamming up the printer.
Place in your printer paper tray and make sure you have it placed so that the ink prints on the fabric side and not the paper side.
Check your printer settings and adjust to "best photo" ( Not necessary ).This will assure you have the best quality print.
Sometimes the printer does not recognise the fabric/paper at first and may go through the printer a few times before it actually prints it is a good idea to remain close to the printer incase it needs your help.You may have to put the paper back in a few times before it prints or it may just print perfectly the first time.
Peel your fabric off the freezer paper and admire your beautiful print.Colour fastness will be determined by your printing ink.If you google this you will find advice on colour fastness.
More expensive printer cartridges use pigment ink. Pigment ink is colorfast on many different surfaces, and is much more useful for printing on fabric.
Your printer manual is a good place to find out what ink your printer uses
Disclaimer: Not all printers can print on fabric, and putting fabric through your printer could damage it permanently. This is an experimental technique, and you should only try it if you understand that it involves an element of risk.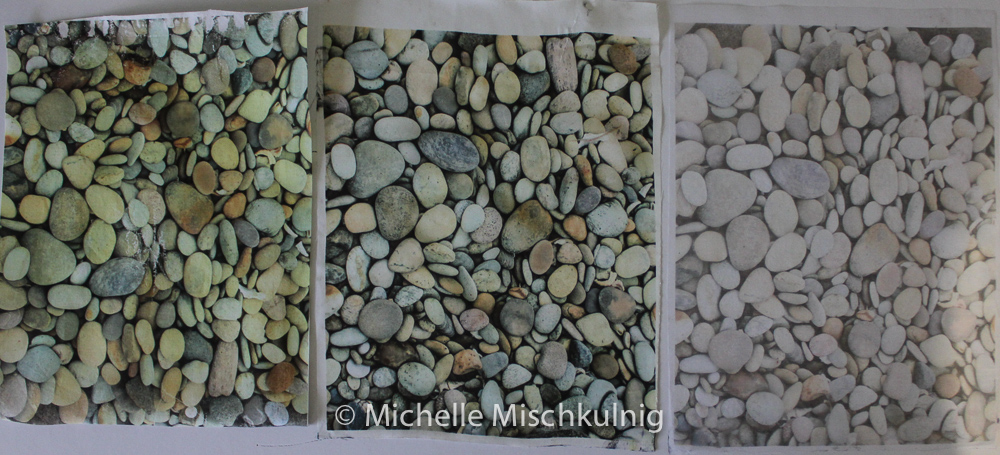 Transfer paper print on cotton               Freezer paper on silk                  Freezer paper on silk organza
Transfer paper 
I have used http://www.dharmatrading.com/transfers/supersoft-inkjet-transfer-paper.html.
Select image
Mirror image  before printing (if necessary) I  dont worry for textures
Print image on the  correct side of  transfer paper as per instructions per the paper you are using. It is usually the dull white side.
When the printed image is dry it is ready to transfer.
Use a dry iron at hottest temperature on a smooth flat surface.
Place transfer paper face down on fabric
Firm and steady pressure using your body weight and about 20-30 sounds on every part of the design.
Thoroughly iron the whole design making sure you have covered the edges.
Remove paper while hot.
Wash and iron fabric as per your transfer paper instructions.
Your pebble fabric is ready to be stitched and embellished below are some beginnings of ideas using free motion embroidery.Think of how you can use this technique and how it can apply to may different projects.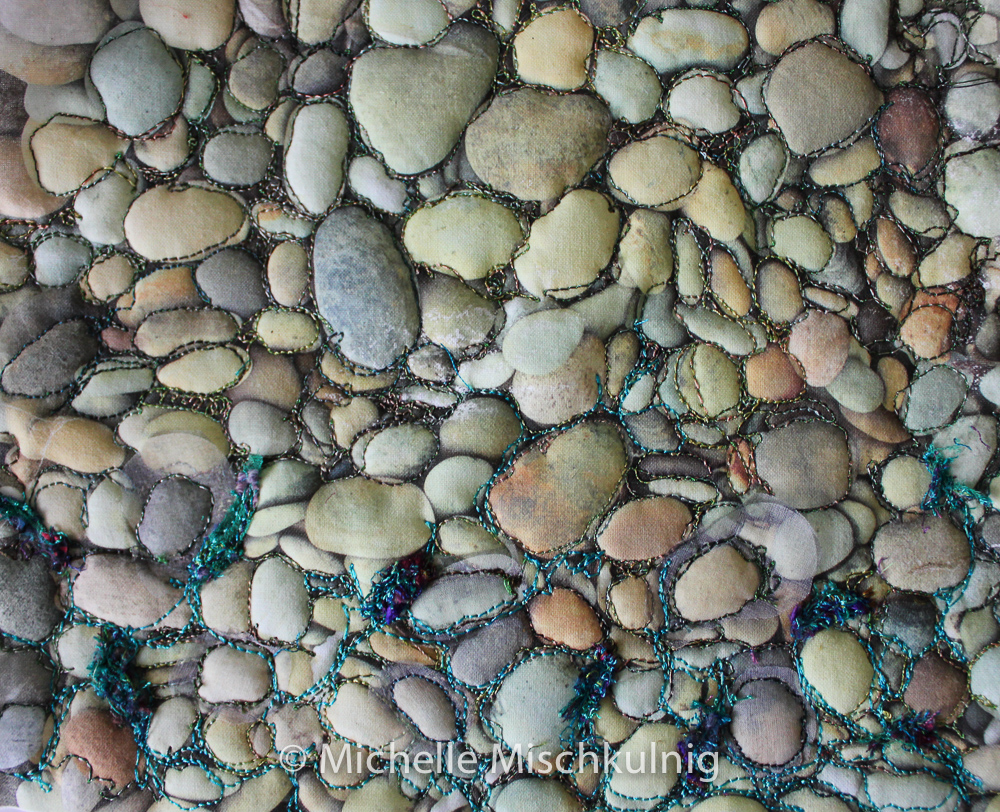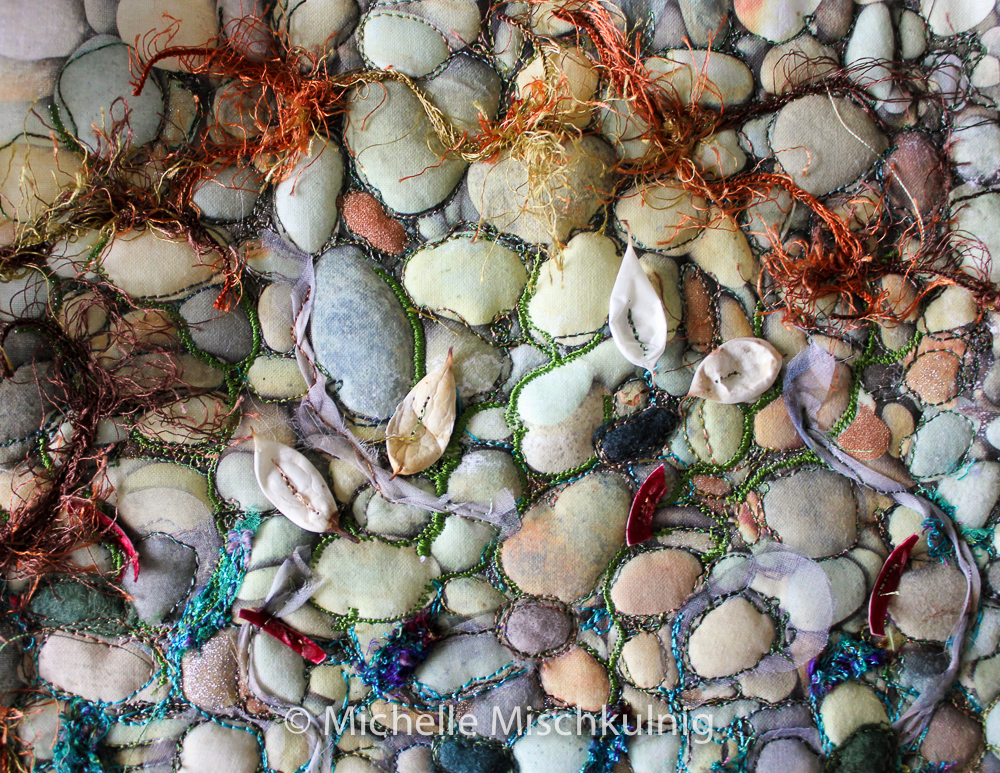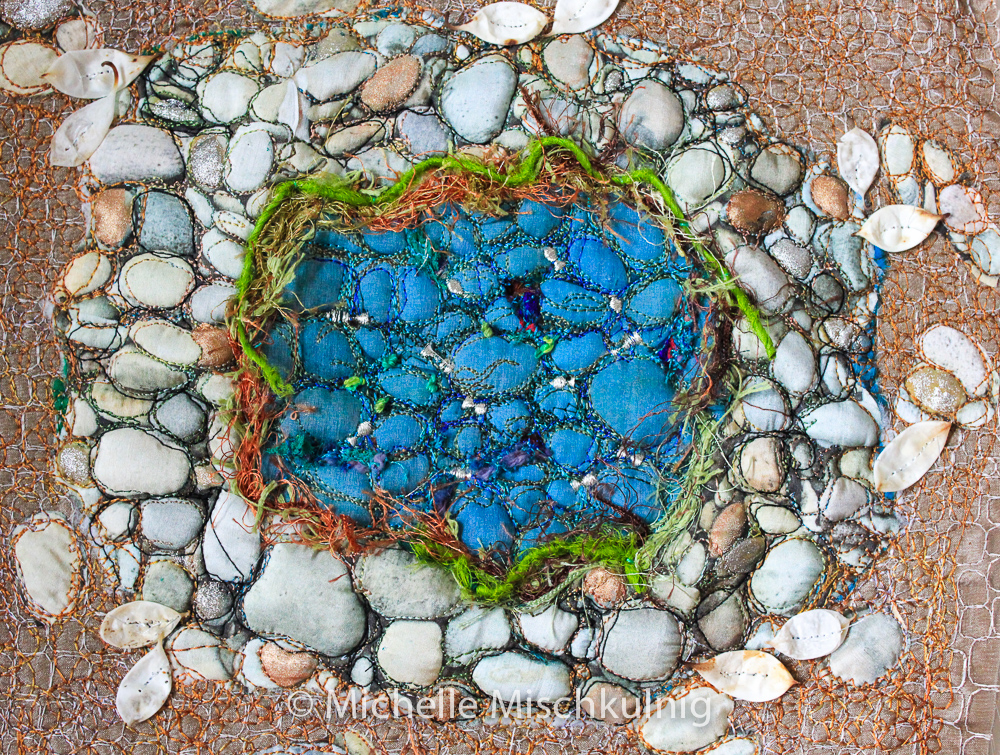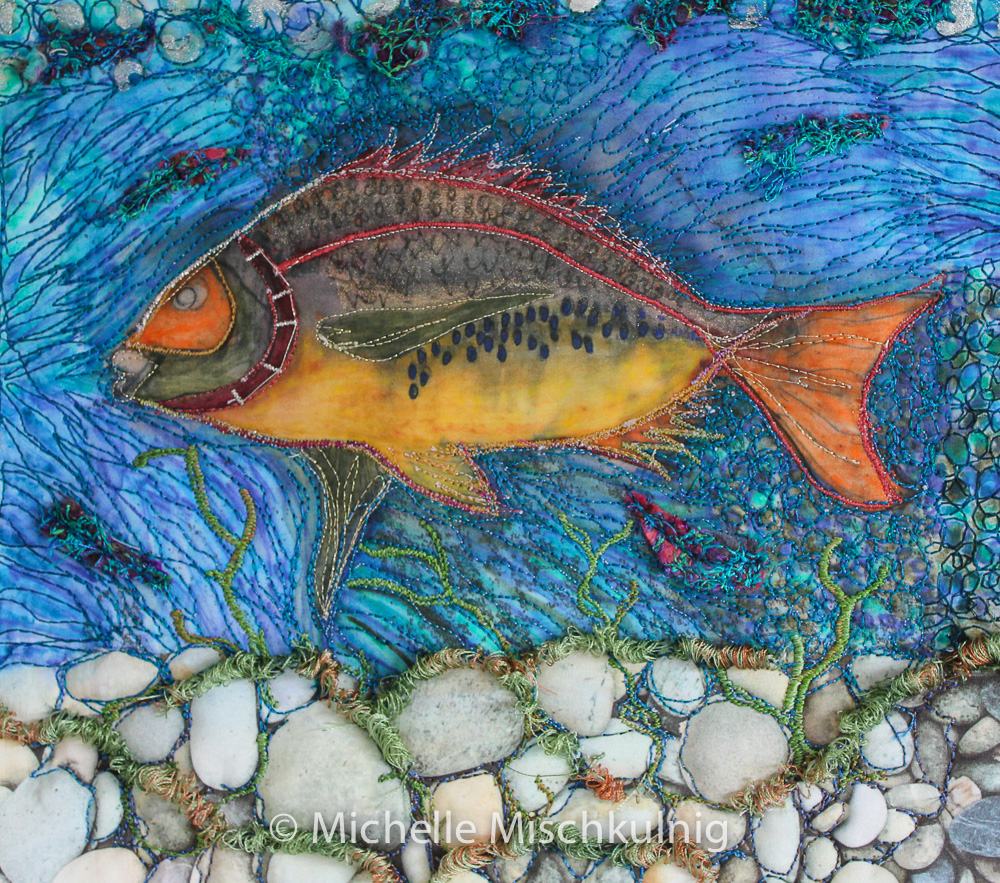 Looking forward to writing my next blog and sharing with you some exciting information about my brand new beautiful gorgeous amazing sewing machine.More to come soon.