A window into my studio 4
This week in my studio I have been working on some silk panels for Christmas stock for  Stonehouse gallery. They are small free motion embroidered and painted silk panels. I used the same fabric in each one but enhanced them all differently, with  a variety of threads and textures so as they can hang together as a set or as individuals. I completed three clutch bags and started to organise the scarf kits. I have ordered all the beautiful silk and wool yarns, fabrics and fibres – yummy! – and hope to make them available in the next few weeks. I hope your week was busy, creative and productive.
A studio hint – tailor tacking stitch is a great texture for your art work 
A great way to make a texture which for grass and more  is a tailor tacking foot
Machine settings zig zag
Stitch length .07 or shorter depending on effect you want
stitch width 3.0- 5.0
stitch tension .04 or less 
You will note there is a bar in the middle of the foot that needs to be cleared by the zigzag stitch
Your zig zag stitch width should be no wider than 5 and no smaller than 2.
The tension needs to be loosend to create the loop.
This stitch gives you great effects and can be used for many different applications. I sometimes snip through the loops to create grass or leave looped as a texture.
Have fun and play !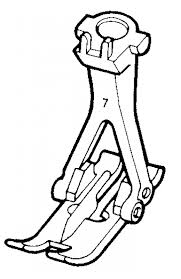 This is a Bernina tailor tacking foot that I use it has the raised bar in the centre that creates the loop.
Below you can see how I use the tailor tacking foot to make grass.
I stitch rows of tailor tacking stitch close together and then cut through the loops to make the grass texture.