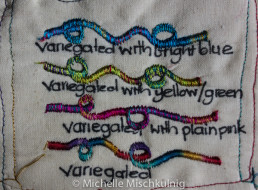 Posted on October 1, 2015 by Chelle in Studio

A window into my studio  Michelle Mischkulnig Australian textile artist chelletetxiles.com.au Using variegated threads  I like to use rayon machine embroidery threads they have a beautiful lustre, colour and softness. I often use a variegated thread and to break the look of block colours in the variegated threads I use a plain thread with it […]

8 Comments. Continue Reading...